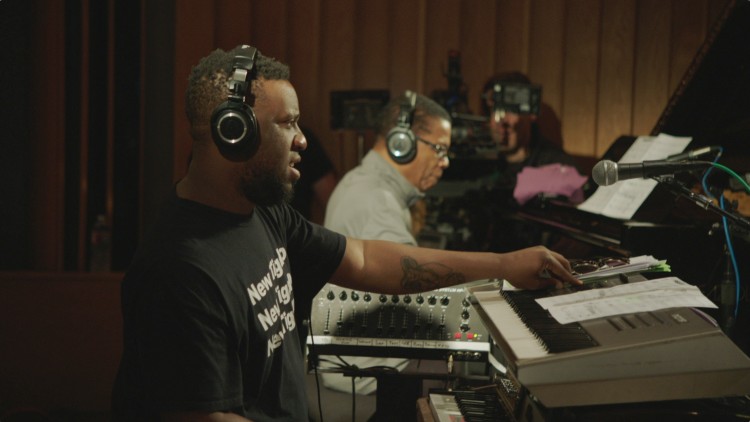 This ambitious music-centric chronicle of the history of Blue Note Records manages to tie the current Blue Note All-Stars – pianist Robert Glasper, trumpeter Ambrose Akinmusire, saxophonist Marcus Strickland, guitarist Lionel Loueke, bassist Derrick Hodge and drummer Kendrick Scott – to the past by adding vintage Blue Note luminaries Wayne Shorter and Herbie Hancock to the recording session celebrating the 75th anniversary of the label which is the film's fulcrum. Shorter and Hancock talk about the atmosphere in their early days with Blue Note, where the intention was not to make a hit: "I never got the sense of pressure from them to create in any particular way, other than whatever might come out of me," Hancock says. "The goal was to allow the music to emerge without being shackled."
Their conversation leads us back to the groundbreaking musicians who were the foundation of the company's legacy: Thelonious Monk, Bud Powell, John Coltrane, Art Blakey, Horace Silver and Miles Davis. None of it would have happened without its soft-spoken, jazz-loving founders who gave the artists complete freedom and encouraged them to compose new music.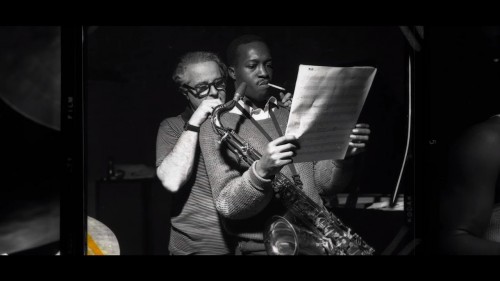 Alfred Lion and Francis (Frank) Wolff were German Jews, boyhood friends in Berlin, who fled the Nazis in 1933 for the US and started Blue Note in 1939. We hear a portion of a radio interview in which Lion (born in 1908) remembers hearing jazz for the first time when his mother brought a record home in 1926. "I was very much impressed with what I heard, not knowing it was jazz," he said with his distinctive German accent.
Wolff said of his first encounter with jazz, also in Berlin: "I couldn't understand the music. I just liked it."
Sophie Huber, the documentary's Swiss-born director, summed it up: "This is a story about people who followed their passion and – against all odds – built a lasting platform for a music they loved, a music that was cathartic, and represented freedom, both to the German-Jewish founders and to the African-American musicians."
"I don't think they ever lost the purity and the innocence that came with it," says legendary producer Don Was, current president of Blue Note.
Key to the story was the joining of Lion and Wolff with recording engineer Rudy Van Gelder, a New Jersey optometrist whose home studio was the source of Blue Note's transparent, balanced sound ("It was my parents' home, and I was allowed to use the living room to record my jazz music. They allowed me to put a control room window in one of the walls to the living room. And I brought all the equipment in there to record my jazz music."), and Reid Miles, a classical music-loving commercial designer. Lion's uncanny A&R instincts, Wolff's stylish photography (he photographed almost every recording session from the early 1940s to the late 1960s), Van Gelder's sterling sound quality and Miles' striking cover artwork plus the inimitable music. The Blue Note catalogue parallels jazz history from hot jazz, boogie-woogie and swing through bebop, hard bop, post-bop, soul jazz, avant-garde and fusion. Another key is the re-affirmation of hip-hop as the natural outgrowth of jazz.
From Monk to Coltrane, Lion, who was close to his artists, encouraged them to write new work. And he had an idea of how the music should sound. The result is a back catalogue that is the source of half the company's revenue. Blue Note records became the go-to for sampling. Saxophonist Lou Donaldson's Ode to Billy Joe is their most-sampled track.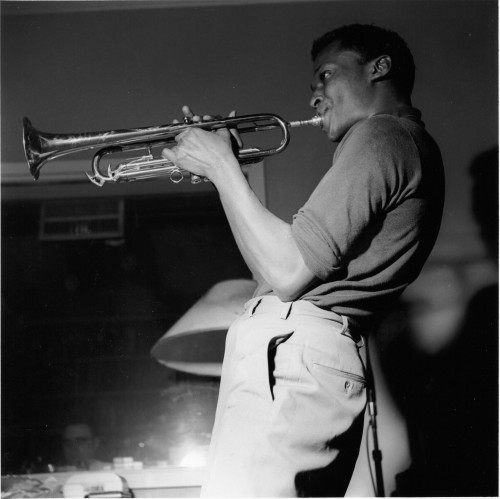 Major components of this treasure trove of a film are Wolff's vivid photographs, recordings of outtakes, banter between the takes, concert footage of Miles Davis, Thelonious Monk and others, and old radio interviews with Art Blakey and Coltrane. The musicians voices are paramount.
As Norah Jones puts it: "The reason I love being on this label is because I've always felt like I had that freedom – to make my own music and do whatever I want and I don't feel confined by the restrictions of the jazz genre."
Alfred Lion couldn't have put it better.
Blue Note Records: Beyond the Notes plays Hot Docs Ted Rogers Cinema March 29 to April 7.
Paul Ennis is the managing editor of The WholeNote.