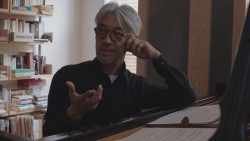 "I'm fascinated by the notion of a perpetual sound," Ryuichi Sakamoto says. "One that won't dissipate over time." He's seated at the piano listening to the sound he's just made melt into thin air. But as Ryuichi Sakamoto: Coda, Stephen Nomura Schible's meticulous documentary on the now 66-year-old composer-performer indicates, Sakamoto's own music is likely to outlast him.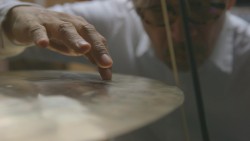 The film, shot over a five-year period, begins with footage of Sakamoto playing a piano that survived the 2011 tsunami. We follow his anti-nuclear activism triggered by Fukushima and then enter with him into his one-year sabbatical from music while he fights throat cancer. Once he's able, his musical career resumes with the scoring of Alejandro G. Iñárritu's The Revenant and working on his first solo album in eight years, async. We see him assiduously creating soundscapes on his computer (while sitting on an exercise ball), using natural forest sounds, for example, or delighting in the imposing result of a violin bow stroked over a cymbal that becomes fodder for The Revenant's main theme. He imagines that his new album will be like composing for an Andrei Tarkovsky film that doesn't exist.
Coda is that rare document that captures a composer's creative process. There are no talking heads, no mention of Sakamoto's personal life, marriages, children and the like. Instead we see his fascination with the great Russian filmmaker Tarkovsky's use of Bach chorales. Sakamoto is consumed by the melancholy of Bach's music.
Schible uses 1979 footage of Sakamoto from his synth-based heyday with the influential Yellow Magic Orchestra as a stepping stone to an overview of his film career. When Nagisa Oshima asked him to act in Merry Christmas, Mr. Lawrence opposite David Bowie, Sakamoto refused unless he could also write the score. The result was arguably the most iconic and recognizable of his entire musical output, a simple repetitive tune that is as beautiful 35 years later as it was when the film was released in 1983. That led to his Academy Award-winning contribution to Bernardo Bertolucci's epic Oscar winner, The Last Emperor (1986), and his echt romantic score for Bertolucci's gorgeous follow-up, The Sheltering Sky (1990). We watch Sakamoto conducting an orchestra for the soundtrack in studio while the matching footage for both movies is shown onscreen.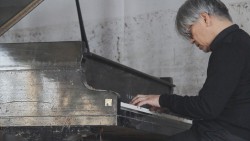 The Sheltering Sky was based on a book by Paul Bowles, who had a cameo in the film. Sakamoto thought Bowles was the best thing about it and used Bowles'voiceover in async's fullmoon, the album's emotional centre. "Because we don't know when we will die, we get to think of life as an inexhaustible well," Bowles says. "How many more times will you watch the full moon rise? Perhaps 20. And yet it all seems limitless."
In choosing sounds for his new project, Sakamoto is also responding to the improvisatory nature of music and the way life itself has seemed to mirror it. Even the tsunami piano is returning to its natural state, he says. Schible's lens captures it all for posterity.
Ryuichi Sakamoto: Coda plays on June 20 at 7pm as part of the 7th annual Japanese Film Festival in the Japanese Cultural Centre, Kobayashi Hall, 6 Garamond Court, Toronto.
Paul Ennis is the managing editor of The WholeNote.