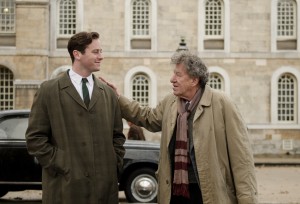 Stanley Tucci's sharply observed depiction of Alberto Giacometti's last oil painting, Final Portrait, lingers lovingly over the artist's exacting creative process. In 1964, Giacometti (Geoffrey Rush), primarily known for his sculptures, asked his friend, the American author James Lord (Armie Hammer), to sit for him. Tucci's film, adapted from Lord's memoir, gives us a writer's POV into the artist's methods – driven by doubt and neurosis – and his personal relationships. Giacometti's wife Annette (Sylvie Testud) tolerates his four-year-long relationship with Caroline (Clémence Poésy), a prostitute who is Giacometti's muse and model. In his early 60s, Giacometti lives a chaotic lifestyle, grounded by his key relationships with the two women and his brother Diego (Tony Shalhoub), a calming presence who serves as his confidant and right-hand man.
Tucci uses the uncannily accurate set design adroitly, treating the facsimile of the studio as familiarly as if it were his kitchen, and filming visits to neighbourhood bars and restaurants with a sense of verisimilitude and period detail that transports the viewer across more than five decades. Tucci's keen eye harkens back to the observational style and verve of his classic Big Night. His actors, particularly Rush, Poésy and Shalhoub, bring art history to life and energize the slim thread of the narrative balanced by Hammer and Testud's naturalism. Final Portrait, despite its many accomplishments, does not examine the philosophical underpinnings of the painter's aesthetic (as Jacques Rivette's La Belle Noiseuse did, for example). Instead, frequent conversational strolls in nearby Montparnasse Cemetery by Lord and Giacometti serve up gossipy tidbits. It's what happens in the studio that stands firmly at the film's centre.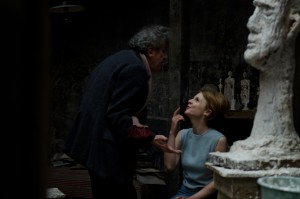 Evan Lurie's score for various combinations of violin, viola, cello, double bass, piano and celeste is a model of discretion, never overwhelming what we see on screen, acting more as a linking mechanism between scenes or a subtle comment on their mood. In fact, after a brief moment of violin melancholy, the film begins with Ralf Dieter Gscheidle's La Fleur, a typical Parisian accordion solo announcing Final Portrait's locale. Suddenly we're in Giacometti's studio, with Giacometti's iconic sculpture of Isaku Yanaihara at its centre. The soundtrack bristles with the sound of walking across the studio floor, of a canvas being moved onto an easel, of choosing brushes and moving pedestals – the soundtrack to a picture of creativity.
"It's impossible to paint you as I see you," Giacometti tells Lord, as a tentative violin leads into the warmth of a string quartet and a lyrical piano solo. Whether it's a sprightly violin that signals a spirited scene in the bar of Chez Adrien or a tentative violin melody that acts as a momentary comma to the end of Lord's sitting for the day, there's just enough musical noodling to propel the action before Gscheidle's accordion closes the parentheses on a footnote in art history.
One of the founding members of the Lounge Lizards, the seminal 1980s downtown Manhattan group led by his brother John, Evan Lurie (classically trained as a pianist) is also known as an actor. For the last decade he has operated a contemporary art gallery in Indiana.
Final Portrait opens April 6 at Cineplex Cinemas Varsity and VIP.
Paul Ennis is the managing editor of The WholeNote.