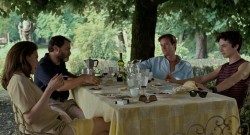 The third film in director Luca Guadagnino's trilogy about desire, Call Me By Your Name wears its sensuousness on its sleeve without going over the edge into sensory overload. The visceral attraction of 17-year-old Elio (Timothée Chalamet) to 24-year-old graduate student Oliver (Armie Hammer) is an organic outgrowth of the younger man's sensitivity to all things sensorial. Set in Northern Italy during the hot summer of 1983 and based on the novel of the same name by André Aciman, Call Me By Your Name places Elio's first same-sex affair in the context of an idyllic family villa with a pair of intellectually committed, compassionate, understanding parents.
Elio's art historian/archaeologist father (the quietly hedonistic Michael Stuhlbarg) and translator mother (the elegant Amira Casar) welcome Oliver into their home for a six-week internship, a home that also serves as an axis for neighbours and friends. Elio's sexual energy, already occupied with his girlfriend (the winsome Esther Garrel, whose director father Philippe and actor brother Louis are major talents in the French film world), begins to be focused sporadically and haltingly on Oliver. Guadagnino captures these moments with great sensitivity, aided by James Ivory's insightful script and Sayombhu Mukdeeprom's sun-dappled cinematography. Ivory, known for his directorial chops in such films as A Room with a View and Howards End, has adapted Aciman's novel with great care; Mukdeeprom, fondly remembered for his camerawork on the award-winning Uncle Boonmee Who Can Recall His Past Lives, brings that same evocative eye to Guadagnino's film. Chalamet and Hammer are superb, realizing their characters' relationship of nuanced anticipation and shaded desire.
Music is intrinsic to Call Me By Your Name, both as a key plot/character point and in its varied use on the soundtrack. Right from the moment when John Adams' Hallelujah Junction jolts the opening credits with an infectious burst of pianistic energy, we have a sense that Guadagnino's ear will be almost as crucial to the action as his eye. Not only will Hallelujah Junction return to enliven the proceedings later on, Adams' Phrygian Gates makes a quizzical point and his China Gates contributes a sunny mood. The wispy romanticism of Ryuichi Sakamoto's piano adds atmosphere; so does Frank Glazer's austere take on Satie's Sonatine bureaucratique and Valéria Szervánszky and Ronald Cavaye's excerpt from Ravel's Ma mère l'Oye. The beauty and warmth of André Laplante's playing of Ravel's Barque sur l'ocean from Miroirs deepen Elio and Oliver's bicycle ride through the countryside.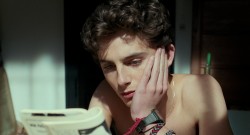 Elio is an amateur pianist and music copyist who also dabbles on the guitar; he performs Bach's Capriccio on the Departure of a Beloved Brother on both. In another scene, for a transfixed Oliver, Elio plays the familiar "Zion hört die Wächter singen," from Bach's Cantata BWV140 Wachet auf, ruft uns die Stimme as if he were Busoni channelling Liszt's version of the piece. (Alessio Bax covers it on the soundtrack.)
Popular music also figures in Guadagnino's vision. When Oliver dances with a girl in a club to Giorgio Moroder and Joe Esposito's Lady, Lady, Lady it evokes jealousy in Elio; the Psychedelic Furs' Love My Way is a favourite of Oliver's; Loredana Bertè's J'adore Venise is of the times. Three songs by Sufjan Stevens, including two that Guadagnino commissioned for the film, comment directly on it. As the director said (via thefilmstage.com) when Call Me By Your Name played at the New York Film Festival in October 2017: "I like in cinema when you have an ominous narrator. It's something that fascinates me a lot, and in fact, I wanted that here. In a way the narrator became Sufjan Stevens with his new songs, made contemporary, about our story…I felt Sufjan's lyricism, both in the voice and the lyrics itself, had some beautiful elusiveness on one hand, on the other hand poignancy that [was] really [resonant]."
Call Me By Your Name is currently playing at Cineplex Varsity & VIP.
Paul Ennis is the managing editor of The WholeNote.