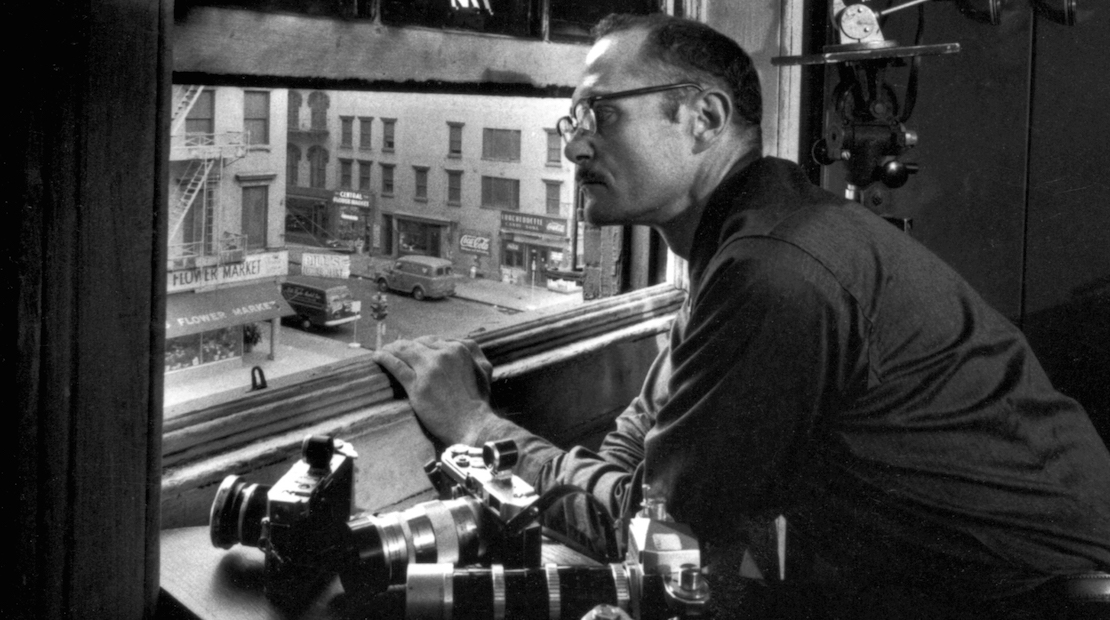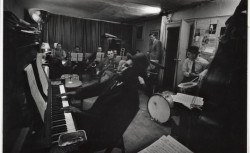 Sara Fisko's invaluable time capsule, The Jazz Loft According to W. Eugene Smith, captures bohemian life in the Flower District of New York City from 1957 to 1965 when acclaimed LIFE magazine photographer W. Eugene Smith rented space in a commercial building and wired it for sound. (He recorded his life there, and American history at the same time, on 4,000 hours of tape.) The heart of the film is contained in the three weeks of rehearsal that led up to Thelonious Monk's tentet's Town Hall concert in 1959.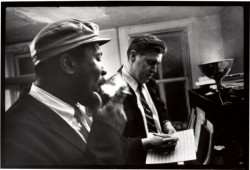 Smith's next-door neighbour on the fourth floor of 821 Sixth Avenue, Hall Overton, a Juilliard professor and composer of classical music who enjoyed playing jazz at the upright piano in Smith's loft, arranged Monk's tunes for the historic gig. Fisko's documentary reveals a fascinating discussion between Monk and Overton as Monk questions what Overton has done to his tune Little Rootie Tootie. Countless jazz players studied with the chain-smoking Overton and considered his teachings invaluable. Bassist Chuck Israels says he was "broadminded, a musically educated guy who was easy to be attracted to." The young Steve Reich was another student: "I want you to write a melody that more or less follows these shapes [that Overton had drawn]," Reich recalls of his first lesson there. "You'll learn a lot. It's very easy to go [Reich makes a gesture that goes diagonally down from top to bottom]." Reich says that there were so many photographs filed in the loft that "you felt all the walls were leaning in on you."
Saxophonist Phil Woods, who was a member of the tentet, is one of several talking heads remembering the era. ("People complained about Monk's intervals," he says.) Bassist Steve Swallow, pianist Carla Bley, composer/instrumentalist David Amram and drummer Ronnie Free are among those who amplify what the multitude of photos suggest and fill in the context. Jam sessions (several of which are excerpted in the film) often mimicked the sounds of the street traffic below, ending at dawn with many of the participants walking outside just as the day's flowers were being delivered to shopkeepers to sell. Tenor saxman Zoot Sims, one of many who loved to jam in the loft, is remembered for his prodigious playing. The scene brought out artists like Salvador Dali, writers such as Norman Mailer, even Ultra Violet (who, as an Andy Warhol Superstar, would have her life in Warhol's loft chronicled in a different way).
As well as the Little Rootie Tootie tape, there are six Monk tunes that buttress the soundtrack, with support from Art Blakey and Clifford Brown, Erroll Garner and selections from the American Songbook. Smith always listened to music (usually classical) while he worked – he had a collection of 25,000 LPs. Furtwängler and the VPO (Beethoven's Eroica Symphony), Rubinstein (Chopin's Fantasie-Impromptu), Bartók's Concerto for Orchestra and opera taped from the loft radio appear on the film's soundtrack. Fishko also gives us a snippet of Overton giving performance instructions to the noted violist Walter Trampler in a rehearsal for the LP of Overton's Sonata for Viola and Piano.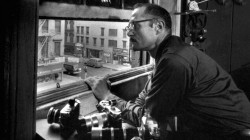 Fishko provides just enough backstory of Smith's pre-loft fame to give a romantic context to his loft lifestyle: the way Fishko puts it, Smith's leaving his family and everything his Life work (he quit the magazine in 1954) had brought him behind in a northern New York City suburb (the village of Croton-on-Hudson) was something he couldn't avoid. And the filmmaker put the thousands of photos she had on hand to good use in giving an insight into the obsessive artist, known as a pre-eminent photo essayist in the years before television and video became the journalistic record.
Smith's printmaking techniques were legendary; his reputation followed him to the loft where one of his assistant's jobs was to calm visitors whom he had no time to see. Diane Arbus and the young Larry Clark, however, did visit and there are photos to prove it.
Smith's inevitable flameout – his son talks about his father's paranoia and suicide calls – led to his leaving the loft in 1971, but Fishko's shepherding of his photographic legacy and audio tapes has produced an invaluable record of a bygone era.
The Jazz Loft According to W. Eugene Smith plays at the Hot Docs Ted Rogers Cinema August 4 to 10.
Paul Ennis is the managing editor of The WholeNote.