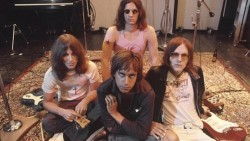 Gimme Danger is iconoclastic American indie filmmaker Jim Jarmusch's scrupulous two-pronged documentary look at the Iggy and the Stooges phenomenon. Iggy (aka Jim Osterberg) provides a detailed historical chronology, paying particular attention to the band's musical origins and influences. From the 1950s TV show Lunch With Soupy Sales to the idiosyncratic American composer Harry Partch, from Iggy's brief, meaningful relationship with Nico (on the rebound from Lou Reed) to Miles Davis' Bitches Brew, James Brown and Maceo Parker, the film drops one memorable nugget after another. At his press conference in Cannes (where the film premiered) Iggy also mentioned his indebtedness to Bo Diddley, Link Wray, Frank Zappa and Karl-Heinz Stockhausen. Fascinating.
As a child, Osterberg was fascinated by Clarabell the Clown on the Howdy Doody show. Soupy Sales would solicit his fans to write to him "in 25 words or less." Osterberg thought that was a good length for a song and kept to it as his songwriting developed. Ann Arbor, where Osterberg grew up, was a hotbed of new music. The young Iggy worked in a record store and played with the MC5 when they were a high energy cover band. Before that he played behind the Four Tops and the Shangri-Las. At the same time Partch was "huge for me." He would turn off all lights after smoking pot or taking LSD and soak in his music.
Jarmusch presents it straightforwardly, judiciously including pop culture touchstones from his subject's formative years as well as key video evidence of the band's iconic career. Osterberg's chronicle of Iggy and the Stooges' formation and brief meteoric rise (1967-74) is told with matter-of-fact hindsight and a survivor's instincts. The band that Jarmusch calls the "greatest rock 'n' roll band ever" in the film's opening minutes became an inspirational template for the punk movement that followed. I Wanna Be Your Dog, indeed.
Gimme Danger opened its Toronto exclusive engagement at TIFF Bell Lightbox, November 4.