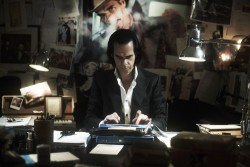 An inspired original view of the creative process (something that is notoriously difficult to capture on film), 20,000 Days on Earth is a brilliant meta-documentary about the musican and screenwriter Nick Cave.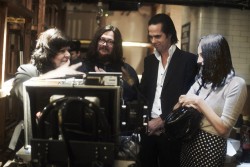 Purportedly taking place on the singer's 20,000th day on the planet, the filming actually coincided with the making of Nick Cave and the Bad Seeks' 15th studio album Push the Sky Away. Working from a script by the star and the movie's two directors, Iain Forsyth and Jane Pollard, the film delves into Cave's personal and professional life mostly through his own thoughts and memories. These are interspersed among striking scenic backdrops of Brighton (where the Australian-born performer now lives with his family) and Provence and star-studded scenes with the likes of the actor Ray Winstone (who starred in The Proposition, Cave's most acclaimed script and a film for which he also wrote a dynamic soundtrack) and Kylie Minogue (with whom he made his most commercial recording "When the Wild Roses Grow").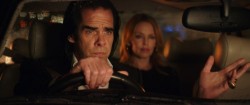 He also reveals himself through totally fictionalized scenes with a psychiatrist (played by the celebrated Brtitish Freudian, Darian Leader) and the revelations are fascinating: he had a daredevil kind of childhood; his father's reading of the first chapter of Lolita taught him that "on some level we all want to be somebody else."

He builds up a world through narrative songs and is fearful of losing his memory. He ruminates on "how songs cannibalize personal relationships, distorting them, creating an absurd crazy violent world." But most of all he lives for performance, for the "different meaning of time when you're on stage." Two transformative performance anecdotes involving Nina Simone and Jerry Lee Lewis support that admission.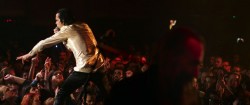 And recording the tuneful title song from Push the Sky Away with the children of Ecole Saint Martin in Saint-Remy de Provence is delightful and a stroke of genius.

Some of Cave's observations are worth savouring:

"I love the feeling of a song before you understand it."

"Who knows their own story? Certainly it makes no sense when we're in the middle of it -- it's all clamour and confusion -- it only becomes a story when we tell it or retell it."

20,000 Days on Earth (currently playing in Toronto at TIFF Bell Lightbox) is a rare insight into the very literate, literary mind of its subject and an inspired riff on music documentary tropes.