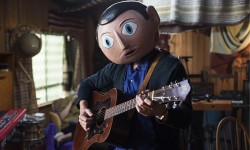 Blink and you might miss this little gem about the creative process that is in the cinematic roman à clef family alongside Almost Famous. Inspired by journalist/author Jon Ronson's experience as a keyboardist with the Frank Sidebottom band at 20 in 1987, Frank follows a present day naive cubicle-dwelling office worker with pop music dreams as he immerses himself in the strange world of a band with the unpronounceable name "Soronprfbs."
The bandleader, Frank (Michael Fassbender), wears a giant fibreglass head which he never removes. An outsider artist in the Captain Beefheart and Daniel Johnston mould, he's a perfectionist who spends 14-hour days holed up for months on end with his quartet of musicians and manager in Vetno, Ireland rehearsing for an album which may never see the light of day, a variation on the legend of Beefheart's Trout Mask Replica.
Ronson's character, Jon Burroughs (Domhnall Gleeson), narrates the story as an optimistic innocent. His surreptitious postings of the band's Irish meanderings on YouTube lead to an invitation to play at South By Southwest in Austin, Texas unleashing a totally erratic social media freakshow.
Frank and his mates make odd, quirky electronic rock music with simple pop licks that cohabit with random natural sounds musique concrète-style. Frank believes you can write a song about anything and then illustrates the point by writing about a tuft in the carpet. The actors actually perform the music. Drummer Carla Aza has played with Jack White; French actor/musician François Civil is on bass; Maggie Gyllenhaal as Frank's feroicious, self-proclaimed girlfriend, sings and plays the theremin.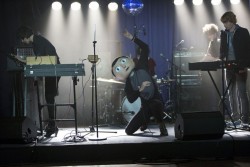 But the movie belongs to Fassbender whose convincing raw, Bluff, Kansas accent centres a performance which ranges from deft physicality to an expressive singing voice that evokes great pain in its upper reaches. It's a tribute to what a fine actor can do when hidden from view as when Frank charmingly describes his unseen facial expressions as he engages in conversation.
Also mostly unseen, but not unreferenced, is the mental illness that led to the band's formation. It's one of many strands that add to the poignancy of this comic fantasy.
Opened August 15th at the Carlton Cinema in downtown Toronto.