Music-centric films were less evident in the 2014 Hot Docs than last year's bountiful crop, yet there were a handful of notable movies that kept feet tapping and sent the mind reeling.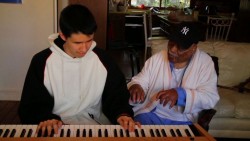 Allan Hicks' fearlessly intimate Keep On Keepin' On focuses on the relationship between nonagenarian jazz trumpeter Clark Terry (b. 1920) and blind pianist Justin Kauflin who is in his early 20s. Terry joined the Count Basie band in his late 20s, describing it as prep school for the university of Ellingtonia and stayed with Ellington for a decade before becoming the first black musician hired by NBC (he was a regular on The Tonight Show with Johnny Carson, for example). He's best known as a teacher, however, with his famous system of doodle-tonguing and thousands of students (Strikingly, Quincy Jones at 13 was his first.) spreading his philosophy of music far and wide.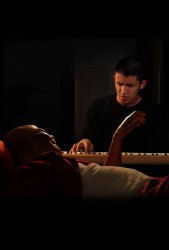 There are many testimonials to Terry's skills here but what makes Keep On Keepin' On so moving are the powerful emotional bonds that are displayed onscreen over the course of four years of filming. Terry was 89 and enfeebled by diabetes when he first appears but he still maintains an affectionate relationship with his devoted wife. He still plays his trumpet -- "Are your lips greasy?" Jones would invariably ask when the two spoke -- and is constantly singing whatever tune happens to be in his head. He takes on Kauflin as a student and the two feed off each other, the pianist transcribing Terry's vocal phrases instantly to the keyboard. Much happens over the course of the movie -- the drama is rooted in life itself – in addition to the rich jazz history lessons that unfold unexpectedly and the up-close musical pedagogy that is displayed so naturally throughout.
Keep On Keepin' On finished fourth on the list of audience favourite films at Hot Docs 2014. The Weinstein Company will be releasing it in theatres later this year. Look for it at next year's Academy Awards.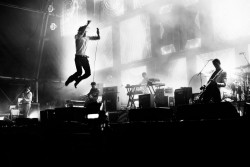 Florian Hibecht's Pulp (after the Britpop band) demonstrates the power music has to connect people and resonate with them. It's the fusion of songs and the city that inspired them. Jarvis Cocker (no relation to Joe) and his four bandmates reunite for a farewell tour after a decade of retirement that culminates in a final concert in their hometown of Sheffield, England. Hibecht's flair for eliciting down-to-earth comments from the local citizenry, from hard-core fans to fellow townsfolk raises the content level and elevates his film above the run-of-the-mill concert account. Cocker's uninhibited star power is refreshingly guileless, his music melodic and intimate. As one observer put it: "Their songs are beautifully expressed moments from real life." A nice touch is having local female a cappella group Sheffield Harmony sing one of Pulp's biggest hits, "Common People." Then there's the Victorian Live at Home Singing Group who perform other Pulp songs in a diner. All this leading up to almost 15 minutes of high-octane concert footage.
In Demonstration, a mesmerizing film-ballet by Russian filmmaker Victor Kossakovsky and 32 of his film students, footage of a general strike on the streets of Barcelona is brilliantly juxtaposed with Ludwig Minkus' score to the ballet Don Quixote. The familiar music, which dates from 1869 and is quintessentially balletic, swirls and sweeps in the foreground as various scenes and levels of protest play out over the course of a day. Periodically the music is cut off, replaced by the roar of the street and a litany of randomly set fires. One elderly protestor is the film's de facto focus but the real feat is the editing that ties the vast footage together allowing the day's events to unspool organically.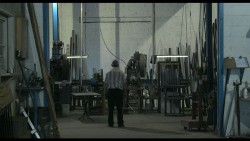 Denis Côté's Jesu Joy of Man's Desiring wordlessly examines the industrial workplace across several locations intercut with actors as workers voicing their feelings about their jobs. A feast for anyone who loves sonics, this hybrid doc's attraction lies in its dialogue-free aspect where an enhanced sound design turns the machines' implacable clamour into rugged chamber music. Along the way, Bach's famous titular melody is heard both electronically and on the piano, providing a subtle commentary on the otherwise relentless imagery.
Although the direct musical content of The Internet's Own Boy: The Story of Aaron Swartz is negligible, the ramifications of its content for anyone who uses the internet for musical purposes is vast. It's both a cautionary tale and a compelling documentary about the rise of a modern genius (best known for his involvement with RSS and Reddit) and the misguided prosecution that led to his suicide at 26. Filmmaker Brian Knappenberger thoroughly explores one of the most creative minds of his generation, someone who believed that access is the key to knowledge. That message and this film must not be ignored.