Please click on photos for larger images.
Lou Reed's iconic 60s anthem Walk on the Wild Side encapsulated the sound of the decade with the line "And the coloured girls go Doo do doo do doo do do doo." Right off the top of Twenty Feet from Stardom (currently at the Bloor Hot Docs Cinema) filmmaker Morgan Neville's exuberant homage to the unheralded backup singers who were an integral part of the music of an era, Darlene Love, Janice Pendarvis and Merry Clayton have a joyful reunion where they spontaneously go "Doo do doo do doo do do doo."
Neville's instructive documentary then proceeds to illuminate the joys of music making when the people you need to make happy are the people you're working for. Focusing on the signature voices of (mostly) women who helped make other people stars, the film is a breezy 90-minute jukebox that puts its subjects in a historical context, incorporates major talking heads (Bruce Springsteen, Mick Jagger, Sting and Stevie Wonder) and throws in some academic analysis from Dr. Todd Boyd who talks about "the transformative sound coming out of the backup singers."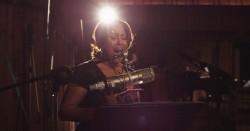 Springsteen is more direct: "It [Phil Spector's He's a Rebel] was the sound of youth. You started to pick up that voice [Darlene Love at 18] and you started to have an allegiance to that voice." Spector made Love the voice of The Crystals who lip-synched to their hits. Love and her girl group, The Blossoms, were the wallpaper of early 60s pop but she walked away from Spector in the 70s, no longer able to bear being exploited by him.
Forced to work as a cleaning woman, she found herself cleaning a house in Beverly Hills when her 1963 hit, Christmas (Baby Please Come Home), came on the radio. She realilzed that she needed to sing (and move to New York City), beginning a rebirth, a solo career and 25 appearances on The Late Show with David Letterman.
But the iconic Love is the exception.
"We come in and sing the hooks," says noted backup singer and current associate professor of voice at Berklee College of Music in Boston, Janice Pendarvis. "To blend and mesh with the other voices is awesome," she adds.
"All the harmonies ping," says jazz singer Jo Lawry, who currently backs up Sting.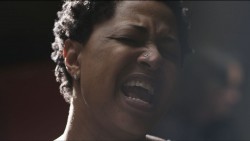 "Some people will do anything to be famous, and then other people will just sing," says Lisa Fischer, the revelation of the film. "I love melodies," she adds, after scatting effortlessly. In Hounds of Winter, Sting described her as having an "extraordinary ghostly voice." Trumpeter Chris Botti (with whom she has been performing jazz the last few years) calls her "a freak of nature" noting that Sting turned her "powerhouse voice" loose. She's been on every Rolling Stones tour since 1989. (Her description of her audition for Mick Jagger was cut from the finished film -- when she started to sing, Jagger got up from his desk and walked over and began moving with her.)
Fischer explains her stunningly beautiful, lullaby-like version of Samuel Barber's Sure on this Shining Night this way: "You just let yourself go. You never hit your head, you just land."
She learned a lot about breath from Luther Vandross (who started as a backup singer himself). "Can you give it to me with more air," he once asked of her.
Springsteen remembers being invited by David Bowie to Philadelphia in 1973 when Vandross was one of the backup singers in Bowie's Young Americans band: "They bring a world with them," Springsteen said.
The enthusiastic Waters Family seems happy with its backup role. According to Springsteen they secularized the gospel sound. You may not know them but you've heard them singing on the It's a Small World ride at Disneyland/Disney World, Michael Jackson's Thriller, the theme from Growing Pains and even producing bird sounds for the movie Avatar.
Led Zeppelin and Joe Cocker, among other Brits, wanted to sound black and needed backups to do so. Mick Jagger describes Merry Clayton's work on Gimme Shelter this way: "She sings the lyrics right along with me with a lot of personality." And when she sang "rape, murder, just a shot away," Clayton had the good musical sense to go up another octave.
(Clayton willed herself to be a Raelette and then one day Ray Charles was waiting for the right note from her in his choir. Not getting it he punched it out repeatedly on the piano in front of 5,000 people.)
Why do they not make it as up front stars? Lou Adler simply says of Clayton: "Stardom eludes her." Stevie Wonder is more articulate, talking about the importance of the material you choose and how you work with producers. Sting points out that "It's not a level playing field, it's circumstance, luck, destiny – I don't know what it is."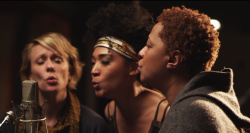 But if it takes ego, self-promotion and an understanding of the business to break out, why not satisfy your love of singing and serve another master?