Please click on photos for larger images.
Two of the most compelling films of the year have recently opened in downtown Toronto, elusive, elliptical, their images propelled by rich soundtracks.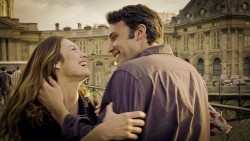 Even though none of the characters in Terrence Malick's To the Wonder (his follow-up to the Palme D'Or-winning Tree of Life) are musicians, the film's musical component rivals that of any film released of late. This exploration of love (both sacred and profane) by the masterful collagist of image and sound revolves around a taciturn strong male played by Ben Affleck and two women he loves. One, Marina (Olga Kurylenko, whose occasional voiceover chronicles the course of her ardour), a foreigner with a ten-year-old daughter, is drawn to him while holidaying at Mont Saint-Michel ("The Wonder") in Normandy. The other, Jane (Rachel McAdams), an old flame whose prime animus is religion, reconnects with him when he moves with Marina back to Bartlesville, Oklahoma.
"Newborn, I fell into the flame. You brought me back to life." With these words Marina begins this über-romantic rhapsody and it's her character that speaks to us of passion, unhappiness and love for her child. A priest (Javier Bardem) talks directly to Jesus with a similar passion, unhappiness and love for those unable to help themselves.
To the soundtrack: It's not only the extraordinary use of Wagner's "Prelude to Act One" from Parsifal which elevates the Mont Saint-Michel episode – in fact, only Lars von Trier's alchemy with the prelude from Tristan und Isolde in Melancholia can compare among recent Wagnerian film moments – it's the way Malick piles on phrase upon phrase with (often) unrecognizable bits of many works, among them Haydn's The Seasons and Respighi's Ancient Airs and Dances, Suite no. 2, the second and third movements of Gorecki's Symphony No. 3, the third movement of Rautavaara's Cantus Arcticus and Shostakovich's Piano Concerto No. 2 to Rachmaninov's Isle of the Dead.
The music adds depth and purpose to what we see onscreen. It gives flight to Emmanuel Lubezki's rapturous camerwork and underpins Malick's own ecstatic aesthetic rooted in the wonders of the natural world. When humans connect with it, so much the better.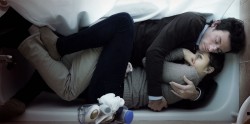 Shane Carruth's first film, Primer (2004), has spent the last several years being watched and devoured by many fans, hungry for the meaty morsels hidden in its time travelling framework. Upstream Color, his second feature, is a mesmerizing, trippy cinematic playpen touching on transformation and love, loss of identity and the transcendence of nature. Lines from Thoreau's Walden punctuate the script, along with orchids that house white worms. The worms are the conduit to drug the movie's Everywoman, Kris (Amy Seimetz), but piglets also fall under their spell.
Kris is kidnapped, drugged and stripped of her former life by Thief (Thiago Martins). She begins a new life with Jeff (Shane Carruth), the moments of which don't always follow a straight temporal path. Blue orchids presage a meeting at a pig farm with other victims. No doubt all will become clearer over the next several years. In the meantime, the director's sharp sensual eye and coruscating sound design keep us in rapt attention. Corruth, a trained mathematician and former software engineer, seems to enjoy engineering human souls, to borrow from the late Josef Skvorecky.
Corruth wrote, directed, produced, acted in, co-edited and wrote the unnerving electronic score for Upstream Color. One night Kris is awakened by mysterious high-pitched sounds. Then she realizes she's hearing very low sounds as well. Soon it's music to our ears. There's a motif that recurs of different characters rolling rocks down the inside of large sewer pipes with great panache. Rarely has an accompanying sound been as playful or as essential.