Two very fine period pieces have recently opened in downtown Toronto.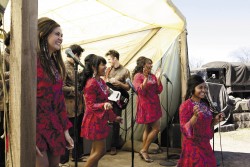 The performance of music is integral to the plot of The Sapphires, which is based on the true story of an Aboriginal Australian girl group who entertained the American troops in Vietnam in 1968. Their Irish manager had to teach the three sisters and their cousin the soul music they sang, but for a few months they all rode the exhilarating entertainment highway. There are huge sociological implications to their feel good story but as we discover as the credits roll, it's the love of singing that has sustained the lead singer for all the years that elapsed since, a gift that she shared with her own extensive family.
Until 1967 Australian Aborigines were classified as "flora and fauna." Children were routinely adopted or stolen by Caucasians who raised them. Inspired by a true story of the lost generation of Aborigines who lived with white families, Wayne Blair's film begins in 1958 with a young trio harmonizing a spiritual-like hymn. Ten years later they're singing country tunes in a talent show where they're recognized by a transplanted Irishman wannabe drummer, Dave Lovelace (Chris O'Dowd), whose great piece of advice is that they should sing soul not Charley Pride. From there Sam and Dave's "Soul Sister, Brown Sugar," puts "love and affection to the bone" and the movie takes off.
Given that soul music is about being desperate to retrieve what has been lost, the girls' social status feeds their musical language, they become "The Sapphires" and it's off to Saigon.
Chris O'Dowd -- seen lately on cable and laptops in Girls as the investment banker who had a brief marital fling with wild child artist Jessa (Jemima Kirke) -- has a constant twinkle in his eye and smile on his face. Funny thing is, he seems to love soul music as much, if not more, than The Sapphires themselves. And he's crazy about them.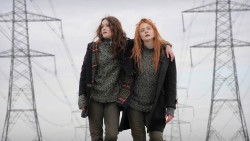 Sally Potter's Ginger and Rosa is the story of two 17-year-olds, best girlfriends. Set in the London of 1962 when Britain was rife with "Ban the Bomb" fervor, you can hear Count Basie, Django Reinhardt, Charlie Parker, Duke Ellington, Miles Davis, Dave Brubeck, Les Paul, Sidney Bechet and Thelonious Monk punctuating the narrative. Ginger (Elle Fanning) and Rosa (Alice Englert) ride the rails of left-wing politics and poetics as they play out their bohemian rebelliousness. Ginger is the more grounded of the pair and it's her perspective through which we see the action. A turn in the plot plays havoc with the girls' friendship and nearly derails a nicely spun story.
Still, hitchhiking to "Apache" by The Shadows can't be beat. And any movie that gives us Christina Hendricks (she plays Ginger's mother) singing "The Man I Love," bookended by Little Richard and Chubby Checker must be seen.