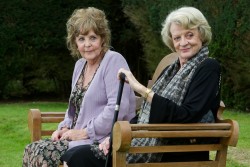 "This is not a retirement home -- this is a madhouse," the inimitable Maggie Smith announces in the ebullient new film Quartet. But what's to be done when the diva refuses to sing? The show must go on, of course.
Each October 10, Beecham House, a fictional home for retired opera singers and other musicians, celebrates Verdi's birthday with a fundraiser for the residence. When Jean, an operatic grande dame (played by the equally grand, Dame Smith) and ex-wife of Reggie (Tom Courtenay) unexpectedly moves in, Wilf (Billy Connolly), Cissy (Pauline Collins) and Reggie see their plans for the latest bash unravel. The titular quartet of concert performers is thus inadvertently reunited, unleashing all manner of grudges and glories.
Quartet (just now in theatres) is a rarity. Ronald Harwood's highly enjoyable screen adaptation of his 1999 play manages to fuse the acting talents of some of the UK's finest (Michael Gambon is also featured) and the directorial debut of 75-year-old Dustin Hoffman with a cornucopia of musical excerpts. Verdi's La Traviata and Rigoletto, Puccini's Tosca, G&S's The Mikado, Rossini's The Barber of Seville, Haydn's "Sunrise" quartet and "Military" symphony, a Boccherini string quintet and the Toccata and Fugue in D Minor by Bach are all fodder for the cast. Harwood was inspired by Tosca's Kiss, Daniel Schmid's loving documentary depiction of the residents of the Casa di Riposo per Musicisti, which Verdi founded in Milan as lodgings for elderly singers who needed material help.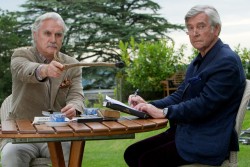 Music percolates everywhere in Beecham House (named after Sir Thomas) with the residents exuberantly playing out Bette Davis' maxim "Old age is not for sissies." As they prepare for the house fundraiser, their love of life is infectious. And with many of them portrayed by musicians, from soprano Dame Gwyneth Jones (unforgettable performing "Vissi d'arte" from Tosca) to former BBC Symphony principal clarinetist Colin Bradbury and versatile trumpet player Ronnie Hughes (his resume even includes the Beatles' "Martha, My Dear"), the quality of the musical content is assured. Be sure to stay through the beginning of the credits where many of the musicians are pictured in their younger days.
Quartet seems poised to appeal to the same audiences that made The Best Exotic Marigold Hotel the sleeper hit of last summer.