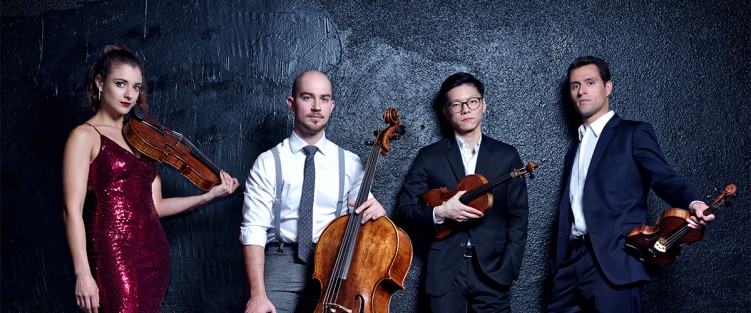 Toronto Summer Music's first-ever online festival came to a rousing conclusion on August 1, with TSM artistic director and TSO concertmaster Jonathan Crow leading an elite group of instrumentalists in Beethoven's ever-popular Septet in E-flat Major Op.20. Crow stood at the top of a socially distanced circle on the stage of Kingston's Isabel Bader Centre for the Performing Arts with TSO associate principals, Eric Abramovitz (clarinet) and Darren Hicks (bassoon) clockwise to his right. TSO principal horn Neil Deland stood between Hicks and TSO principal double bassist Jeffrey Beecher, while Montreal Symphony principal cellist Brian Manker and celebrated violist Barry Shiffman completed the oval.
Written in 1799, Beethoven's Septet is an expression of the optimistic young Beethoven, still under the sway of Haydn and Mozart but confident enough to devise a chamber work for a previously never-heard combination of wind and string instruments. Fittingly, given the violin's prominence in the piece, this performance marked Crow's only musical appearance at the festival he oversees. The violin's lyrical leadership stood out in the Adagio Cantabile second movement and its flourishes dominated the fourth. Crow navigated the conversation between the winds and strings in the charming fifth-movement Scherzo, while in the finale, his impeccable response to the horn and clarinet opening Andante picked up the pace to the Presto and the cadenza that brought the septet to its celebratory conclusion. The septet was preceded by another early Beethoven work, 7 Variations on Bei Mënnern, welche Liebe fühlen from Mozart's Magic Flute WoO46, for cello and piano. Cameron Crozman brought a sense of ease and delicacy to his cello playing, evocative, spritely and joyful; Philip Chiu's piano collaboration was exemplary.
TSM's 20 livestream events – including two repeats – featured over 50 artists and reached over 18,000 online viewers from over 45 countries (among them Australia, Japan, South Africa, Mexico, Israel, Finland, Taiwan, India and the UK). The festival announced that they had exceeded their goal of $20,000 in donations.
There were many memorable moments among the 11 events I was able to view (some of which I touched on in my review of TSM's opening weekend). From the stage of the Isabel Bader Centre for the Performing Arts on July 23, Montreal Symphony Orchestra concertmaster Andrew Wan's exceptional performance of Bach's Chaconne from Partita No.2 in D Minor for unaccompanied Violin was notable for the violinist's superb singing style that exposed every note. He effortlessly conveyed the work's architecture and the natural flow at the core of this masterwork.
The Dover Quartet, a TSM favourite, performed their July 25 (repeated July 26) concert from the Vail Colorado Interfaith Chapel. Their well-chosen program began with Mozart's Adagio and Fugue in C Minor K546, in which the Dovers showed off their terrific balance and dynamic cohesion. The forceful urgency of the Fugue was a perfect lead-in for Beethoven's String Quartet No.8 in E Minor Op.59 "Razumovsky" – the opening two chords of the Beethoven continued the feel of the Mozart. Again the Dovers exhibited a unity of purpose from pianissimo to fortissimo, as their forward momentum built tension from declamations and short, splayed melodic phrases.
In the Molto Adagio second movement – one of Beethoven's most beautiful adagios – the Dovers built the composer's slivers of melody into a wholly new structure. Rhythm was the key to the Presto Finale and the players didn't miss a beat or a note of the omnipresent tension that led to a triumphant conclusion. Outstanding.
The July 27 edition of the TSM's Mentor Mondays series found Montreal Symphony principal cellist Brian Manker discussing the Bach suites for unaccompanied cello with the celebrated British cellist (and Manker's onetime teacher), Colin Carr. Manker distilled their nearly seven-hour Zoom conversation, which took place over two days, into 50 lively minutes of Q & A and sinfully rich musical illustration on Carr's 1730 Gofriller cello. Carr's image of Bach spitting the suites out as he was walking through the city of Cöthen set the tone. "The religious attraction attached to these pieces is probably misplaced," Carr said. "I think of them as easy listening – the art of making them sound simple is what we spend our lives doing. It's like the most pure water you're ever likely to drink; we cellists make it impure."
Mezzo-soprano Ema Nikolovska (TSM Fellow, 2015) devised an impressive 75-minute program for her Fellow Friday noontime recital in the Burlington Performing Arts Centre on July 31. With Steven Philcox at the piano, she began with three Beethoven songs and three by Schubert, highlighted by Schubert's transporting An den Mond D193. The pair were joined by Nikolovska's former violin teacher at the Glenn Gould School, Barry Shiffman, for a pair of Brahms songs, Op.91. Shiffman's gorgeous viola playing and the palpable longing in Nikolovska's voice meshed beautifully in the first song "Gestillte Sehnsucht" (Longing at rest), leading into the sacred cradle song that followed. Ana Sokolović's emotional Ma Mère for solo voice was a brilliant next step.
Nikolovska then linked the lyricism of Fernando Obradors' classic Spanish songs to Ravel's Spanish-tinged Vocalise, her expressiveness a constant throughout. Next came Poulenc's contrasting Banalités with their "incredible soundscape" and a selection of English-language texts – among them Langston Hughes, James Joyce and William Shakespeare – set by the likes of Ned Rorem, John Musto, Samuel Barber and Ana Sokolović and capped by Healey Willan's arrangement of Robert Burns' Ae Fond Kiss.
It was a vivid, imagistic tour de force. It would come as no surprise when less than a week later she was named to the CBC's annual classical 30 under 30 list.
Except for the absence of the TSM's usual reGENERATION concerts, in which Academy Fellows perform with a Mentor, the online version of TSM 2020 was a highly enjoyable reimagining of the festival as we have come to know it over its 15-year life, showcasing a variety of chamber music events, kids concerts and Zoom webinar masterclasses – this year, the contagious enthusiasm of cellist Julie Albers and the double-pronged analysis of Miró Quartet members, violinist William Fedkenheuer and violist John Largess, filled two of them.
The Toronto Summer Music Festival ran online from July 16 to August 1, 2020.
Paul Ennis is the managing editor of The WholeNote.