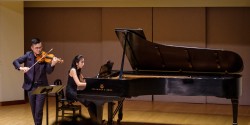 Andrew Wan, concertmaster of Orchestre Symphonique de Montréal (OSM) and violinist along with Jonathan Crow in the New Orford String Quartet, was a logical choice to participate in this year's Toronto Summer Music Festival (TSM), the first under Crow's artistic direction.
Before Crow introduced Uriel Vanchestein's Les Veuves (The Widows) to begin TSM's July 26 concert before a full house in Walter Hall, Wan stood up to congratulate his quartet partner, saying he was like a brother from another mother. They're both consummate musicians, dedicated, versatile and passionate. On July 20, the day after Wan's first TSM public appearance (performing with Crow and James Ehnes in Bach's Concerto for Three VIolins BWV 1064R), he spent an hour in an open rehearsal with fellows of the TSM Academy working on Korngold's Piano Quintet in E-flat Major, Op.15. His passion for Korngold's "very complex piece, very gnarly, very romantic," as he described it to the audience in Walter Hall, was evident from the way he handled the beautiful, soaring melody of the slow movement from the first violin chair, and the powerful bowing that propelled the ad hoc Academy members as they played the piece together for the first time. "That's pretty crazy," Wan said, turning to the audience, when they finished. (There are 54 changes of time signature in the Adagio alone.) When a problem with a specific bar bothered the cellist, Wan immediately said: "Why don't we isolate it?" A rhythmic question was solved by counting out three bars, ending with the troublesome one. At one point Wan had everyone sing a few bars before playing them. (Wan's quicksilver intelligence and problem-solving directness resembled similar traits Crow brought to the open rehearsal of the first movement of Schubert's "Death and the Maiden" String Quartet a week later in Walter Hall, when he was in the first violin chair with another group of Academy members. Talking quickly so as not to waste time, Crow used a cellphone metronome to try out different tempos, had various combinations of instruments play in pairs to concentrate listening, tailored the quartet's sound to the larger venue of Koerner Hall where the performance would take place August 4, and slowed down a climactic passage to better hear its components and check intonation.)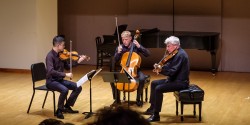 At the July 26 concert, Wan played first violin in Les Veuves, and together with Crow, violist Steven Dann and cellist Desmond Hoebig, produced a rich and polished tone in Vanchestein's programmatic tale of an Indigenous woman who takes revenge on lumberjacks who destroy the trees that surround her home. Wan then joined pianist Angela Park in Oskar Morawetz's hyper-romantic Sonata No.3, which served as a bold, rhapsodic vehicle for his sweet, fulsome, highly coloured tone. Dohnányi's Serenade in C Major for String Trio, Op.10 followed with Wan, violist Steven Dann and TSO principal cellist Joseph Johnson blending their individual voices and precise playing in what served as a compelling argument for the primacy of live performance.
After intermission Crow, Park and cellist Desmond Hoebig took on Dvořák's resplendent Piano Trio in F Minor, Op.65 with Crow and Hoebig trading melodies, with gorgeous violin tone and limpid cello sensitivity, while Park supplied a balanced support on the keyboard. Even more than in Les Veuves, there was a sense of the connection between the Orford and the New Orford string quartets (Hoebig was the cellist in the Orford's last years before taking up the principal cellist post in the Cleveland Orchestra) and of the generational torch being passed. The spontaneous standing ovation was well-deserved.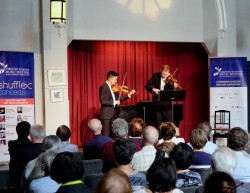 Late the next afternoon, on July 27 (just 30 minutes after Crow's Death and the Maiden rehearsal), Wan and Crow got together for an hour-long Shuffle Concert dubbed "Concertmaster Duo" at Heliconian Hall. Wan recalled his first meeting with Crow at Orford in Quebec, one summer in the early years of the new century. Wan was a student and was struck by "this tall blond dude who had just played the hell out of the violin part of Schoenberg's Transfigured Night." Within a few years they were friends and part of the New Orford String Quartet. "We annoy each other endlessly," he joked.
The concert began with a sonata for two violins by Jean-Marie Leclair, the Baroque violinist/composer who founded the French violin school. The two concertmasters were a matched pair, exhibiting a light touch and a tightly coiled tone, characteristics that were even more pronounced in a vivid interpretation of a handful of Bartók's 44 Duos for Two Violins. A selection of Berio duos, inspired by the writing styles of other composers, followed: the first, based on Bartók, opened a door to several of these miniature character studies, all of which oozed charm and humour. The violinists' technique was on full display in Seven Proximities by Quebec's Maxime McKinley; their virtuosity and musicianship shone in Prokofiev's epic Sonata for Two Violins in C Major, Op.56 with its long lines, mysterious mood, devilish passagework, slow and sultry slow movement and jocular finale. Schnittke's clever Moz-Art (on K416) for Two Violins was played with verve. Their version of Mozart's Turkish March put a bow on a lively 60 minutes of music that is rarely heard live. The concert was another essential component of the cornucopia that is this year's Toronto Summer Music Festival.
The Toronto Summer Music Festival opened on July 13, and runs until August 5.
Paul Ennis is the managing editor of The WholeNote.