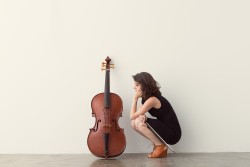 The Toronto Music Garden has presented Summer Music in the Garden, a series of free open air concerts throughout the summer, since 2001. On Sunday, July 23, Montreal-based cellist Elinor Frey, an artist who has appeared several times in the series, returned with her duo partner, the Italian harpsichordist Lorenzo Ghielmi. They brought a program of German music from the mid-eighteenth century, most of it appearing on their recent CD titled The Berlin Sonatas on the Belgian Passacaille label.
The program was beautifully presented, in spite of the constant threat of rain and a persistent breeze. The conditions did not prevent a large crowd from gathering in the Music Garden, and the event staff skillfully added just enough amplification to make all the music and the artists' commentaries entirely clear. Frey played her five-string Baroque cello, an instrument that adds an E-string above the usual top A-string. Such cellos were common in seventeenth and eighteenth century European court orchestras, and were particularly suited for virtuoso playing in high registers. Frey demonstrated this with her own instrument by playing two solo violin pieces by Franz Benda, a composer who spent 63 years in the service of Frederick II "the Great" of Prussia. Benda's Progressive Exercise no.25 and his Caprice no.16 were both elaborate, extroverted showpieces that transferred beautifully to the five-string cello.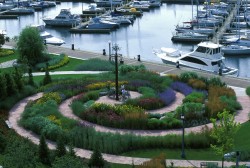 Frey and Ghielmi collaborated in three sonatas, by Carl Friedrich Abel (1723–1787), Carl Heinrich Graun (1704–1759), and Johann Christoph Friedrich Bach (1732–1795) – all examples of the so-called "language of sensibility" (Empfindsamkeit) from this time period. At the concert, Frey described this stylistic approach as "an expression of sadness, anger, wrath, joy, love, and praise." The style, she said, calls for "various changes in dynamic, both abrupt and subtle, at the service of beautiful melodies and expressive fantasy." The many interpretive shadings found in all these sonatas, as displayed by Frey and Ghielmi, yielded a delightful range of expressive music. The two artists were an ideal duo, both showing their individuality within a perfectly balanced sense of ensemble. The program was rounded out with Ghielmi's subtly nuanced harpsichord solo, the Fantasia in A minor BWV922 by J.S. Bach. This was Summer Music in the Garden at its finest!
In the coming weeks, Summer Music in the Garden will offer a great variety of diverse musical performances, including Fiddling in the 21st Century, Eh?!, with traditional fiddlers Anne Lederman, Emily Stam and James Stephens (August 10); Fire and Grace, with violinist Edwin Huizinga and guitarist William Coulter (August 24); and the season finale, the Ton Beau String Quartet (September 17). See the details for these and many other excellent performances in our listings, or at: http://www.harbourfrontcentre.com/summermusic/performances/.
Summer Music in the Garden runs until September 17 in the Toronto Music Garden.
David Jaeger is a composer, producer and broadcaster based in Toronto.