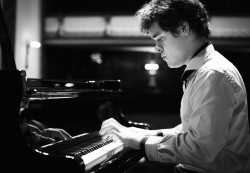 Benjamin Grosvenor returned to the Jane Mallett stage October 13 and exceeded all expectations. In a program that, for the most part, looked back to the Baroque from a Romantic sensibility, the 23-year-old British pianist displayed his unique voice in a field crowded with talented performers.
Grosvenor memorably took the fugue from Mendelssohn's Prelude and Fugue Op.35, No.1 from evanescence through emboldenment and back. The prelude from Op.33, No.3 was spellbinding, its quiet lyricism a hushed beauty; the fugue a capricious romp. Bach's Chaconne, from the Partita in D Minor for Violin BWV1004, as transcribed by Busoni, doubled down on the evening's backward glance by evoking its twin spirits with haunting results, the pianist's attention to dynamics never overdone. Franck's Prélude, chorale et fugue continued to build sound worlds with compelling pianissimo passages and a well-structured approach. The chorale harkened back to the Mendelssohn and the Bach-Busoni.
Ravel's Tombeau de Couperin moved the program into the 20th century even as it retained the baroque rearview-mirror quality of the evening. Grosvenor, characteristically hunched over the keyboard, brought clarity and dreaminess to the Prélude; a great delicacy to the sonic marvel that is the Fugue, with its notes seemingly bursting into air; a prismatic elegance, lovely bent notes and well-defined rhythm, with a hint of mystery, to the Forlane; a touch of frenzy in the Rigaudon, a touch of melancholy within the polished framework of the Menuet and a raciness to the raucous Toccata.
With Liszt's Venezia e Napoli the tenor shifted to the romantic embellishment of the Italian popular song. Embellishing the opening Gondoliera also meant capturing its essence; the Tarantella was wild with its repeating notes, tone clusters and arpeggiated runs. Percy Grainger's arrangement of Gershwin's Love Walked In brought the evening to a sublime and logical close, as it echoed the popular song motif of the Liszt. Grosvenor is a unique creator of sound, worlds within worlds, attentive and nuanced. A riveting experience.