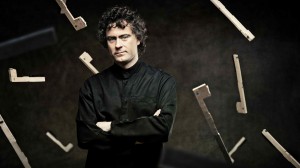 On the last Thursday afternoon of July in a warm St. Andrew's Church (hand-held fans were provided) as part of Stratford Summer Music, British pianist Paul Lewis introduced what he called "true peaks of the piano repertoire," Beethoven's last three piano sonatas. He spoke to his congregation as it were, those of us privileged to hear this supreme interpreter of Beethoven and Schubert, describing how he saw the pieces he was about to play.
The concert turned out to be the highlight of the summer.
According to Lewis, if there were one word to describe Op.109 it was "radiance." He characterized the piece as "contemplative, introspective" and representative of many-sided lyricism.
His word for Op.110 was "luminous." He noted the German folk song "I'm a Loser, You're a Loser" that Beethoven borrowed as the basis for the second movement. The third movement, he said, "seems to hit rock bottom" before "gradually coming back to life" and ending in "a euphoric state of joy."
As for Op.111: "It goes to a different place." The relentless tension of the first movement is followed by an "extraordinarily simple" Arietta theme that "18 minutes later opens up into silence."
It's unusual for a pianist to comment on his program, and particularly with such insight, just before playing it but Lewis is no ordinary performer. Indeed, his Harmonia Mundi recording of Beethoven Piano Sonatas, Vol 4, which includes the final three, was named Gramophone's 2008 Recording of the Year. Lewis is a pianist who understands what he's doing and conveys it. If anything, the intervening years have only deepened his interpretation of Nos. 30-32.
His was a Romantic performance of depth and solidity, beginning with Op.109. He played the first movement with a forward-thrusting urgency and a fine sense of phrasing. The urgency was even more pronounced in the second movement, which was also marked by a full round tone and a dynamically expansive range. In the finale, Lewis teased out the chorale-like theme (seemingly bedecked in an angelic countenance amidst a field of trills) using his magisterial technique solely for musical purposes, culminating in the restatement of the theme in all its clarity and grace.
The fleet-fingered arpeggiated passages of Op.110 were always well-shaped, the aspirational melody of the singing right hand balanced by the strong left hand, emphatic but never rushed. The luminosity of the piece as it progressed into the ethereal realm of the fugal ending seemed to grow naturally from the thick richness of his tone, the unexcited quality of his technique, the power of his fortes and the strength of his pianissimos.
The concert was played without intermission, which allowed what Lewis had told us was to be "a great journey" to proceed uninterruptedly and build to its incontrovertible climax, Op.111.
The first movement began with a roiling bass that introduced a relentless theme that seemingly knew no boundary. Lewis used his immense power to define both individual notes and chord clusters before the concluding demonic passagework that was beyond reproach. Is there any end more perfect, more at peace, more transportive than the second movement Arietta (another theme and variations)?
It was amazing to witness the depth of the sound Lewis drew out of the piano, never losing impetus on his way to the starburst climax, the pianist always perfectly centred at the music's core. There was a look of awe on the his face at the concert's end. The audience was spellbound. It's hard to imagine Op.111 ever being played better.
Stratford Summer Music founder and artistic producer John A. Miller must be congratulated for his acumen in programming such a memorable event. There are three more concerts coming up that are as intriguing as they are unusual. Jan Lisiecki and the Annex Quartet will perform all five Beethoven piano concertos in their chamber music versions, Nos. 1 and 3 (August 27), Nos. 2 and 4 (August 28) and No.5 (Saturday afternoon, August 29).
Having heard Lisiecki and the TSO play Nos. 3, 4 and 5 last November, I'm eagerly looking forward to this latest iteration. It should be memorable.