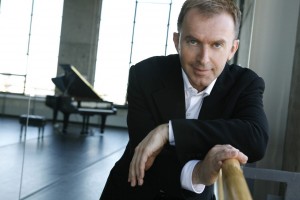 The American Avant-Garde concert July 28 at Walter Hall marked the midpoint of Toronto Summer Music's tenth anniversary season. It's been a diverse, well-planned festival so far with the promise of even more treasures to be unearthed before it ends August 9.
The numerous open rehearsals, lectures and masterclasses, all free and open to the public, are a welcome addition to the wide variety of concerts by mentors, fellows and special guests that have become the hallmark of this musical oasis where formerly not much bloomed here in past Julys and Augusts.
Bosnian-born, Juilliard-trained pianist Pedja Muzijevic, one of TSM's mentors, headlined the American Avant-Garde evening, yet another example of thoughtful programming. It began with Muzijevic reading John Cage's 32 Questions, which the composer originally used in a talk at Darmstadt, West Germany in 1958. An example of Cage's wit coupled with his fresh way of approaching the concepts of sound and music, the questions set his The Seasons (1948), the concert's opening piece, in a Cagian context, with the filigrees of "Spring" brightly played and sensitively nuanced, "Summer" balmy and spare, dynamically well-shaped, the harsh atonal chords of "Autumn" giving way to the stillness of "Winter's" prelude.
Muzijevic, who is the artistic administrator of the Baryshnikov Arts Center in Manhattan, recently performed The Seasons in New York along with Cage's questions. In Toronto he added a welcome bonus. Between the second and third seasons, he inserted Morton Feldman's first two Intermissions, very spare, brief and quiet works reminiscent of Webern, which he played with impeccable flair.
He returned after a break to collaborate with violinist Harumi Rhodes, another TSM mentor, in a vibrant performance of Charles Ives' timeless and forward-looking Violin Sonata No. 4 "Children's Day at the Camp Meeting." After a lively Allegro, the Largo featured plenty of character on the piano that buttressed a sadly lyrical violin. The finale spotlighted contrasting versions of "The Beautiful River" (a favourite hymn of the great American filmmaker John Ford, among others) beautifully and maniacally played.
Afterwards, Muzijevic, an engaging man with a mic (who earlier used that skill to introduce the first half of the program), called Ives "one of a kind – a Norman Rockwell painting gone terribly wrong." He concluded his part of the evening with a transfixing interpretation of Cage's impressionistic In a Landscape. Its Debussy-like palette evoked a misty Chinese mountain painting, with the damper pedal helping to sustain that effect. At the end, the audience let the silence linger before applauding, much to the pianist's evident delight.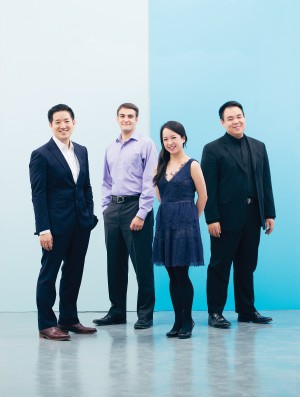 The irrepressible Afiara String Quartet brought the evening to a rousing conclusion with a no-holes-barred performance of John Zorn's Cat O'Nine Tails (1988) which cellist Adrian Fung described in his spoken introduction as a combination of Tex Avery (the famous Warner Brothers' animator) and the Marquis de Sade, a rapid-fire concoction that reproduces AM radio static (along with other remarkable effects) and contains quotes from Xenakis and Bugs Bunny cartoons among other delights. A remix before the advent of DJ culture.
The Afiara's performance was marked by wonderful instrumental interplay and flawless togetherness, a satisfying end to a well-conceived concert.