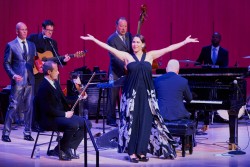 The Portland-based trans-genre 10-piece band (plus vocalist) Pink Martini turned the Roy Thomson Hall stage into a sophisticated nightclub/dancehall/cabaret venue as it entertained a capacity crowd with 18 songs spread over two hours including intermission. Led by two former Harvard classmates, pianist Thomas Lauderdale and vocalist China Forbes, Pink Martini has been acting as the unofficial house band of the United Nations since its first independent album Sympathique broke out in the late 1990s.
That album is still the bedrock of their appeal. Half a dozen tunes from it (from Bolero to Brazil) anchored the show June 30. Bolero's opening iconic rhythmic figure played by four percussionists backed the sweet violin of Nicholas Crosa which started the stately progression of the melody from violin to piano to trombone.
Pink Martini played things straight avoiding any bent notes that would camp things up or detract from the intrinsic classicism of much of their material. The comfort level they have with each other enables them to move seamlessly through various groupings of soloists and accompaniments. In Donde Estas, Yolanda?, for example – a classic originally written in 1955 by a Peruvian and popularized by a Cuban singer and a Mexican band in the 1960s – Forbes' lively opening recedes into the background as Timothy Nishimoto (one of the four percussionists) took the lead backed by trumpeter Gavin Bondy and trombonist Robert Taylor, who chime in when not playing their own instruments.
After the break, Taylor sang She Was Too Good For Me, in the style of Chet Baker who helped make it famous years ago. Bondy echoed his plaintive style on the trumpet painting RTH blue.
Lauderdale, his grand piano at its customary 45-degree angle from the lip of the stage, loves playing chords, which he does with panache and rigour. His stage patter is spare and to the point while Forbes was more informative. She described of the origins of the anthemic Sympathique, one of their first compositions (which the pair wrote inspired by Poulenc and Appolinaire) and how the poet's estate sued them once the song became a favourite of French workers for the line "Je ne veux pas travailler."
The evening's repertoire also included the torchy Ich Dich Liebe originally sung by Mamie Van Doren in the 1964 German western movie Freddy and the Song of the Prairie, Japanese, Turkish and Hindi songs, as well as the Croatian U Plavu Zoru (from the Hang on Little Tomato CD). The latter opened with Crosa's expressive violin, moved into a subdued vocalise by Forbes and a Bondy trumpet echo before being joined by five percussionists for a minor jam before transforming into the echoes of a bygone era and ending with the purity of voice and violin.
Forbes' sweet and full voice with overlapping piano accompaniment and violin asides made for a meaningful take on the Doris Day song from Hitchcock's 1956 film The Man Who Knew Too Much that won an Oscar for Jay Livingston and Ray Evans. Another standout was Forbes taking the Barbra Streisand part (Happy Days Are Here Again) and Nishimoto the Judy Garland role (Get Happy) in a perfectly matched duet that combined the two songs.
The standing ovation that followed was sustained by Lauderdale leading the house in the singing of Oh Canada on the eve of the country's 148th birthday.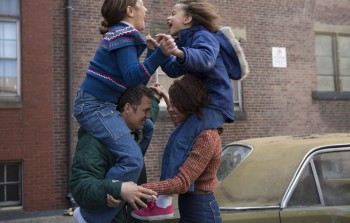 Serendipitously, Infinitely Polar Bear, a new film written and directed by Forbes' sister Maya, opened at the Varsity Cinema in Toronto July 3. It's an affectionate memoir recounting the 18-month period during which the two girls' bipolar father looked after them in Cambridge (following a spell in hospital for a breakdown) while their mother was in New York getting her MBA from Columbia. The sisters were eight and ten then, spunky, full of energy, intelligence and insights that belied their ages. Their father (played with sincerity and charm by the compassionate Mark Ruffalo), who could be an embarrassment to his daughters, was a member of a Boston blueblood family and encouraged their creativity; their mother (played with determination by a sympathetic, grounded Zoe Saldana) became a pioneering African-American in the field of investment and wealth management.
Maya (called Amelia Stuart in the film) is played endearingly by Imogene Wolodarsky, the 12-year-old daughter of the director and her producer husband Wally Wolodarsky; the delightful Ashley Aufderheide is China (Faith in the film).
The well-chosen soundtrack has a decidedly retro feel led by Brenton Wood's delightful The Oogum Boogum Song. Doc Watson's guitar softly guides us through some of Ruffalo's character's occasional difficulties while Snooks Eaglin, Mississippi John Hurt, Tina Turner and George Harrison, among others, reinforce the positive vibe.
Be sure to stay through the credits to hear China Forbes' new song The Northern Line. It says in three minutes almost as much about how it felt to be raised in a loving household by a mentally ill parent as her sister conveys in an hour and a half. It's an upbeat, deceptively innocent folkie tune above a ukulele strum that smiles as it's sung, capturing what family meant to her.