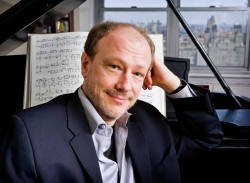 Not since Glenn Gould has a Canadian pianist had such a global impact as Marc-André Hamelin. Just as Gould's interpretation of Bach revolutionized the way we heard his music, Hamelin made musical sense of late 19th and early 20th century pianist-composer romantic music so fiendishly difficult it had seemed lost until he unearthed it. As the years passed, Hamelin's repertoire broadened to embrace more traditional repertoire and his March 1 Koerner Hall recital included Debussy's Images Book II from his recently released Hyperion Debussy CD.
Hamelin's program comprised two rationally sensible parts. Before intermission, the pianist began with John Field's Andante inédit, which looked forward colouristically to Debussy's palette exemplified by the Images. Bracketing the Debussy were two of Hamelin's own compositions, his Pavane Variée and Variations on a Theme by Paganini.
According to Hamelin, the Pavane is based on Thoinot Arbeau's 16th century pavane Belle qui tiens ma vie, a strikingly beautiful love song, that has haunted him ever since he first heard it sung by The King's Singers. After a stately pronunciation of the original, the piece soon fell into a shimmering note box before moving into a more vertical space, all of which felt as if it were paying back a debt to Debussy. Next, Hamelin used his prodigious technique in Stravinsky-like rat-a-tat-tat chords, moved through contrasting moods reminiscent of the mid-20th century, then took the Pavane to the ultimate chordal limit before deconstructing it and ending the dance.
Hamelin exhibited his extraordinary touch in the first of the Images, pushing the keys down just enough to make a quiet bell sound at the beginning, which led to an unfettered approach that allowed him to colour the piece without undue volume. Hamelin brought more tonal definition to the next piece, a supreme example of impressionism impeccably delivered. Hamelin doesn't need to make a case for his virtuosity; the climax of the second Image, with its sublime lyricism, made it for him.
It seemed impossible to do what he did in the third Image, musically making sense of avalanches of chords and arpeggiated passages, balancing dynamics without crossing the imaginary line into gauche or inappropriate. But he did.
I had heard his capricious Paganini Variations more than three years ago as an encore at a Music Toronto concert and it's even more of a showpiece now than it was then, in its infancy: wittier and more brilliant than Horowitz, more inventive than Earl Wild and on a level with Rachmaninov himself (without the lyricism). A little Gershwin here, a little humour there, a Fifth of Beethoven for a brief pick-me-up, before flashing fingers brazenly greeted the return of the theme, Paganini's 24th Caprice. It had the capacity audience on their feet.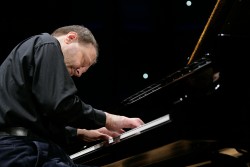 The second half marked Hamelin's persuasive venture into the Schubertian sound world, with the composer's glorious final sonata, a large-scale work with an enormous, many-streamed first movement burgeoning with ideas. Full of strength where appropriate, Hamelin mined its many strands using an unflinching romantic approach. It was an approach that made the regalement of the second movement's beauty particularly melancholic. After an appropriately subdued beginning, Hamelin unveiled Schubert's idiosyncratic scherzo with its youthfulness chastened by maturity, a brilliant movement, brilliantly played. The finale came to life with the incontrovertible positivity of its big chords.
Schubert's Impromptu Op. 142, No. 2, which flowed effortlessly with a singing melodic line, was a natural encore after the sonata. Hamelin will next regale us at Music Toronto January 5, 2016 and at RTH with the TSO next February 25 and 27.