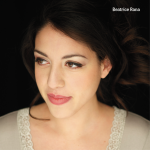 Italian-born pianist Beatrice Rana, winner of the Silver Medal and Audience Award at last year's Van Cliburn competition, brought a nearly full Walter Hall to its feet last night with a heartfelt, technically gripping performance of Prokofiev's Sonata No 6 in A Major, Op.82. The 20-year-old took the Toronto Summer Music Festival clearly into the modern age with the Russian composer's chromatic melody-maker that was soul food for the age of anxiety in which it was written.
Right from the start Rana filled the hall with the sonata's stark chords, then moved effortlessly into the second movement's dreamy walking theme with its hints of the composer's Symphony No. 5. She brought out the emotional depth of the third movement's lovely melody before illuminating the final movement with its conjuring up of the realm of Prokofiev's Visions Fugitives. She smoothed out the final hammer-like chords just enough to bring life to their spirit, sparking an instantaneous standing ovation.
The recital began with Bach's Partita No. 1. Rana brought an elegant romanticism to the "Praeludium" which was closer to Lipatti than to Gould. Wonderfully shaped phrases in the "Allemande" and "Corrente" were followed by an understated, slightly quickened "Sarabande" which on its repeat was played more freely and leisurely. The ornamentation of the two "Menuets" seemed particularly modern while the pools of notes in the entrancing "Gigue" were shepherded pointedly leading to a percussive conclusion that was warmly received.
Rana took off her baroque gloves for a fiery beginning to Chopin's "Funeral March" Sonata. Prototypically romantic, the first movement, with its beautiful melody was displayed in all its darkness and light unfolding with a master's touch. She moved into the second movement so quickly as if she were afraid applause or more likely a cough might break the spell. The roundness of the sweet melody that followed her straightforward funeral march dripped with beauty while the brief final movement with its impressionistic foreshadowings was a quiet cauldron of murmurs and rumbles.
It was a special night, made even more so by the knowledge that Ms. Rana may never appear here in such an intimate setting again. Her star is on the rise.