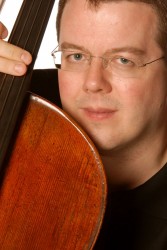 The latest edition of the Toronto Summer Music Festival (TSM) got off to a rousing start before a near-capacity Koerner Hall Tuesday evening with a scintillating performance by the Emerson Quartet appearing here for the first time since the arrival of cellist Paul Watkins in May of last year. With him, the venerable Emerson, now in its 37th year, has an added degree of warmth to go along with their impeccable sense of ensemble and steel-trap technique, all of which came together brilliantly in the splendid finale of Schubert's String Quartet in D Minor, D810, "Death and the Maiden," the final piece of an ambitious program.
The theme of this year's TSM is "The Modern Age," and while its programmatic intent will not really be felt until the fourth concert "Romanticism to Modernity" on July 25, one could be forgiven for taking last night's opening piece, Beethoven's String Quartet in F Minor, Op.95 "Serioso," as a prescient indicator of what will be coming since it swirls between the composer's middle and late periods in a febrile march towards modernity. Stravinsky famously said of the Grosse Fugue that it would "always sound contemporary." Late Beethoven is forever modern.
Benjamin Britten's String Quartet No. 2 C Major, Op.36 looks back to the music of Henry Purcell in the third of its three movements even as it thrusts forward to a post-WWII world – it was written just as the war ended and marked the 250th anniversary of Purcell's death. The "Chacony" is a seamless series of 21 variations over a ground bass; the Emerson's deeply felt interpretation was built on the strength of their unified sound, something that would be even more evident after intermission.
Schubert's celebrated quartet was never overly frenetic, its musical powers always firmly but naturally controlled so that its innate lyricism came to the fore. The second movement, which gives the quartet its nickname, was persuasively seductive and hauntingly transfixing; the fourth was a triumph of mature musicianship.
The success of TSM's opening concert augurs well for the next two: 20-year-old pianist Beatrice Rana's highly anticipated Toronto debut July 23 and Peter Serkin's pairing with the Orion String Quartet July 24 for two major 19th-century piano quintets.