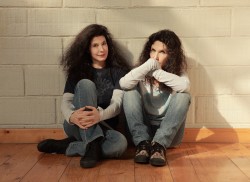 In a concert August 1 in Koerner Hall that lasted four hours including two intermissions, pianists Katia and Marielle Labèque were joined by four younger musicians in a wide-ranging exploration of minimalism, arguably the most influential musical trend of the last 50 years.
Trying to place minimalism into a context that could resonate with some audience members, Toronto Summer Music Festival director Douglas McNabney said that it began in the art world as a reaction to Abstract Expressionism while in music it took the form of structurally simple, tonal and rhythmically regular pieces, in contrast to the serialism that had alienated much of the classical audience by the middle of the last century.
The Minimalist Dream House Project, as the Labèques called their program, began as three evenings in London, England in November of 2011, part of an event to commemorate the 50th anniversary of minimalism's origins in a series of concerts in Yoko Ono's Chambers Street salon of lower Manhattan that were curated by La Monte Young.
Young, along with Terry Riley, Philip Glass and Steve Reich are considered the four horsemen of the minimalist apocalypse. All but Reich were represented in the Toronto concert.
The evening began with Marielle Labèque's affectless playing of an excerpt from Erik Satie's Le Fils Des Etoiles followed by the modular austerity of the composer's Prélude du 1er Acte: La Vocation. In an interview with CLASSIC fm Katia Labèque talked of associating Satie with "a free and adventurous spirit" and of how minimalism attracted the world of rock 'n' roll (Sonic Youth and Radiohead, in particular) and movies (especially the soundtracks of Philip Glass). It's "another conception of time," she added.
After joining her sister for John Cage's delightful, brief, Orientally tinged series of pianistic apostrophes, Experiences No. 1 (1945) and Arvo Pärt's tonally repetitive Hymn to a Great City (1984/2004), Katia soloed on two of William Duckworth's contrasting Time Curve Preludes, No 7 & No 12 (1977-78), the first a lovely melodic impromptu, the second a complex, repetitive explosive fortissimo bravura piece.
The two sisters concluded Part I with Glass' Four Movements for Two Pianos (2008). Distinctive Glassian tone clusters marked the first; the second had a somewhat diabolical quality; the third's playfulness felt Grieg-like, reminiscent of a Schumann children's piece; the fourth was an exultant combination of delicacy and depth which left the emotionally charged Katia visibly pleased and the audience markedly enthusiastic.
Part II began with the magisterial, epochal In C, (Download the score Here) by Terry Riley, the work that changed the landscape of classical music when it appeared on Columbia Masterworks in 1968 with its entire score of 53 cells there on the record album for anyone to play with friends or overdub on reel to reel tape with a mic. That something so simple could be so complex. For its performance in Toronto, the Labèques were joined by David Chalmin, electric guitar, Nicola Tescari, electronics, Alexandre Maillard, electric bass and Raphaël Séguiner, drums for a 32-minute distillation, an evolution that captured its essence, the phased insistent insousiance. Such a treat to hear live.
The remainder of Part II ranged from Brian Eno's 1975 In Dark Trees in which the melody emerges through the repetition of the ground, through Chalmin's ethereal vocal of Radiohead's 2001 Pyramid Song, accompanied by Katia's unerring regularity on the piano, to Séguinier's wonderful repetitious concomitance on his Free to X (2011) and Glenn Branca's 1979 Lesson No 1. In the Branca, Seguinier's forceful drumming's major build turned the two guitarists into rock gods; another vocal by Chalmin followed, with a very ostinato accompaniment by Katia Labèque, of Sonic Youth's Free City Rhymes (2000). Immediately, Katia moved to electric keyboard (which she played standing, like a rockstar) to accompany Chalmin's vocal raindrops with lots of verve and reverb on Suicide's Ghost Rider. Part II ended with Chalmin's own Gameland (2011), an impressionistic piece that moved from lack of interest into more animated repetitive segments that were distinctively Euro-zone.
Marielle Labèque (whose absence was conspicuous after In C) returned with some neo-impressionistic miniatures, excerpts from Images by Howard Skempton (1989) as well as his Postlude (1978). At times lovely, Glassian, serene and simple, one moment an homage to Mompou, another filled with Satie-like blocks of sound, one could only be grateful that the coughers had emptied (along with half of the audience).
They didn't know what they were missing. James Tenney's Postal Piece No 10: Having Never Written a Note for Percussion (1971), a very Zen gong solo (performed masterfully by Séguinier) which begins almost imperceptively and builds and builds before returning to its origins – as it reaches its climax it conjures up visions of nature unleashed. Then came Henry Flynt's conceptual 1961 Work such that no one knows what's going on, which was part of the original Dream House salon series. (One just has to guess whether this work exists and if it does what it is like.) Glass' 1967 One Plus One followed with a fascinating sound produced by Séguinier derived from a piano keyboard in which the piano, stripped of overtones, made a flat wooden sound accompanied by primitive rhythms by Chalmin.
Two pieces by Tescari – "Chaconne" and En 4 parenthèses – with Katia and Tescari on pianos plus the other three (Marielle would not reappear), Chalmin immaculate and Séguinier enriching the whole, proved to be a modern amuse bouche before the evening's splendid conclusion, a 20-plus-minute version of La Monte Young's 1964 paean to his pet turtle, The Tortoise, His Dream and Journeys impressively electrified to give its superdrone a generous vibrancy, like a rainbow in curved air. I must confess I was doing a breathing exercise into it, which added immeasurably to my enjoyment.
Kudos to Douglas McNabney for programming this infusion of modernism and contemporaneity.