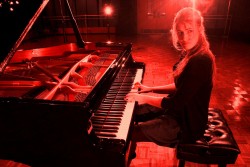 Distilled from 140 hours that included the family archives, I Am Not a Rock Star is a revealing portrait of a talented young pianist committed to serving her mistress, which just happens to be music.
A remarkable chronicle of a young woman as she matures both personally and professionally, I Am Not a Rock Star premiered at the Bloor Hot Docs Cinema November 16 followed by a short Q & A with the director, Bobbi Jo Hart, and her subject, 21-year-old pianist Marika Bournaki. The high-energy event concluded with a brief three-piece recital, excerpts from Schumann's Faschingsschwank aus Wien, Ravel's Sonatine and Rachmaninoff's Prelude Op. 23, No. 7, all performed with a deceptively easy self-assurance and captured on the Bloor's big screen by a live camera, just as if she were a rock star.
Rich in musical and personal detail, I Am Not a Rock Star is no melodrama, even though there are many tempestuous moments including one of two snippets that recur later – a Skype conversation with her father over what repertoire to include in a 15-minute audition for Young Concert Artists. (The other is a sublime piece of editing that brings back footage of Bournaki at five bowing at the end of a recital immediately juxtaposed after her 20-year-old self bows to conclude the last performance we see in the film.)
Ever since childhood she's been noticed. In fact, it was a newspaper article about her off to pre-college studies at Juilliard at age 12 that caught the eye of director Hart. In Hart's previous film She Got Game the filmmaker trailed Canadian Sonya Jeyaseelan around the women's pro tennis circuit and became "fascinated by women who started at four or five and followed their passion."
Bournaki has a big personality and her ease with the film's director allows the documentary's naturalism to flourish. It's rare for a film to capture this kind of personal and artistic growth over such an extended period of time (from 12 to 20). In his 7 Upseries, Michael Apted gave us snapshots of a group of British children, following them every seven years for decades. But I Am Not a Rock Star is quite different, with its dozen or so significant telescopic scenes from Montreal to Juilliard, London and Wigmore Hall to Seoul and Moscow, finishing off in Manhattan's Central Park.
Bournaki is a confident musician growing more polished each year, grounded principally by a fervent belief in a Platonic ideal of music. She calls it her religion. "I love music," she says near the end of the film.  "I'm serving something higher, I really believe it's the most beautiful thing in the world." Her ongoing relationship with her father is another constant, even though his "stage mother" monitoring over the years contributed to the breakup of his marriage by the time his daughter was 18. (Both parents were people whose early dreams of a performing life never bore fruit and her mother felt too much was sacrificed for the piano.) A third anchor is the support of her New York City companion, fellow Juilliard piano student and boyfriend of four years, David Aladashvili.
I Am Not a Rock Star will be shown on the Documentary Channel sometime in February.