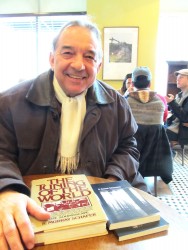 Now that september's TIFF-induced somnolence has receded from the new music scene, October starts to take on more of the shape one might hope for, with the emergence of new ensembles, an entirely new series of instruments, a major John Cage conference, almost back-to-back Koerner concerts by two heavyweight ensembles, both celebrating their 30th anniversaries and a plethora of inventive smaller presenters taking advantage of an ever-increasing range of intimate venues far and near.
It's a particularly nice coincidence for me to have this column kicking off the Beat by Beat section of the magazine in the very month that Richard Marsella's Regent Park School of Music moves into its new digs in the spectacular new Regent Park Arts and Cultural Centre (this month's cover story). It was Marsella, you see, who gave the column the name "In With The New" when he served, energetically and all too briefly, as The WholeNote's new music columnist. I wish him, and the school, momentum and luck.
Newest of the new:It is always interesting at the start of a new season to look at ensembles at the opposite ends of the spectrum in terms of longevity — at the ones celebrating significant anniversaries and at those just embarking. In the latter category, a group called the Thin Edge Music Collective probably takes the prize as the newest of the new. This time last year the collective was nothing more than a good idea in the minds of pianist Cheryl Duvall and violinist Ilana Waniuk.
"TEMC believes that contemporary music is a powerful medium which has the ability to comment and reflect on modern society in a unique and poignant way," their manifesto reads. "We recognize that the broad range of musical idioms which new music encompasses functions as an important touchstone for contemporary life and as such are passionately dedicated to supporting our peers through commissions and performance. Ultimately we aspire to bring innovative and challenging 20th and 21st century music to audiences both existing and as yet untapped."
By spring of 2012, following a Banff Centre residency with Toronto composer Tova Kardonne, they had mounted an inaugural concert, aptly titled "Premieres," featuring five newly composed works by emerging Canadian composers: Margaret Ashburner, Aura Giles, August Murphy-King, Nick Storring and Kardonne.
Composer/cellist Storring joins them again October 6 for a concert titled "Unusual Spectrum" featuring works by Sokolovic, Bolton, Nobles, J. TV and Storring himself. And the works are not the only thing "unusual" about the event. The venue (The Placebo Space, Apt. A at 1409 Bloor St.W.) is as unfamiliar to us as Gallery 345 was a handful of years ago. For the other three programs in their 2012/13 season, they will take their act to a range of intimate venues across our catchment area: to Gallery 345 and Hamilton's Artword Artbar November 22 and 25 respectively; back to Gallery 345 in February; and across town to the Tapestry/Nightwood New Work Studio in the Distillery District in June. As Amici did, a quarter of a century ago, TEMC seems to have cottoned on to the fact that commissioning works for larger combinations of instruments, along with themselves, can be the path to building relationships and bridges as they go. Percussion and cello, accordion and flute already feature in this year's series plans.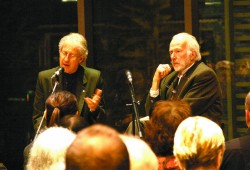 Bohlen-Pierce: Speaking of the newest of the new, it's not often that entirely new instruments come along and even less common when the instruments in question have the potential to reshape entirely the way composers write and audiences listen. So circle Tuesday October 9, 8pm, (at Gallery 345) for a lecture/recital by Nora-Louise Muller on the Bohlen-Pierce Clarinet which, according to its its Toronto maker, master clarinet builder Stephen Fox, is designed to produce "an exotic sequence of tones providing numerous consonant intervals and hence the promise of extensive musical possibilities to those willing to explore non-traditional sounds." There's nothing random about it, though. The Bohlen-Pierce Scale, according to Fox "uses an alternative musical system which divides the perfect twelfth into 13 steps."
This Bohlen-Pierce clarinet project began in 2003, with the goal of designing and building clarinet-type instruments — soprano, tenor and contra — for the purpose of exploring and demonstrating the musical potential of the concept. The premiere concert involving Bohlen-Pierce clarinets took place at the University of Guelph on March 20, 2008, presenting newly composed works by Owen Bloomfield and Todd Harrop, and "future plans involve holding an international composition competition for Bohlen-Pierce instruments."
New ensemble: Saturday October 27 at Heliconian Hall, the Toy Piano Composers collective unveils something new too, namely its own ensemble. Hence the concert's title: "We Started a Band." Featuring works by TPC members Brophy, Floisand, Guechtal, Pearce, Ryan and Thornborrow, the concert also will also unveil the TPC Ensemble: Katherine Watson, flute; Anthony Thompson, clarinet; Sharon Lee, violin;Adam Scime, double bass; Daniel Morphy, percussion; and Wesley Shen on piano and toy piano. Watch for the five-year-old collective to flourish as familiarity with a versatile group of core players breeds content.
Soundstreams and Esprit: It's hard not to draw parallels between two of Toronto's most venerable presenters this month. Both are 30 years old this season. Both have been led by one individual since their inception (Lawrence Cherney at Soundstreams, Alex Pauk at Esprit). Both opted early on to take the gamble of upsizing their previous venues and moving their main series to Koerner Hall. Soundtreams launches its Koerner season October 11. Esprit follows October 14. Both will feature new commissions by Murray Schafer, himself striding towards an important anniversary in the spring. But the superficial similarities obscure the fact that the two events promise to be as different as one might imagine, reflecting two very different, if equally single-minded, visions.
The October 11 Soundstreams event offers a veritable smorgasbord of performers, drawn from a wide range of sources specifically for this event. Among them: David Fallis and Joaquin Valdepeñas, conductors; Ryan Scott, percussion; Shannon Mercer, soprano; Julie Ranti, flute; Choir 21; the Gryphon Trio; and NEXUS, in works by Frehner, Llugdar, Pärt; Fuhong Shi and Schafer. Cherney's presence as artistic director will be almost entirely behind the scenes, evidenced in the careful shaping of the event.
October 14, at the Esprit concert, the surprise will not be in the players, the vast majority of whom are the backbone of the orchestra, appearing year in, year out in almost every Esprit event. Pauk will lead from the front, on the conductor's podium and the overall thrust will be much more strongly large scale, as befits Canada's only orchestra solely dedicated to the commissioning and performance of new orchestral works. Schafer's new work for the concert is titled Wolf Returns, and will feature along with the orchestra a chorus drawn from participants over the years in Schafer's annual summer Haliburton wilderness project, And Wolf Shall Inherit the Moon.
Works by Esprit perennial composers John Rea, Alexina Louie, Iannis Xenakis and Colin McPhee will round out the event, and Schafer himself will be there in the lobby for the official launch, and signing, of his newly released memoir, My Life On Earth and Elsewhere.
All too briefly: the above barely scratches the surface of an extraordinarily rich month of music which also includes the following, each in its way worthy of an article all on its own (and all referenced in our listings so that you can begin supplying for yourself the missing details in this hasty list):
October 25 4:00 to October 28 1:30: Jackman Humanities Institute, University of Toronto. Future of Cage: Credo. A spectacular conference to mark the 100th birthday of composer John Cage, featuring performances, panel discussions, keynote addresses, lectures and installations. "This interdisciplinary conference is both a celebration of John Cage, 100 years after his birth, and an opportunity to explore Cage's influence on music, writing, performance and critical scholarship," says their press release. "Fundamental to the development of innovations in performance art, contemporary music, graphic notation, audience reception and theories of social practice, Cage remains one of the most, if not the most, influential figures in 20th- and 21st-century art and performance. Such a legacy necessarily resonates beyond any single artistic or historical trajectory, and "The Future of Cage: Credo" will explore not only Cage's output, both artistic and philosophical, but its after-effects through a variety of fields, genres and modes of presentation."
Monday October 22 8:00: Continuum Contemporary Music. Finding Voice. "Another season of musical and extra musical exploration: influential works reconceived, new works on their way to being influential, revelatory performances, discussion among friends new and old" starts with a concert featuring, at its outset, an old friend of ther ensemble, Dutch composer Martijn Voorvelt and rivetting mezzo soprano Marion Newman. "Finding Voice" is a concert of vocal music about the voice and about communicating. It is also about history, the past given contemporary voice."
Friday October 12 to Friday October 19: Music Gallery. X Avant New Music Festival VII: Expanding Circuits. Fortunately fellow columnist Andrew Timar has turned some of his erudite attention to this event, in World Music on page 28 and the Music Gallery's own website gives a very detailed overview of a boundary-testing event that goes from strength to strength every year.
Friday October 19 8:00: Arraymusic. The Poets. A mix of words and music by poets and members of Arraymusic. Fides Krucker, mezzo; Phoebe Tsang, violin; Lydia Munchinsky, cello; Stephen Clarke, piano; Nilan Perera, guitar; Rick Sacks, percussion. and Ideas Studio, 980 O'Connor Dr., 416-778-7535. $10; $20(workshop and evening concert, see listings section A, Oct.13 at 8:00). 
David Perlman has been writing this column for the past season and a bit and is willing to entertain the notion that it's someone else's turn. He can be reached at publisher@thewholenote.com.