"Sound art" is a performance genre, I think it's safe to say, that will not ring bells, tuned or otherwise, for the majority of readers of The WholeNote. "We are, as a culture, obsessed with the new," says blogger John Terauds in a recent entertaining post at musicaltoronto.org, "but it takes only the shallowest scratch on the surface to discover that what we all seek is comfort and continuity — flowers, sunsets, barbequed ribs, cheesecake and a bit of Mozart."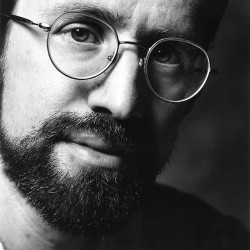 Most of us, maybe, but all? Two mid-career contemporary composers in our midst, both being honoured with significant awards this month, Darren Copeland and Brian Current, would doubtless disagree.
Composer Copeland is probably best known in the new music community as the inspiration for New Adventures In Sound Art (NAISA). NAISA, as their website explains, is a non-profit organization, based at Toronto's Wychwood Barns, that "produces performances and installations spanning the entire spectrum of electroacoustic and experimental sound art … to foster awareness and understanding … in the cultural vitality of experimental sound art in its myriad forms of expression … through the exploration of new sound technologies in conjunction with the creation of cultural events and artifacts."
Mind you, Copeland would probably not object to being told that what he does "isn't music." In fact you'll search long and hard for the M-word on NAISA's own website (among such other terms as noise art performance, soundscape composition, multi-channel spatialization and layered listening excursion). Copeland is nevertheless an associate composer with the Canadian Music Centre, and just this month was selected to receive the Harry Freedman Recording Award by a national jury. Named for a pioneering Canadian composer, the award contributes towards the creative costs associated with making an audio recording of Canadian composers' music, and is administered by the Canadian Music Centre. In Copeland's case the award goes toward the recording of his piece called Bats and Elephants which will be published by empreintes DIGITALes. The award will be presented at a performance of the piece, at Gallery 345 on June 23.
The work has an interesting premise: humans can't hear the full range of sounds uttered by bats or elephants unless these sounds are transposed within the range of human hearing (at which point they start to take on the identity of other animal species, such as birds). Copeland and his guest Hector Centeno play with this concept, using echo-location, the way bats do, to bounce sounds, from two hyper-directional speakers, off the Gallery's walls. It's a neat variation on the philosophical question posed at the outset of the column: when does a squeak become a song? Or a bellow turn into a bassline? Or noise into music? I suspect that the answer has as much to do with the tuning of the ears of the listener as the tuning of the frequencies from the source. It should make for a fascinating event.
(A brief digression before moving on to talk about our other award winner, Brian Current: it is entirely unsurprising to me that the Copeland concert is taking place at Gallery 345 — the "little gallery that could" just keeps chugging away with one playfully provocative event after another: "Composers Play" (including the aforementioned Brian Current) Friday June 1; "40 years of Foley" on Sunday June 3; "Art of the Piano" with R. Andrew Lee on June 4; the Architek Percussion Quartet on June 6; astonishing violinist Conrad Chow in his debut CD release concert, June 28; … the list goes on.)
Now, to Current. Just today (May 29) the Canada Council for the Arts announced that seven "mid-career arts innovators" were being honoured with Victor Martyn Lynch-Staunton Awards. The prize carries a $15,000 cash award so it's "not nuthin," as these things go. "Sculptor Valérie Blass; contemporary dancer Nova Bhattacharya; interdisciplinary artist Manon De Pauw; playwright, actor and director Denis Lavalou; composer and conductor Brian Current; poet Sylvia Legris; and filmmaker and multimedia artist Graeme Patterson are this year's winners" the announcement goes. "These seven artists are pushing the envelope in their respective disciplines and are definitely seven to watch" said Canada Council director and CEO Robert Sirman.
Given our focus, Current is the one of the seven we've been watching this year, both as a composer and as the conductor of the Royal Conservatory's New Music Ensemble. His composing and conducting seem to feed off each other. Given the economics of concert music, few contemporary composers get to write for large ensembles; fewer still get the opportunity to explore, using other composers' works, the creative energy that a composer can alternately harness and unleash in a large ensemble. Some of you may have caught parts of his 2009, 12-hour, 200-person installation-performance of James Tenney's In a Large Open Space, at the opening of the Conservatory's new Koerner Hall, or taken in his students' performance, in the dark, of G.F. Haas's In Vain last December.
It was while doing some research on Current in the context of this award that I stumbled across the comment from Terauds' blog with which I started this column. (The blog in question was about Current's and Anton Piatigorsky's recently completed chamber opera Airline Icarus).
"It's no surprise that today's composers feel … compelled towards the new, the unexplored, the unusual," Terauds went on to say. "In his recently published memoir, Unheard Of, Toronto composer John Beckwith mentions at least a half-dozen times how he tried to not repeat himself in a new work. It's a mantra for most contemporary composers. It's also something I've heard many times from the musicians devoted to commissioning and performing new music. But there are two prices to pay for this fetish for the new, I think: Superficiality on the part of the composer, and alienation on the part of a potential audience. … So what does a composer do? Either give in and write film scores, or concert pieces at which serious critics will turn up their noses, or bravely go where their instincts and sense of adventure lead them. It's a crazy tightrope that, most days, is actually quite thrilling to walk."
Every living composer must discover his or her own balancing act, on this tightrope between superficiality and alienation. Arguably no one has done a better job of it than Philip Glass, whose Einstein on the Beach is undoubtedly one of the musical talking points of this year's Luminato. One has only to think of the final aria in his life-of-Ghandi opera Satyagraha where the same eight-note phrase is repeated, but where you'd be hard pressed to persuade a mesmerized audience that all they had listened to was mi fa so la ti do re mi (in the scale of C, no less), 30 times in a row.
One of the truly festive things Luminato does, by the way, is to surround a work of art with opportunities to immerse in the context in which the work arose. Check out our ETCetera listings, on page 44, for example, for some of the screenings and colloquia that will surround the opera itself. And, perhaps best of all, the final moment in the festival will be an outdoor performance by the Toronto Symphony Orchestra, in David Pecaut Square, featuring a performance of Tchaikovsky's 1812 Overture, paired with the premiere of a new work by Glass, titled The 2012 Overture.
There's a shiny intelligence in the idea of it, one has to say. How new the adventure in sound art turns out to be, time will surely tell.
David Perlman has been, for this past season, the patroller of The WholeNote's new music beat. He can be contacted at publisher@thewholenote.com