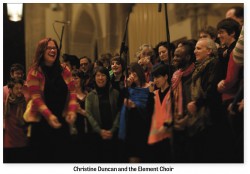 There's a big show coming to town in June – and it's all about the apocalypse. The piece I'm referring to – Apocalypsis by Canadian composer R. Murray Schafer – is an epic work divided into two parts, the first being a dramatic retelling of John's vision from the biblical Book of Revelation and the second a serene multi-choir Credo that leads the listener from chaos into order. The performance of this monumental work, which runs from June 26 to 28, has been taken on by the Luminato Festival and involves an interdisciplinary cast of 1,000. Originally performed in 1980 in London, Ontario, this version will be vastly different in its staging and artistic vision with all sorts of gender-bending happening with the main characters. What I will focus on in my column is the role of the Element Choir and its director Christine Duncan in this production.
I sat down with Christine to talk about Apocalypsis as well as other performances she and the choir will be involved in this summer. Christine defines the Element Choir as "an improvising choir that uses a sonic vocabulary based on a system of hand cues to create instant compositions." In Apocalypsis the choir will perform the role of The Choir of the Lost which in the 1980 version was performed by drama students. "The choir was a perfect fit for this text-based role, as they are already very comfortable in moving freely in the world of sound texture and non-sung elements," Duncan said. Their role functions like a Greek chorus, commenting, responding and reacting to the main drama. And even though choir members can utter the text however they like, the structure of both the timing and dynamics of their utterances is very specific, with word comprehensibility being key. This departs from the usual Element Choir practice which is usually "anything is possible." Before the performance begins however, some members of the choir will be improvising and babbling bits of biblical texts in multiple languages in both the lobby and the hall.
The story of how the Element Choir came into being is fascinating and a testament to the creative and innovative spirit of both Duncan and her partner, drummer and recording producer Jean Martin. Back in 2006, Duncan and Martin were creating an album on the Montreal label Ambiances Magnétiques. For the release concert, Martin came up with the idea of putting together a group of singers to expand and support the voices of the CD's vocal performers – Duncan and DB Boyko. It was a brilliant move, as this more choral element added possibilities for textural changes and polytonality, giving a counterpoint to the voices and percussion. Inspired by this experience, Duncan pursued her own research on how to develop an articulate vocabulary for an improvising choir. Rather than re-inventing the wheel, she studied the "conduction" methods used in the London Improvisers Orchestra as developed by Butch Morris, as well as picking up ideas from John Zorn's Cobra, Anthony Braxton, Phil Minton's Feral Choir and Sarah Weaver's Soundpainting system. She consulted with various composers to get a better sense of which musical elements this language would need; and she studied different world music-based singing techniques. This wealth of material was workshopped with a volunteer choir in the original Somewhere There space and her own unique language and approach was born. It's a language that is shared among the choir members, with new ideas for hand cues often coming from the singers. She also credits Jean Martin, who is constantly envisioning new ideas and directions for what is possible, with playing the strongest advisory role. However, Duncan adds, years before any of this began, it was Western Front's DB Boyko (in Vancouver) who first introduced her to the idea of conducting a vocal improvising ensemble at one of the WF's community block parties.
The Element Choir's reputation and performing schedule continues to grow, and this summer's schedule is no exception, particularly as part of the cultural activities surrounding the Pan Am Games. After the Apocalypsis performance, the choir is right back at it with their involvement in the Singing River project, an interdisciplinary site-specific piece directed by composer Juliet Palmer and her Urbanvessel company. Running on July 4 and 5, the piece is a Pan Am Path event that is all about restoring our relationship with the Wonscotonach (Don) River. Both the Element Choir and Christine Duncan are part of the core performers' team, along with the TorQ Percussion Quartet. The choir has played a role in developing improv-based material for the piece through a series of community-based workshops with members of Native Earth's emerging artists program Animikiig, street artist Roadsworth (who will be creating a stencil installation inspired by the improvisations on the Lower Don cycling path) and the Regent Park School of Music Youth Choirs. The project also includes audio installations by Palmer and sound artist Chris Willes and a vast array of interdisciplinary performers, workshops, talks and guided walks. Check out Urbanvessel's website for all the details.
The second Pan Am-related performance by the Element Choir is with the explosive Tanya Tagaq on August 8 as part of Panamania and the free staged events at Nathan Philips Square. Creating her own unique style based on the traditional Inuk throat singing she grew up with in Nunavut, Tagaq recently won the Polaris Music Prize for her Animism album, stunning audiences with her performance on the awards night. And the Element Choir was right there backing her up, along with Jean Martin and violinist Jesse Zubot, who produced her album. For Duncan, folding the Element Choir into this sea of sound created by Tagaq and her two-man band was not too much of a stretch, as she has performed with Tagaq and knows the arc of her shows with Zubot and Martin. However, in this type of situation, the choir sounds need to be unified and simple, functioning more like a textural device for dramatic impact. Incidentally, Tagaq will be playing the role of the Old Woman in Schafer's Apocalypsis.
For Duncan, the Element Choir project is all about creating and maintaining relationships, building community and fostering a safe and supportive environment. It offers a playing field for experimenting with a diverse range of sounds and morphing textures, while offering opportunities for choir members to improvise their own solos. She has increasingly found an open door of support for her aesthetic sensibilities and approach to the voice as an instrument in educational environments such as the jazz program at U of T. And at the heart of it all, she is continuing to cultivate improvisational strategies that are more refined, intentional and artful.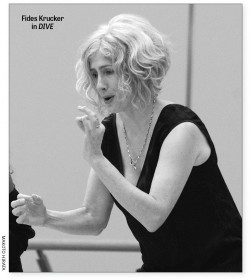 More Singing Stories: This summer is turning out to be the season of new dramatic works for the voice in various configurations. Back in the April edition of The WholeNote, I wrote about singer Fides Krucker's role in creating vocal improvisations for the dancers in Peggy Baker's locus plot production. This summer, Krucker is presenting and performing in DIVE, a work of sonic theatre set within a cabaret-styled environment, running from July 30 to August 9 and created in collaboration with composer Nik Beeson. DIVE is based on a play by Richard Sanger, which is in turn derived from Giuseppe di Lampedusa's short story The Professor and the Siren. I spoke to Beeson and Krucker about their collaboration which combines electroacoustic tracks with vocal improvisations. Krucker plays the role of the Mermaid, a character who is "perfectly divine and wild," an elemental force who shifts into a series of different characters and scenes as she interacts with the two male actors. Her shapeshifting qualities allow for a variety of musical styles to be used throughout, including composed music inspired by Greek Rebetiko protest music, and the Mussolini-era fascist anthem known as the Giovinezza used in the startling aggressive opening. An intimate setting amongst tables enables Krucker to travel around the audience, at times singing gently into their ears while her character's nonhuman nature embodies such elemental forces as a storm and the animal spirits of whale and wolf. Beeson's electroacoustic score ranges from recorded instrumental sounds and synthesizer textures to the use of a collection of Harry Partch-inspired cloud bowls made from glass jugs. DIVE is a story that juxtaposes the terrifying forces of fascism with those of the wild, raw and at times equally overwhelming elements of nature, set within a human story of intimacy, regret and the desire for ecstatic union.
Speaking of storms and political power, How it Storms, an erotic opera composed by Allen Cole, will be performed on June 17 and 18 featuring the sounds of the Evergreen Club Contemporary Gamelan along with four operatic singers. The piece is inspired by a story from the Hindu epic The Mahabharata but set within Canada, with a female protagonist motivated by her desire to be free from patriarchal domination.
On June 13, the Music Gallery presents "Fossegrimen," a multi-stage event with three main sets that offer various takes on folklore, fairy tales and legend. Included are an opera composed by Chris Thornborrow based on the Grimm fairy tale The Moon, music by members of the fusion band Ensemble Polaris and the premiere of Elliot Cole's Babinagar, a 20-minute work based on an Afghan folktale.
The final dramatically inspired new work which caught my eye in this summer's season is Wendake/Huronia, composed by John Beckwith to mark the 400th anniversary of Champlain's arrival in the southern Georgian Bay area. The concert on July 30 will feature the Toronto Consort, the Brookside Festival Chamber Choir and First Nations singers and drummers.
The Summer Festivals: After a long meandering walk through the voice-based performances of new works for this summer, it's time to take a quick look at what's happening at the various summer festivals. I promise you, this will be chronological, just to help with your planning.
Open Ears Festival (Kitchener): June 20 and 21
On June 20, Myaudia, a series of guerilla-styled sound interventions created by Peter Hatch, will take place in Kitchener's Victoria Park, followed by the Open Ears Regatta with multiple musicians ringed around the civic square for listeners to drift between. On June 21, an offering of music/dance works with scores by Antoine Bédard, Justin Rutledge and Rodney Sharman, and improvisations by Lori Freedman.
Music Mondays (Toronto): June through August
A number of new works will be presented in this downtown Toronto series of lunchtime concerts. Here's a summary lineup: a piano work by John Burge (June 8); composer and cellist Raphael Weinroth-Browne performing his own compositions (June 29); Jean Coulthard's Image Astrale (July 6); works by Marjan Mozetich and Jack Behrens performed by Mary Kenedi (July 20); flute and piano works by Marchettini, Beaser and Schafer (July 27) and finally, a specially commissioned work for Music Mondays – Benedicite by Peter-Anthony Togni (August 24).
Ottawa International Chamber Music Festival: July/August
Interspersed amongst the festival concerts are the following premieres and new works: a performance by Dutch cellist, composer and improviser Ernst Reijseger (July 24); a remount of the mixed-media piece Illusions from the recent 21C Festival that intermingles new music by Canadian composers with Charles Ives' enigmatic Piano Trio (July 26); a performance of James Rolfe's contemporary masque Aeneas and Dido (July 27); the premiere of Andrew Staniland's The Ocean is Full of its Own Collapse (July 29); and the performance of Czech composer Sylvie Bodorová's Three Sonnets (August 2).
The festival also offers their regular six-concert New Music Now series on August 3 and 4. Composers represented in these concerts include Canadians Michael Oesterle, Paul Steenhuisen, Marc Sabat, Nicole Lizée, and Claude Vivier, along with internationally-based Nicolaou, Zorn, Rzewski and Birtwistle, among others.
Summer Music in the Garden (Toronto): July/August
Down at Harbourfront's Music Garden, the outdoor performances include composer Barbara Croall (Odawa) performing a new commissioned work for pipigwan, a type of cedar flute (July 2); newly commissioned works by Canadian composers Scott Godin and Isaiah Ceccarelli performed by Elinor Frey on her five-string cello (July 5); Toronto's Ton Beau String Quartet performing Bill Rowson's String Quartet No.1 (July 30); and the Blythwood Winds performing new works by Lau and Estacio (August 13).
Stratford Summer Music: August 7 to 9
R. Murray Schafer's music is often featured at this festival and this year, audiences can enjoy three outdoor morning concerts from August 7 to 9 featuring works from his choral nature-themed repertoire works. On the evening of August 7, a number of professional choirs will join together to sing some of his more spiritually-based music within a specially choreographed setting at St. James Anglican Church.
QUICK PICKS
Improvised Music at Array Space:
June 9 and 27: Audiopollination
June 14: Somewhere There/Arraymusic: In Concert
June 19: Evoid Collective
June 28: Toronto Improvisers Orchestra
Canadian Music Centre:
June 4: Opus: Testing Workshop and Concert. Compositions created using sounds from the NASA Audio Archive.
June 11: Jacques Israelievitch/Christina Petrowska Quilico CD Launch, with works by Rolfe and Kulesha.
June 13: A Journey Inwards: Iranian-Canadian Composers of Toronto.
June 24: Elaine Keillor CD Launch. Works by Cardy, Morawetz, Weinzweig, Louie and E. Miller.
July 6: Gryphon Trio CD Release. Works by Current, Oesterle, Staniland and Wright.
July 24: Regent Park SongBook Premiere. Works by Gervais, Hamidi, LeBel and Daniel.
Additional Picks:
June 4, 6 and 7: Toronto Symphony Orchestra – John Adams' Short Ride in a Fast Machine.
June 13 and 14: Toronto Symphony Orchestra – Gary Kulesha's Torque.
June 17: Opera by Request – Tremblay's A Chair in Love.
June 20: Rough Idea – Michael Snow and Ken Vandermark.
July 9: Music and Beyond Festival (Ottawa) – Voces8 concert including works by David Blackwell and John Tavener.
Wendalyn Bartley is a Toronto-based composer and electro-vocal sound artist. sounddreaming@gmail.com.