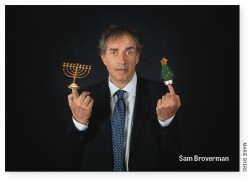 I am not built for the cold. Not only am I unable to handle sub-zero temperatures – I'm also incapable of acclimating to all temperature shifts. Every winter I have this problem, and every winter I don't know how to solve it: I walk around outside wearing layer upon layer of clothing. I'm talking multiples of everything: I've got sweatpants on under my jeans, regular socks on under my thermal socks, and under my sweater is at least one other sweater. And I'm still cold, so I go inside. All of a sudden, I'm frantically stripping off at least three layers of clothing, but by now I'm boiling hot and sweating bullets. It's my least favourite thing about winter.
My favourite thing about winter, on the other hand, is the irreverent stuff non-Christians do to poke fun at themselves for being the outsiders during the holiday season. One such example is Sam Broverman's annual engagement, "A Jewish Boy's Christmas," happening at Jazz Bistro, in which he pokes gentle fun at the culture and the experience of being Jewish in a Christian-dominated North America. I've always known Broverman for his ability to write amusing alternate lyrics to tunes, which seem to work perfectly with the pacing of the tune. The comedic effect is always impeccable. In "A Jewish Boy's Christmas," Broverman sings such charming lines as, to the tune of Have Yourself a Merry Little Christmas, "Both my thumbs are numb from spinning dreidels / Kiss my gelt goodbye / I'll be eating frozen latkes till July." Broverman's voice is unassuming and conversational. But the palpable relaxation in his sound speaks to his immense skill; singing is hard, and making it look easy is harder still.
You can hear Broverman and his guests (among them, members of the Toronto Mendelssohn Choir, with whom he has served as a chorister, and Whitney Ross-Barris, about whom I have written) at Jazz Bistro on the evening of December 11.
Monk Is Here To Stay
With a vast repertoire from which to draw, a revolving-door-style lineup and a fervent desire to explore, there's very little risk of Toronto mainstay Monk's Music going stale. As the name suggests, Monk's Music is a project dedicated to exploring the music of Thelonious Monk. One of the project's two co-founders, Dan Gauche, moved to the West Coast. The remaining co-founder, Michael Davidson, is a vibraphonist of remarkable dexterity and wit, whose fascination with Monk's body of work has led to this weekly ongoing tribute to the jazz piano colossus. Davidson uses elements and trademark gestures of the Monkian style – playing with four mallets, in the tradition of Gary Burton, must help, I imagine, with the idiomatically pianistic phrases and textures he plays with – and he also channels the playful, curious spirit, the sense of humour and whimsy, for which Monk was known.
Monk's Music, a project that has been happening for about seven years now, plays every Sunday evening, alternating between the Tranzac at 5pm on the first and third Sunday of each month, and the Emmet Ray at 6pm on the second and fourth Sunday of each month. There are no cover charges, and no excuses!
It's getting really cold out there, friends. Bundle up, but don't bundle up too much.
Bob Ben is The WholeNote's jazz listings editor. He can be reached at jazz@thewholenote.com.