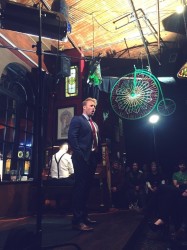 Going to hear live opera – or classical music in general – can be daunting to the novice. On your first outing to the opera or the symphony, you will question everything from what to wear to when to clap; you will feel pressure to remain silent, to stay for the whole performance, to not wear scented products, and so on. There's a pernicious brand of purism and elitism that surrounds this type of music, and in my observation, it deters potential listeners. There's this impression – this illusion – that there's a minimum base of knowledge that's prerequisite to understanding and enjoying classical music, that's only possessed by an elite few.
Of course, that's nonsense. The only thing that's required for a person to enjoy a type of music is to listen to it. If it moves you, it moves you, and it if doesn't, it doesn't. Sure, exposure and familiarity, as well as deeper knowledge, will help to enhance your appreciation. But ultimately, the music should speak for itself, regardless of what you know, where you are, what you're wearing, or when you clap. In my view, it is the responsibility of the performers of this music to actively fight against elitism, and to make classical music accessible again.
That's where Against the Grain Theatre's Opera Pub comes in. Opera Pub takes place at the Amsterdam Bicycle Club (ABC for short) on the first Thursday of every month, excluding their summer hiatus from June to September, and costs precisely nothing (though there is a tip jar). The pub, which resides in the same building as the Old Spaghetti Factory, is the kind of place you'd expect to see a blues-rock band, an open mic, or amateur stand-up comedy. A bar, a few booths, nice food but nothing too fancy. The stage is only slightly elevated, and upon it sits a piano with a colourful mural painted on the audience-facing side. That piano, which was a lucky Craigslist find, belongs to the AtG troupe.
The man at the piano is David Eliakis, a thoroughly experienced accompanist, who, for the duration of each 15-20 minute set, adeptly accompanies a series of arias and songs. While the majority of the programmed repertoire is operatic, there is the occasional song from a musical, and there was, when I went, one Beatles song accompanied by, in addition to Eliakis' playing, various snaps, slaps and taps from the audience, designed to sound like rain. And this diversified repertoire is in good hands. This is not amateur hour; the featured performers are skilled operatic singers and actors, often with established careers in the field.
Opera Pub isn't much of a production; obviously effort was put into the show, but the vibe isn't of some big, fancy spectacle. It's of a group of friends having fun and making music together. There aren't really any props, nor are there elaborate costumes. Some of the performers are in formalwear, but at least one was wearing jeans. The arias come in an order, but there doesn't seem to be an overall story arc. Yet there's a subtle drama behind every duet sung which makes the meaning clear, even when it's in a different language.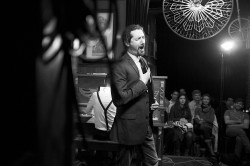 Sometimes there's choreography, such as in Papageno and Papagena's duet from Mozart's Die Zauberflöte (The Magic Flute), which the singers began from the audience, popping up in different places like a game of Whack-a-Mole to sing their playful "pa" sounds at the opening before making their way to the stage for a romantic reunion. Rather than explain the context within the opera, host Topher Mokrzewski explained that it was "a song about ornithological mating."
It's the contrast between the informal presentation and setting – a Craigslist piano on a bar stage, friends making jokes with each other, people walking around, ordering drinks, coming and going at will – and the highly disciplined artistry on display, that I find so fascinating and endearing about Opera Pub. The next one will be happening on Thursday, October 5, 2017 at Amsterdam Bicycle Club on The Esplanade by the Old Spaghetti Factory. I couldn't sing its praises highly enough, but – please excuse the pun – perhaps one of AtG's featured sopranos could!
AtG's final Opera Pub of the season, on May 4 at the Amsterdam Bicycle Club, featured a variety of repertoire sung by Alexander Dobson, Jeremy Ludwig, Julie Ludwig, Adam Fisher, Gwenna Fairchild-Taylor, Emma Char, Jonathan MacArthur, Andrew Love and Ellen McAteer, with David Eliakis on piano.

Bob Ben is The WholeNote's jazz listings editor. He can be reached at jazz@thewholenote.com.