I really hate the term "world music," as it's used today. It seems to me that it oversimplifies things. It lumps music that isn't familiar to North American ears all in together and calls it foreign and exotic (as though North American is not part of the world). It implies that some musics are worthy of being divided up by genre and closely examined, and some musics aren't.
With that said, I think jazz, at its best, can rightly be called world music. Jazz has been called a uniquely American art form, but I like to think of it as a music that only gestated in America, but was conceived elsewhere. Loath as I am to oversimplify things, European harmony and African rhythm and melody came together to make this music possible.
As more and more distinct cultures with distinct musical traditions adopted and blended – and continue to adopt and blend – with jazz, it became closer to what I would call an international, or worldly, music than a uniquely American one.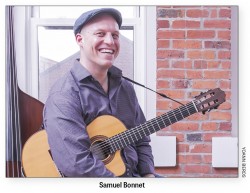 I love listening to jazz musicians who have lived in another country or two. Moving place to place (Place to Place being the title of a Robi Botos album; Botos is a good example of this.), I think, especially if you've grown attached to those places and been uprooted, gives one a unique perspective on music. That's one of the reasons I'm excited to see the Israeli-born and Parisian-raised guitarist Samuel Bonnet doing his first mini tour of Southern Ontario this month, playing dates in Toronto, Guelph, Hamilton and more.
Bonnet's music is hard to nail down, because the influences are not only wide-ranging, they are compartmentalized to some degree. He is a formidable classical guitarist; he plays jazz and funk; much of his compositional output reflects a love of traditional Jewish musics; some of his solo works sound like explorative improvisations, others sound like pristine and carefully crafted compositions. These different sides of him can be exposed on various recordings; I recommend Aotefeis, New York Shuffle, and Two Preludes to get an introductory sense of who Bonnet is as a musician and perhaps where it all comes from.
The common thread amongst all of this is a virtuosic skill which enables completely authentic communication; when you listen to Bonnet, there's no mistaking who you are listening to, or what he's saying to you.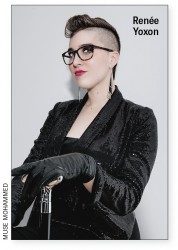 There's one more gig I'd like to mention for now: singers in town – amateur and professionals alike – may be interested in knowing that Renée Yoxon, the crossover jazz-folk-pop etc. singer from Montreal, will be performing and running a vocal workshop at 120 Diner on the afternoon and evening of March 12. The young Yoxon's voice is clear and precise, the manner of delivery, frank and direct, honest. You may feel as though they are speaking directly to you. Adept at interpreting standards, covering and writing pop songs, scat singing, blending in with horns as though their voice were one, and so on – it seems that taking the opportunity to participate in this workshop would be a wise choice.
I hope to see you folks in at least one of the clubs, without your winter coats. Happy March! Happy vernal equinox! Be well!
Bob Ben is The WholeNote's jazz listings editor. He can be reached at jazz@thewholenote.com.