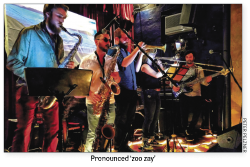 Zuze – pronounced "zoo zay" – is a project which communicates musically, instrumentally, what it means to straddle the lines of two or more different cultures. Its essence is emblematic of the experience of many first-generation citizens, especially immigrants. One such citizen is Zuze's bassist, Arif Mirbaghi, whose interest in these blurred lines became a foundational stepping stone to the band's inception.
Mirbaghi explains: "I wanted a project that spoke to the way culture shifts around identity across generations. Canada is built on nascent identities, and Zuze aims to prove just how beautiful that diversity can be."
The collective draws its repertoire mostly from popular tunes familiar to folks from Iran, especially the northern region. This is my ancestry, too: my paternal ancestors were Jewish Kurds living in the north of present-day Iran, so when I showed Zuze to my dad, he recognized some of the tunes (none of which were familiar to me) from his youth, and demanded to know why I was all of a sudden interested in Persian music.
The folk and popular music of Iran is, on its own, a fascinating study in the way cultures bleed into each other. Zuze, though, muddies the waters further, by filtering these melodies through multiple sets of multicultural ears: those of Mirbaghi who knows them intimately, those of band members including co-arranger and alto sax player Bruce McKinnon, to whom they're a little more novel, and finally, ours – the listeners'.
I'd been interested in Zuze for a while, but it wasn't until this week that I went to see them live, in the back room of the Tranzac Club. Before they went on, the audience was given a short dance lesson. I observed from the sidelines, because I cannot and do not dance, but if any music was the stuff to dance to, this was it.
Mirbaghi banters with the audience between songs, and it seems very improvised, but less off-the-cuff, and more stream-of-consciousness. It's kind of poetic sometimes, in an off-kilter way. But then they launch into these grooves, these very groovy grooves, these destined-for-restless-feet grooves, which serve as a red carpet for the incoming melody, played assertively or sweetly or coyly by up to five melodic instruments: trombone, trumpet, two saxes and violin, often in a tight unison.
Very little emphasis is placed on solos (not that they don't happen) because, to my mind, this music is geared more towards showcasing beautiful songs in tight arrangements than using known songs as vehicles for improvisation.
Going to a Zuze show can be a rowdy experience or a contemplative one, I think. You can dance, or you can sit on the sidelines and think about things – for example, about how far removed you may or may not be from the cultures that effectively created you, and how important (or how unimportant) it may be for you to reconnect. Or you could do both.
I have to say, lately, I have started to find that a lot of live music that I like and I think is good doesn't sound fresh anymore, and Zuze is one of a few groups that's scratching me where I itch. Maybe they'll scratch you, too.
Zuze will be heard at Mel Lastman Square on the afternoon of July 1. Keep an eye out for more future gigs at Zuze.ca.
Bob Ben is The WholeNote's jazz listings editor. He can be reached at jazz@thewholenote.com.