It could just be my memory showing its fallibility, but I could swear that the first time I ever heard Andrew Downing, the award-winning bassist and cellist, play live, he was leading an ensemble and had directed his drummer to play with butter knives.
Regardless of whether this butter knife memory is based in reality – something which Downing himself can confirm or deny upon reading this – it very easily could be, and might be expected of such an ensemble as his Otterville project (which you can hear on October 26 at Artword Artbar in Hamilton).
The sound and character of this quintet isn't all that reminiscent, to my ear, of many other notable jazz bands. I hear faint similarities with The Modern Jazz Quartet. Of course, there's the vibraphone, which they have in common, but more than that, it's the distinct sense that this is chamber music – music in the same lineage as Western Classical chamber works, music to play at home with friends, music through which people can have a conversation.
The thing I really appreciate about Otterville, and Downing's compositions for the group, is his refusal – whether the decision is conscious or not – to lean on stock patterns to accompany a set of chord changes and a melody he's written … not that there's anything wrong with that!
Each part, from the drums to the cello, is composed specially for that melody, it seems, and in fact, is a part of the melody. A melody which, in every case, is elegant, idiosyncratic, and – you may be surprised to hear – not particularly dissonant.
Sometimes two instruments will pair up, sometimes all five will wander off, but they always sound as a cohesive whole, and an irresistibly charming whole at that.
Lessons from teaching: This August, back when it was still warm outside, I spent a week in Prince Edward County, teaching kids at an arts camp in Picton how to make music with various percussion instruments, their voices, and of course, buckets. I learned a ton from the kids, but I think the number one lesson I learned was not to make assumptions about them or underestimate them.
That lesson came on the first day, when I asked a group of campers to shout out names of artists or genres of music that they liked. I expected answers in the vein of Justin Bieber, Miley Cyrus, etc. And there were those, certainly. And those tastes are completely valid.
But there were also lots of answers I didn't expect: "Fiddle music," one camper said, "You know, like jigs and stuff."
"I like Bob Marley," another said.
"Lemon Bucket Orkestra,"another still. Wait, what?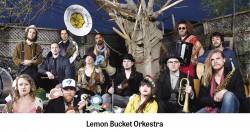 I was just a little taken aback by the fact that the first person to mention Lemon Bucket Orkestra (LBO) – the self-described Balkan-klezmer-gypsy-party-punk-superband – to me since I was invited to go see them three years ago, was not a fully grown person from Toronto, but a child from Picton. But then again, why should I be surprised?
I can't see why LBO wouldn't appeal to everyone; in addition to being a well-executed musical performance combining elements of various Eastern European musical traditions with a touch of punk rock (but not so much that it's inaccessible to those who don't like punk rock), LBO puts on a dazzling visual performance, including dancing, a certain degree of acting, and outfits which are both figuratively and literally colourful. Theirs is a performance which implicitly but aggressively invites audience participation.
LBO has often made their shows a surprise: they once performed a concert, apparently on a whim, when a flight was delayed; they have set up in the streets of Toronto and played without any heads-up for fans. They draw big crowds and sell out venues fast. It's no mystery.
They'll be performing every Wednesday in October, in true LBO fashion, somewhere in Toronto. The venues are not to be announced until the day before. Unfortunately for LBO, however, The Rex – and by extension, The WholeNote – has revealed where the penultimate of their Wednesdays in October series will be held. You can't buy tickets ahead of time, though, so you may as well go early and line up.
I have been absent from most clubs these last couple of months. I do intend to rectify that. If you see me – the guy in the loud sweater, most likely – at a concert I've recommended, I encourage you to recommend another upcoming concert to me. I may like it, write about it here and learn about someone new while there. So on and so on. See you in the clubs.
Bob Ben is The WholeNote's jazz listings editor. He can be reached at jazz@thewholenote.com.