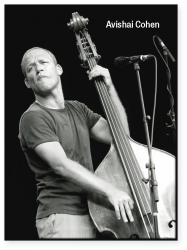 It's Toronto Jazz Festival time again! Time for a few great players from out of town to play with and among the vast pool of equally great Toronto players. It really is eye-opening to look at the listings for the Jazz Festival (torontojazz.com ) and realize just how many of the gigs listed are gigs that happen year round, and would continue happening, festival or no. When it comes to the jazz scene in this city, we truly have an embarrassment of riches. It's just that around the end of June we get a little richer.
And I will talk about all of that in just a minute, but first, it's anecdote time.
When I was in high school, I was a big progressive rock geek, which, I know, is utterly unsurprising because a lot of young jazz nerds started off that way. I don't know why – maybe it was just the challenge – but I loved working out the time signatures of songs in which it wasn't immediately obvious, or in which the number of beats changed from bar to bar. Of course, this is neither a ubiquitous nor an essential feature of progressive rock, nor is it one exclusive to the genre, but it attracted me nonetheless. And to be frank, while counting odd time signatures fascinated me in high school, I can think of few things more tedious now.
My cousin, also a music geek, offered me a challenge one day. He played me a 20-second sample of bassist (not to be confused with the jazz trumpeter of the same name) Avishai Cohen's Ever-Evolving Etude from his 2008 album Gently Disturbed, although I didn't know the title at the time, nor would I have remembered the name. I wasn't into jazz back then, much less what I was hearing here. It was unlike anything I'd ever heard before. It was unconventional, complex, difficult to parse. The bass and piano threw forth a fury of notes that seemed, to my untrained ear, to have the rhythmic logic and constancy of a person trying to kill a particularly evasive mosquito.
It was chaotic, furious and wonderful.
What kept it grounded for me were the pitches, satisfyingly tonal, and the timbre, new to my ear at the time, of bass and piano playing in unison, to which I am now much more accustomed.
He asked what the time signature was. When I couldn't figure it out, he said he'd be better off not knowing anyway; how can you enjoy it if you're counting?
Flash forward six or seven years. I'm in the final year of my music degree and the great New York drummer John Riley is making an appearance at our school. During a large portion of his lecture, Riley deconstructs the very excerpt my cousin had showed me years earlier.
And so, I learned the answer.
I gained a lot from that lecture, but to this day I cannot count the pulse of the Ever-Evolving Etude and certainly couldn't notate it. Not on my life. And it really is better like that.
As my ears grew (both figuratively and literally), I started to hear Cohen's music differently. Although I always heard, and still hear, the progressive and fusion elements in it, I started to hear elements of Latin American music; when I hear a heavily syncopated vamp and complex, adventurous percussion, what else comes to mind but salsa? This is especially true on the album Unity, on which Antonio Sanchez, compared by some to an octopus for his remarkable limb independence, is responsible for the drumming.
You can explore Cohen's music for yourself, in preparation for his Toronto appearance on June 30 at the St. Lawrence Centre.
There's no shortage of out-of-towners I'm excited to see listed for the festival – among them Laila Biali, Phil Dwyer, Mark McLean's Playground and Robert Glasper, the latter two of whom I've been lucky to see perform in person on more than one delightful occasion – but if I wrote about every single one, I would be here all night.
I also must reluctantly mention that Rich Brown's rinsethealgorithm, about whom I've written in the past, will be playing a reunion show at The Rex on Canada Day after four years apart. I say "reluctantly" because I hate crowds; my rates of happiness are generally inversely proportional to my proximity to strangers' bodies. Yet I will, and must, bear it for the music: rinsethealgorithm is back, and everyone who wants to know must know. Downbeat at 8pm.
Enjoy the festival, friends. Plan your routes carefully and buy your tickets early. May your ears be well-fed, and may your lines of vision be unobstructed.
Bob Ben is The WholeNote's jazz listings editor. He can be reached at jazz@thewholenote.com.