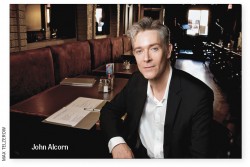 It's just my luck, isn't it? It's just my luck that two weeks after I plug Organic's weekly engagement at Joe Mama's in The WholeNote, that that gig shuts down permanently. I don't know yet what will happen on future Sundays at Joe Mama's. But hopefully they stick with the theme of high-level musicianship and unmistakable chemistry.
The final Organic session on April 17 was fuller than I've seen it in a long time, and I think there's a lot of irony in that. I think it very loudly says a lot about our responsibility as lovers of live music. But if it wasn't loud enough, I'll say it louder: if we, lovers of live music, don't go out and support the bands we claim to love, then who will? Casual listeners with fat wallets? Fat chance! Jazz concerts are tragically sparsely attended and the only remedy for that is for us to attend.
And I say "us" very deliberately here; I am not innocent in this. I do not attend every show I can, not even all the ones about which I loudly rave. And I don't always have a good excuse. I know all the good excuses though. I know that life gets in the way, and sometimes it seems like bus fare two ways plus cover charge plus one drink is breaking the bank. I get it. I'm not trying to sit on a high horse, to lecture you, the reader, or to make it sound like not attending concerts is some egregious sin, or to imply that we are personally responsible for every gig that stops (no gig lasts forever, obviously). All I'm trying to say is that if we want to support live music, we should stop taking it for granted and go support live music. We all should. Let's make it a new season's resolution.
With that in mind, Justin Bacchus' weekly engagement is still happening at The Rex for the foreseeable future, and for each Saturday in May the explosive and virtuosic R&B outfit will be joined by the marvellous Stu Harrison. I've only heard Stu Harrison three times – once when he sat in for one song at a Sophia Perlman gig, and twice when he subbed in the house band at Lisa Particelli's Girls' Night Out. He does not gig or record much, which is baffling to me – though he probably is awfully busy with his work for Merriam Music. When I heard he'd be at The Rex weekly in May, I made my plans immediately. Let's hope I don't break them, and let's hope the whole city gets out to this gig – or some other gig, any gig! – at least once a week this month.
Alex Samaras was introduced to me in the summer of 2012 by a friend who hails from the States and was acquainted with Samaras through their mutual association with a music camp in upstate New York. Samaras, too, was previously written about in The WholeNote, by Ori Dagan, and by myself this past autumn, when I plugged his gig with Bobby Hsu's A Sondheim Jazz Project, which you can read about in the September issue. Samaras has a voice of clarity, precision, finesse, power and control. He clearly knows a lot about his instrument. It shouldn't be a surprise, therefore, that he's also an educator, who teaches voice at the University of Toronto. You can sample A Sondheim Jazz Project's album, City of Strangers, on YouTube, and you can buy it on iTunes. I have only sampled it (I prefer to buy albums from artists in person), but I can already confidently recommend it.
I was only introduced to John Alcorn's voice recently: this winter. I had asked Mark Eisenman about recordings he had played on aside from his coffee-themed albums recorded with Chase Sanborne (which are also wonderful), and he told me about Flying Without Wings, an album which was reviewed in The WholeNote by Lesley Mitchell-Clarke earlier this year – so I won't go on about it for too long. The singer and trumpeter on the album are, respectively, Alcorn and Warren Vache. Eisenman had, and I say this affectionately, pestered me about these two musicians before. Each time they've had gigs in Toronto in recent years, Eisenman had told me to go, and I had failed to every time. After hearing the album, I will not make that mistake again.
One of my favourite moments on the album comes on the first track, Just One of Those Things, on the final chorus, when Vache and Eisenman are sort of trading response lines in the cracks between Alcorn's phrases, and Alcorn opens one phrase with a second – literally, one second – of what sounds like the beginning of a scat solo, before diving back into the words. It sounds so spontaneous and unhinged. There is such palpable excitement on the part of all the players, particularly the three responsible for the quasi-counterpoint of the moment.
This seems like a small thing, but something else I really respect about the album is the fact that songs with verses are done with the verse. Songs with beautiful verses which supply the rest of the song with extra clarity, or just emphasis – such as Autumn in New York, A Sleepin' Bee, and But Not For Me, the latter of which is on Flying Without Wings – are too often performed with the verses omitted. Such recordings are valid and often great, of course, but the kind of fidelity to the song as it was originally conceived, shown by Alcorn, commands a lot of respect, especially when executed, as it is here, with such passion and faculty.
I was thrilled to come across Alcorn and Samaras listed together for the evening of May 22 at Jazz Bistro. They will be accompanied by Mike Downes on bass and Dave Restivo on the Bistro's Red Pops Steinway piano. This will be the third time the illustrious quartet has appeared together in Toronto, but it will be a first for me. It'll be a lot of firsts for me, actually. It'll be the first time I see this particular quartet. It'll be the first time I see John Alcorn live. If they're selling CDs, it'll be the first time I buy an album featuring Alex Samaras.
I'm going to, as I always do when I go to shows at Jazz Bistro, call for reservations the day of the concert, and I'm hoping they'll tell me the place is almost full and my choice of seating is limited. Can this city collectively make that happen? I'm tired of empty jazz clubs. Let's make ours unbearably crowded.
Happy spring, Toronto. See you in one club, or another. Or both. Or more.
Bob Ben is The WholeNote's jazz listings editor. He can be reached at jazz@thewholenote.com.