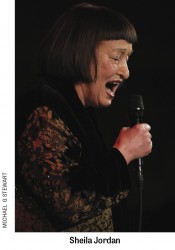 Sheila Jordan. Is it April 1 or April 2 as you are reading this? If so, you should be calling Jazz Bistro to make reservations for tonight for Sheila Jordan's first appearance in Toronto in, if I'm not missing anything, two years. Almost exactly, in fact: it was near the end of March 2014 when Jordan appeared for three consecutive nights at Chalkers Pub. For two nights she performed accompanied by Don Thompson on piano and Neil Swainson on bass, and on the third night she led a vocal workshop, accompanied by Thompson alone. I was in attendance at all three events, having volunteered, way ahead of time, for door duties.
Sheila Jordan comes across on and off stage as a warm and caring person. You can always tell whether someone has any genuine interest in what other people are saying, or whether they're waiting for their own turn to talk. Sheila belongs to the former camp. She cares about people. She loves the world. She has a sense of humour and a sense of wonder, and all that is on display when she performs.
When she performs, she's equal parts singer and storyteller – both during and in between songs. Her songs are both deliberate and spontaneous – rehearsed and subject to change. Each time you hear her sing, it is worth hearing. As the concerts grow chronologically further away, my memories of them become fuzzier. But almost a year ago, I wrote that "In addition to being a genuine and adventurous performer, [Sheila is] one of the sweetest, most infectiously charming people I've ever spoken with." I stand by that.
I bought two CDs while I was there – one of Jordan's, Yesterdays, which is a duo album with bassist Harvie Swartz, and the Thompson/Swainson duo album, Tranquility, both of which I will recommend wholeheartedly, and the latter of which was reviewed for The WholeNote by the late Jim Galloway earlier that year.
These concerts will take place at Jazz Bistro on April 1 and 2; the cover charge is $20 and dinner reservations are, as I write this, still available.
Nathan Hiltz: The following day, April 3, at the same venue, you can check out Nathan Hiltz's trio, with Pat Collins on bass and Morgan Childs on drums, playing tunes by one of my favourite jazz composers, and by very far my favourite jazz lyricist, Cole Porter. On some tunes, those lyrics will be delivered by Ori Dagan, in whose mouth those lyrics can be said to be in good hands. Or, around good teeth – whatever you like.
I know I've taken up all this space talking about a couple of shows which, more likely than not, are in the past as you read this, so before signing off, I want to direct your attention to a weekly engagement which shows no signs of stopping. If you dig or dug Hiltz's guitar playing in a trio setting, you may dig him in the organ jazz quartet Organic, which generally features Bernie Senensky on the organ, Hiltz on guitar, Childs on drums, and Ryan Oliver on sax. The band has been together since its genesis over a decade ago, Oliver's brainchild, and their effortless chemistry makes that more than apparent. They play weekly on Sundays at Joe Mama's. There is no cover or tip jar, so you can take the money you saved on that and buy more drinks at the bar than you normally would.
Musideum: You'll notice, if you thumb through the listings this month, that Musideum is conspicuously absent. Early last month, Musideum owner and founder, Donald Quan, announced that the end of March would mark the end of Musideum as a venue for the foreseeable future. Quan is indefinitely – but not necessarily permanently – closing Musideum to focus on other understandably indispensable aspects of his life: his health, his family, his friends and his own musicianship.
Musideum was a remarkable venue, an intimate space in which to interact with other people: as a performer to an audience, as an audience to a performer, or artist to artist to artist. It will remain open as a store for the first few days of April, so I'd encourage anyone who still has the chance to, go now and check it out.
And I hope to see you all soon, in one club or another. Check the listings!
Bob Ben is The WholeNote's jazz listings editor. He can be reached at jazz@thewholenote.com.