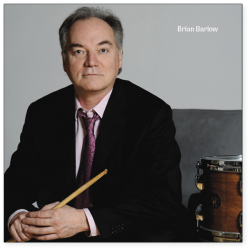 Artie Roth once said to me – and I'm paraphrasing – that the drummer is the encyclopedia of the ensemble, the player who knows the repertoire most intimately, who can most immediately call up what happened on this chorus of that recording in Febtober of 19whenever. It's a generalization, of course; all musicians should know these things. And of course, there's a chance that Artie was saying that so that I'd go home and study the repertoire more. But when I think of drummers like Morgan Childs, or the guy who sits behind that giant bass drum at Grossman's on Saturday evenings, it fits perfectly.
What doesn't fit perfectly, however, is how few drummers you'll find leading groups in town in any given month. As far as I know, the only drummer-led groups in the clubs this month are those led by Harrison Vetro, a young talent with a sound that can best be described as crisp, and Brian Barlow. Barlow is someone I've only heard live once, with his own big band at the Jazz Festival in 2011. He is a thoroughly seasoned professional drummer and arranger with experience all over the field, having worked with everyone from Ella Fitzgerald and Tony Bennett to Alanis Morrisette and Shania Twain to the Toronto Symphony Orchestra and the Canadian Opera Company. He's played on dozens of film scores and musical theatre productions. He was a member of Rob McConnell's Boss Brass. I could go on and on.
Barlow's gigantic beat is something I haven't forgotten in the five years since I heard him play in person. His big band was on the main stage in Nathan Phillips Square and his drums were amplified a bit too much. The band opened with some standard tune (I want to say Satin Doll?) at a relaxed medium tempo swing – somewhere around 130 to 140 beats per minute. Barlow played the swing beat on the hihat while feathering with the bass drum, authoritatively, almost but not quite aggressively. It's said that a drummer's feathering should be "felt not heard." Due to the almost indecent amplification, every note played on the bass drum shook my entire body. So, yes, it was felt. Thoroughly felt.
Anyways, I'm looking forward to hearing that huge beat again in a smaller, more intimate, less amplified setting, with a smaller ensemble, at the cozy Home Smith Bar at the Old Mill.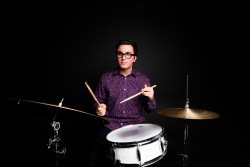 Harrison Vetro, the only other drummer-as-leader I'm aware of in the clubs this month, was a classmate of mine at York University. Walking around the halls in York's music building, you can always hear people practising, because those doors, thick though they may be, are not soundproof by any stretch of the imagination. Drummers who used the rooms at York could be divided into two categories: those who play, and those who practise. Sometimes, you could walk by and hear someone blazing around the drums with (or, you know, without) remarkable speed and accuracy. That was a player. Someone who was in there to keep playing what they already do well. Or just to blow off steam.
Then, there were practisers. If a practiser was in the room, you would know it because you'd walk by and hear them either messing up or playing really slowly or both. You'd hear them playing the swing beat at 40 or fewer beats per minute, or playing some impossible pattern and being slightly less uncomfortable with it after repeating it relentlessly for longer than you could even pay attention.
Someone once said that if you sound good while practising, you're doing it wrong. That might be a slight exaggeration, but you can see their point: instead of bolstering your strengths (which is also a valid and valuable way to spend your time), the majority of your practice time should be spent attacking your weaknesses. The players who did that, and remained truly disciplined and focused in the practice room, and tolerated not always sounding like a beast, almost invariably grew into the players who sounded more professional, cleaner, more comfortable and more individual than the rest.
Harrison was a practiser. And the cool thing about having been at York, and having known him as long as I have, is that I watched that progress happen. He sounded better every time I heard him. Noticeably better. Even after we no longer went to school together, when I would occasionally hear him on a gig (like when he led the house band at the no longer extant jam at Habits), there would be enough time in between that I would hear that improvement in leaps and bounds, while he, as each individual player does, only heard it in increments.
Harrison Vetro's group can and should be heard on the evening of March 7 at the Emmett Ray.
Sheila Scats: One more thing to get ahead of, jazz lovers: Sheila Jordan will be in Toronto for at least three nights, starting on the last day of March at 120 Diner with a workshop, and the first two nights of April at the Jazz Bistro. Book it off now, and I'll see you folks in the clubs, more likely than not.
Bob Ben is The WholeNote's jazz listings editor. He can be reached at jazz@thewholenote.com.