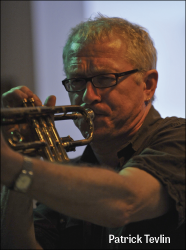 Until this autumn, I'd never been to Grossman's Tavern for a show. Sure, I'd wandered in a few times in the middle of the day, and heard a song or two if a band happened to be playing. But I'd never made plans with people to go to Grossman's and make a night of it.
A few weeks ago, on a Sunday, I was wandering in Chinatown and I walked into Grossman's to find a band packing up their stuff. I asked the musician who seemed the least in a hurry whether there would be more music tonight. He said another band, hosting a blues jam, would be starting in an hour.
So, for an hour I sat alone in Grossman's, looking around, inadvertently eavesdropping, and sending copy-and-pasted text messages to anyone I thought might be interested: "blues @ grossman's? bring your ax." Grossman's is, like most establishments in Chinatown, completely unpretentious. The sign above the Spadina Avenue entrance is unassuming and easy to miss. The dimly lit room is decorated with posters and photos depicting performers who have played at Grossman's, and little else. The food is standard pub fare, with no fancy additions or inventive names. The prices are downright affordable. I believe the menu states the total after tax. (I swear they're not paying me to write this.)
Brian Cober led the 10pm National Blues Jam from the guitar, although the drummer, whose full name I never got, also seemed to have a great deal of sway. The bass player appeared to be a guest. Cober shouted form at the other members of the band, indicating stop time, dynamic shifts and chord changes. Of course, blues tunes generally draw on established conventions, so there was no danger of a train wreck. Had I not been watching, I would have assumed that this group had been playing together for years.
Of those I texted, two showed up. At peak hours, it seemed everyone was a regular but us three. They all knew the protocol, the repertoire and the people. We, huddled in the corner as a little pocket of blues jam novices, played it by ear. One of the two people I drew was a trombonist, and once he saw a bari sax player go up without being called, he did the same (after speaking to a member of the house band at intermission, of course). When I was called up to join the band on the drums, they called tunes I'd never heard before. I know jazz standards; I do not know blues standards. But again, with fairly simple forms, I caught on quick and had a ton of fun. I took a mental note. To do: learn blues repertoire.
One of my friends told me afterwards that they had a Dixieland jam on Saturdays, and that it was poppin'. So, I went; and, oh my goodness, it popped so much. I have rarely seen so many people in a jazz club – and never for a weekly thing. Residency gigs and the like are often, too often, sparsely attended. This jam, on the other hand, was full almost to the point of being a fire hazard. Usually, when I see a jazz club that full, it's for a trendy band that attracts people of one age group almost exclusively. But here, there were quite literally toddlers and octogenarians on the same dance floor. The best thing about the jam was its overwhelming and palpable positivity. Nobody was isolated from anyone. Everyone danced together. Unprompted, folks introduced themselves to me. One woman was putting her index finger on people's heads and spinning them like tops.
The band was authentic, as far as I could tell. I'm not a Dixieland scholar – which made it a little intimidating when I was called up. Patrick Tevlin, the leader of the house band, the Happy Pals, asked me quite abruptly before I came on stage: "You ever play old style?" I gave him the shortest honest answer that I could: "I can." I was fairly confident that if I kept it simple, I could get across the vibe that I'd heard on records and shows but never really steeped myself in. I made another mental note. To do: listen to more "old style."
Tevlin sits in a chair in the centre of the stage with his horn and mic within reach, horn players and guitarists seated on either side. Charismatic and relaxed, he sings the tunes like he was born singing them. When he introduced the band, he included the names of guests. It's apparent that he thinks of the Happy Pals as a big, ever-expanding family.
The jam culminated in a parade of musicians – with the house rhythm section still on the stage, playing the changes to When the Saints Go Marching In, the horn players – guests included – marched in a circle around the venue. People moved out of the way as they cheered and sang along.
The Happy Pals Dixieland Jazz Jam has been happening at Grossman's every Saturday for more than 45 years, and shows no signs of slowing down or stopping - certainly not this month. So come on down! Bring an instrument! Just...don't expect to find a seat.
Bob Ben is The WholeNote's jazz listings editor. He can be reached at jazz@thewholenote.com.