This past September, The WholeNote celebrated its 20th anniversary with a concert/party at the newly renovated Trinity-St. Paul's Centre. Rarely passing up an opportunity to hear live music for free, and absolutely never turning down a good excuse to wear a suit and tie, I reserved my seats very quickly. It was great. There was a diverse program, lots of good humour, and perhaps most importantly cake.
I remember turning to my plus-one after a lot of the performances and saying "Okay, that was my favourite." Some highlights include:
Mary Lou Fallis, who did a great job co-hosting the event with WholeNote publisher David Perlman, sang a hilarious song, listed in the program as Tone Deaf, in which the narrator goes on about her musical ineptitude, pokes fun at herself and punctuates phrases with deliberately off-key notes. It's the tiniest bit ironic that while singing about an inability to distinguish pitches, Fallis demonstrates a very finely tuned command of pitch by nailing those "off" notes so perfectly imperfectly.
The pianist Christina Petrowska-Quilico paid tribute to renowned violinist and educator Jacques Israelievitch, who passed away from lung cancer three short weeks earlier, by playing a quick and upbeat piece of music, Glass Houses (5) by Anne Southam because, as she told it, the "always on" Israelievitch never wanted to play things slow (or, more accurately, below performance tempo), even in sight-reading sessions, and "because he would have liked it."
The program also included some jazz. During the second set, as Sophia Perlman, Julie Michels and Adrean Farrugia approached the stage, I nudged my friend and said, "This is definitely going to be my favourite." I had said before that Sophia Perlman was my favourite jazz singer in the city and then quickly corrected myself. "One of my favourites. Top five."
The finale of the anniversary celebration invited the participation of the audience. A bunch of people with conducting experience came on stage, divided the audience into sections, and conducted each respective section in a rendition of the round Music Alone Shall Live, while Mary Lou Fallis accompanied us on the piano. "All things shall perish from under the sky. Music alone shall live, music alone shall live, music alone shall live, never to die."
The song is true. If not literally, then in some other way. Music may not survive the heat death of the universe, but it is transcendent and universal. It has existed since before recorded history and it – or at least evidence of it – will exist after our species has gone extinct. It could have been my imagination, or the nature of the music, or the elevation of the stage, or just the fact that we were in a church, but for me, it was a reverent moment. There was no dancing or even standing (excepting the conductors). Only a bunch of people simultaneously expressing a belief we all share, and which none of us takes lightly.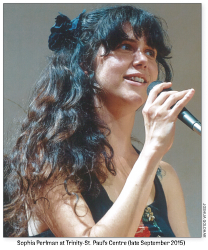 Sophia Perlman: Vocal diamonds. Earlier that week I had gone to the Reservoir Lounge, a venue with less light, more food, and a louder audience, to hear Sophia Perlman. Accompanied by Farrugia on piano, the band also included Richard Underhill on alto sax, Jeff Halischuk on the drums and Mike Carson on bass. It was a marvellous show. The finale of the night, a cover of Paul Simon's Diamonds on the Soles of Her Shoes, complete with vocal harmony from the band also invited audience participation. Before the night was over, everyone was on their feet. Most people danced. I'm not one for dancing, but I couldn't sit for it. I had to sway.
The music aside, the setting was different. The stage was less elevated. No one was in formal attire. Most people were drunk (I was not) and at times willing to talk over the band (also not I) – which I think made it all the more meaningful and beautiful when the audience did choose to hand over their attention to the musicians on stage. "Ta na na, Ta na na na" is not quite the statement that "music alone shall live, never to die" is. Nonetheless it lifted in a similar way to the round in the church. So in retrospect, maybe it wasn't the words. Maybe it was the joy of making music with other people.
For the aforementioned jazz singer, Sophia Perlman, a large part of the joy of making music – specifically improvised music – with other people is the spontaneity of it. Jazz musicians aren't known for their creative inflexibility or physical tension, but even in this idiom you will rarely see someone as loose, relaxed, comfortable on stage and comfortable in her skin as Perlman is.
She has clearly worked hard at developing this craft, and she must know how good she is. But yet, offstage, she is as uncomfortable with flattery as anyone. When I told her I had transcribed one of her scat solos (All of Me at Shops at Don Mills, available on YouTube), she laughed nervously and said: "Don't do that, I don't know what I'm doing!" Imagine the luck that must be involved, to build a career of not knowing what you're doing!
Her voice has a rasp to it. Not the kind that comes from years of smoking, but the kind that might come from shouting excitedly about something for a few minutes. The rasp isn't the defining feature of her voice, but to me it adds something to the performance that's difficult to nail down. It's shading. Musical shading. The rasp is good. But through the rasp comes a voice that is clear, powerful, and shockingly huge.
I've only heard her perform live three times – each at a different venue, with a different ensemble. And each time the experience was radically different. In fact, if it wasn't radically different, it wouldn't be worth attending, never mind writing about.
When she was a novice on the Toronto scene, Perlman says she found it "baffling, and at times really frustrating" how fluid lineups were. But – as evidenced by the performances I've seen, and the ease with which she adapts – she's gotten used to that since then: "The beauty of belonging to this community is that every time you stand onstage, and take stock of who's there, you realize there are two things at play: you have a relationship with everyone on the bandstand to some degree. Usually. But most of the time, they all have their own relationships with everyone else on the bandstand – a whole other collection of shared musical experiences, some of which don't include you!"
I'm excited, and I hope you're excited, too:
You can catch Sophia Perlman adapting to all manor of different factors at two listed gigs this month (and possibly more): one at Bloom in Toronto with Adrean Farrugia and Ross MacIntyre on November 26; the other at Manhattans Pizza Bistro & Music Club in Guelph with Terra Hazelton, under the name PerlHaze.
Bob Ben is The WholeNote's jazz listings editor. He can be reached at jazz@thewholenote.com.