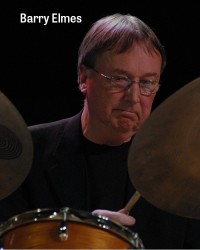 When I think of contemporary jazz musicians who are both great singers and great pianists in equal measure, three names rise to the top of the list: NYC-based Brenda Earle Stokes and Laila Biali (both Canadian-born), and the Nova Scotia native, Steve Amirault, relatively new to the Toronto Jazz scene, The latter, though primarily known as a pianist, will occasionally bust out the mic and sing a tune or two. And when he does, it's the warm timbre and the conversational phrasing that will draw you in. It almost sounds effortless, until you remember how much work he must have put into mastering both these instruments — yes, the voice is an instrument — to such a degree where he can be expressive and free with both at the same time.
On May 15, Amirault will be leaving to do a solo voice/piano gig in Korea for four months. So before he leaves, don't forget to check out some of his gigs, the last in Toronto until autumn: May 1 and 10 (at Hirut and The Local Gest, respectively), with trios led by drummer Chris Wallace, who is, like Amirault, a recent arrival on the Toronto scene, and May 2 at Chalkers Pub, in his own trio, featuring jazz veterans Jim Vivian on bass and Barry Elmes on the drums. The group will be playing some of Amirault's original music, mixed in with selections from the standard repertoire. "I'm very happy to have Jim and Barry on the gig," he says, "Jim and I have recorded and toured together and it's always fantastic to work with him. This will be my first time sharing the stage with Barry Elmes. Barry is a great drummer and I'm really looking forward to our musical meeting."
Barry Elmes, by the way, will be leading his own group a week later at the Home Smith Bar, a classy, intimate venue, complete with stone walls, fine wine and the obligatory fireplace. The Home Smith doesn't charge a cover for the top quality musicians they showcase — that cost is covered by the food and drinks, which you will inevitably be tempted into purchasing if you catch a whiff or a glimpse of someone else's dinner!
Extraordinarily well-versed in the tradition, insistently original both as a drummer and a composer, with an enviable musical resume that includes Tommy Flanagan, Dizzy Gillespie, Charlie Haden, Joe Henderson and more, Elmes(and the ensembles he leads), puts on a show that is not easily passed up; when he plays two nights in a row at the same venue, I go both nights. And so should you.
The Toronto Jazz Festival begins next month, and, of course, the official listings can be found at torontojazz.com — but check back here in June for those listings in great detail and more. Aren't you excited? I'm excited.
Bob Ben is The WholeNote's jazz listings editor. He can be reached at jazz@thewholenote.com.