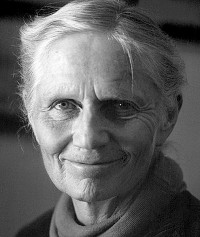 Recently, a most engaging talk fell into my hands, a CBC radio interview from 2002 between Eric Friesen and gambist, cellist and educator Peggie Sampson, on the occasion of her 90th birthday. During the course of the interview, Dr. Sampson reflected on various possible ways of presenting early music in concert. One way to do it, she said, is to recreate an occasion: "to be in somebody's court, on a definite day – the marriage of this princess to that prince or something like that, and then you try to reproduce the whole scene."
Her comment led me to observe that more than one group have thought to celebrate this season of "definite days" by recreating an occasion, bringing the audience as close as possible to an experience of what that event must have been like. So I asked the artistic directors of three of these groups to tell me a bit about the genesis and development of this idea in their performances. Here is some of what they told me.
The Tallis Choir and its artistic director Peter Mahon very much enjoy taking this approach in their programming, devoting one concert per season to a reconstruction of the musical content of an historic event. Choir member (and enthusiastic researcher of programme material) Douglas Cowling notes: "These reconstructions allow us to hear the classic repertoire in the musical sequence which the composer intended. In the upcoming Gabrieli mass, we will be unable to recreate the cannon volleys on the Grand Canal which punctuated the service at significant moments, but we will see how Venetian composers assembled a mass with seemingly independent movements, hear for the first time Orlando di Lasso's polyphonic settings of the mass responses, and experience Gabrieli's famous brass music as 'cover' for grand ceremonial in San Marco. It will be a unique concert experience – and a lot of fun." And so on December 4, the Tallis Choir takes the audience back to 1605 with a recreation of Christmas Eve in the ducal chapel of San Marco in Venice. Featured is Giovanni Gabrieli's Mass for Twelve Voices, interwoven with more glorious sacred music by Giovanni and Andrea Gabrieli, Lasso and Grandi.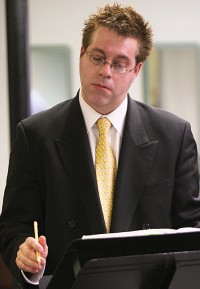 On December 11, the Aradia Ensemble and its artistic director Kevin Mallon take their audience to Dublin, Ireland, in April 1742 for "The Dublin Messiah," recreating the premiere of Handel's famous work. Mallon is enthusiastic about this presentation and the reasons for it: "As early music performers, we try to recreate the instruments so they sound as the people of the time and the composer would have heard; we try to get as close as possible to a performing style they would have expected; we try to get as close as we can to the text the composer wrote, etc. So, the notion of recreating a particular event from a definite time or place is all part of that. However, I have found that the audience get a real kick out of the recreation. We can have fun with it – for example, pointing out that the tradition of King George standing at the 'Hallelujah Chorus' came from the London performances which post-dated the premiere in Ireland. So in my strong Irish accent I ask them to sit and enjoy it! The first audience was asked: 'The Ladies who honour this Performance with their Presence would be pleased to come without hoops, as it will greatly encrease the Charity by making room for more company. The Gentlemen are desired to come without their Swords.' So we ask our audience to do likewise!"
On December 10, 11 and 12 the Toronto Consort presents "Praetorius Christmas Vespers," recreating the joyful celebration of Christmas Vespers as it might have been heard under the direction of Michael Praetorius in 17th-century Germany. As in all Toronto Consort presentations, a great deal of scholarship has gone into the preparation of this concert. Artistic director David Fallis talked a bit about the research involved – everything from determining the permissible elements of the Lutheran Vespers service as distinct from the Catholic service (for example cutting down the number of psalms to only one or two, and the addition of the Creed), all the way to delving into Praetorius' complete works to create parts, thereby enabling the performers to play and sing the music. Praetorius, as you'll discover if you go, loved groups of strings and groups of brass; and there's something very warming in being enveloped by the massive chords of singers, violins, cornetti, sackbuts, theorbos and keyboards as they resound from the balconies and all around the church – a joyful invitation to join in the celebration of a north German Christmas.
Some upcoming concerts
There's no possibility of doing justice to the amazing flurry of early music concerts in December and January – you'll have to go on a listings treasure hunt to find them all. Here are but a few:
• December 4: A night to make a choice. In addition to the Tallis Choir concert, discussed above, there is: Toronto Chamber Choir, "O Magnum Mysterium" (serene motets of Palestrina, expressive harmonies of Monteverdi, beautiful voices and strings of Vivaldi); Flutes by Night, "Bach, Bach and More" (J.S. Bach, C.P.E. Bach, Telemann and Hotteterre for traverso, recorder, cello and harpsichord); Cantemus Singers, "Welcome Yule" (renaissance and medieval carols; Sweelinck, Praetorius and Byrd; Schütz's delightful Christmas Oratorio). Fortunately, this concert is repeated on December 12.
• December 18: Sine Nomine Ensemble for Medieval Music, "Minstrels at a Christmas Court" (In this English romance, the faithful Sir Cleges, benefactor of minstrels, becomes the beneficiary of a Christmas miracle. Around this compelling narrative framework is woven a mixture of seasonally evocative 14th- and 15th-century English Christmas music for voices and instruments).
• January 15: I Furiosi, "My Big Fat Baroque Wedding" (We are not just staging a wedding, but the clothes will be designed by Canadian designer extraordinaire Rosemarie Umetsu who is presenting eight to ten new garments at the show. Works by Bach, Campion, Handel and more. We encourage audience members to come wearing bridesmaid gowns that they have never reworn.)
• January 28 in Kingston: Melos Choir and Chamber Orchestra, "Handel's and Haydn's London" (J.S. Bach, J.C. Bach, Handel, Geminiani, Haydn and Greene – the second concert of this newly-formed, mainly baroque-spirited, chamber orchestra).
Simone Desilets is a long-time contributor to The WholeNote in several capacities, who plays the viola da gamba. She can be contacted at earlymusic@thewholenote.com.