TAFELMUSIK BAROQUE SUMMER INSTITUTE
What makes a musician a "baroque" musician? The answer to this question has evolved dramatically over the years, as consideration of how baroque music should be played moves from presenting it from a completely modern standpoint, to awareness of a sound more "informed" by the stylistic elements present in baroque times.
One of the world's premiere baroque music training programmes is right in our midst: The Tafelmusik Baroque Summer Institute, which takes place every June in Toronto, is about to begin its tenth season. As TBSI music director, Jeanne Lamon, writes on the website, the Institute is dedicated to developing the period performers of the future. With an impressively comprehensive programme of study and first-rate teachers, it attracts student participants from all over the world.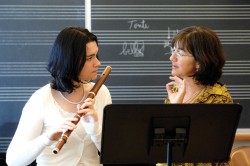 There's a component for instrumentalists, with in-depth study of their instrument in a variety of solo, chamber and orchestral settings, and for players new to period instruments, an introduction to baroque instruments, their technique and repertoire. There is even a number of baroque flutes, oboes, bassoons, stringed instruments and bows available for loan.
There's a component for singers, offering study in solo, choral, ensemble and operatic repertoire; Opera Atelier's Marshall Pynkoski leads workshops in scenes from baroque operas, focusing on gesture and deportment and their relation to music and text in the 17th and 18th centuries.
There's a component for conductors and directors, too – a self-directed study for the most part – during which participants are encouraged to audit vocal and instrumental masterclasses, sit in on orchestra, choir and chamber ensemble rehearsals and attend opera workshops, lectures, demonstrations and concerts.
There are classes in baroque dance, led by Opera Atelier's Jeannette Lajeunesse Zingg; continuo classes for keyboard players and lutenists/guitarists; classes for conductors and directors with Tafelmusik librarian, Charlotte Nediger, on sources and editions. There are private lessons, lectures and workshops on a range of topics. There is even an international exchange programme with Jeune Orchestre Atlantique, a European training orchestra specializing in classical and romantic repertoire on period instruments and directed by Philippe Herreweghe.
But wait! Why not let the voices of some who have studied at the Institute speak for themselves? Those I asked came back with a flood of enthusiastic stories, from which I've distilled just a little here: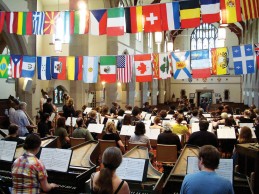 Roseen Giles, baroque flutist, relates how TBSI teachers guided her in moving from the modern to the baroque flute, and says: "Eventually it became clear that the best way to learn how to play a period instrument is through immersion in baroque playing and style, which is exactly what TBSI provides. Two weeks of having nothing but well-played early music in my ears was exactly what I needed to help me understand that baroque music was not dry and academic like I'd previously been taught, but vibrant and alive. After TBSI, I traded my silver for wood, my keys for pure intervals, and never looked back since!"
Elizabeth Loewen Andrews, baroque violinist, tells of the journey that led her through TBSI and Jeune Orchestre Atlantique to professional work with Aradia Ensemble, the Windermere String Quartet and Tafelmusik Baroque Orchestra as an extra, and concludes: "So, how has TBSI impacted my musical and professional life? Pretty much in every way! It started me on the road to a much more diverse performance career, opened my mind and ears to a different world of sound, and has helped open so many doors to me in the first five years of my career. My life today would certainly not be the same without that summer!"
From soprano Johane Ansell: "The major impact that TBSI has made on my musical life: not only did it assist my solo performance skills but it also encouraged and facilitated the development of my ensemble singing, which is a useful skill to have and is applicable in all facets of vocal singing, not limited to early music singing. It is also one of the few programs that emphasize the study of the different styles of early/renaissance music: French baroque, Italian, etc., as well as the styles of different composers such as Bach, Lully and Handel. There is a reason people return to TBSI to participate more than once: it is a unique program with a LOT to offer and you get to work with the best in the business."
Baroque violinist Alice Culin-Ellison says: "This will be my third summer attending the Institute. The first summer (at) TBSI was the first time I ever played on gut strings and learned the period performance techniques of how to hold the instrument (chin off with no chin or shoulder rest). I have nothing but fantastic things to say about TBSI. It led me to be in the process of getting my masters in early music (violin) and I have recommended it to many, many people, at least three of whom are attending this summer due to my recommendation."
Even if you aren't planning to participate as a student in TBSI, you can participate as an auditor of individual classes, full days or the events of the entire institute. There are also four public concerts featuring faculty and/or student performers, on June 3, 8, 12 and 15 – find details in The WholeNote's festival listings or at www.tafelmusik.org/tbsi.
OTHERS
Just north of Newmarket lies a building of exquisite proportions, a National Historic Site known as Sharon Temple. Its interior space, with beautiful acoustical ambiance, is a natural venue for music (and was intended so by the Children of Peace, who built it). For several years now it's been the home of a summer concert series, and this year co-artistic directors Larry Beckwith and Rick Phillips planned five Sunday afternoon concerts. The first one took place on May 29 and the other four run throughout June. Early music is featured in two of these. On June 5, celebrated countertenor Daniel Taylor brings his Theatre of Early Music to perform arias and duets by Handel. On June 26, the Toronto Consort presents their programme "Shakespeare's Songbook", featuring songs and dances from the plays of the immortal bard. A lovely way to spend a Sunday afternoon, I'd say.
The Church of St. Mary Magdalene in Toronto is famous as the place where composer Healey Willan focused much of his musical life, directing and composing for the choir and adding his musical voice to the Anglican liturgy for over 45 years. A new Friday evening concert series entitled, "Concerts Spirituels," is beginning at the church which, as artistic director Stephanie Martin says, hopes to keep Willan's dream alive by continuing the tradition of singing and playing wonderful music. Three concerts are planned – June 3, 10 and 17 – each featuring an a cappella renaissance mass (Victoria, Guerrero and Palestrina), a baroque chamber ensemble and organ music played on the three manual Healey Willan Memorial Organ.
FOILED
Isn't it just the luck! You write enthusiastically about the pending appearance of a special artist, then an injury prevents the concert – the whole North American tour! – from happening! The concert by Jordi Savall, Hespèrion XXI and La Capella Reial de Catalunya, that was discussed in last month's column, and was supposed to have taken place at Koerner Hall, was cancelled, as you probably all know. But all being well, it will happen on March 1 of next year, and be enthusiastically heralded again in this column.
She can be contacted at earlymusic@thewholenote.com.