It's time to pack your knapsack, your suitcase or your picnic basket and head out of town in search of different impressions. For the early music aficionado this doesn't necessarily mean abandoning the music you're fond of, just that you'll have lots of chances to experience it in new places.
Bach Music Festival of Canada
First I must tell you about a new summer festival emerging in South Huron, that area situated on Lake Huron which includes several small communities such as Exeter and Zurich. The Bach Music Festival of Canada takes place from July 11 to 17, and is actually an interesting mix of Bach, contemporary and other music, culminating in a performance of Bach's B Minor Mass with soloists, orchestra and over one hundred singers. At its helm is artistic director Gerald Fagan, known nationally and internationally as a choral conductor and pioneer.
The week is packed with concerts, workshops and master classes. Trio Alla Grande, an extremely musical and sensitive guitar trio, opens the festival with a concert of contemporary and original music, and gives an interactive discussion and workshop. Violinist Lara St. John, known as a passionate exponent of Bach, performs a recital and offers a masterclass. Renowned basso Thomas Paul, now in his 70s, shares his expertise on the singing of Bach arias in intensive workshops, with a resulting concert, "The Art of the Aria." The Harvestehuder Chamber Choir from Germany performs with London's Gerald Fagan Singers in a concert of Bach, Canadian and German choral repertoire.
All this, combined with participation of locally-based choristers, make this Festival an ambitious project indeed, and a wonderful gift of music to the area.
Other summer festivals:
At the Ottawa Chamberfest there's too much to mention here, but they have a website to guide your hunt through medieval, renaissance, baroque and other categories (www.ottawachamberfest.com). I'll point out just two performances: on July 25, Ensemble Caprice presents "Et In Terra Pax" featuring vocal and instrumental works by Vivaldi and Zelenka; on August 4, "La Poésie noble du violon sous Louis XIV" features Lully, Jacquet de la Guerre, Clérambault and others — all with brilliant performers involved.
July 19 at the Hamilton Organ Festival, you can hear organ music by Bach, Byrd and Buxtehude played by organist Matthew Coons; and during Stratford Summer Music's "Organ Week," music by Gibbons, Purcell and Handel will be performed on July 29, and some of the most glorious of Bach's organ music on July 30, by Robert Quinney from Westminster Abbey. The organ in collaboration is highlighted on July 26 at Parry Sound's Festival of the Sound: organist William McArton is joined by flutist Suzanne Shulman and trumpeter Guy Few in works by Handel, Viviani and Rameau.
Other early music can be found here too, such as a concert of solo Bach works for flute, cello and keyboard on July 27. This is one of three July concerts I've noticed which feature Bach solo cello suites. At Festival of the Sound it's the first suite, played by cellist Marc Johnson. On July 2, cellist Rachel Mercer will perform suites nos. 2, 3 and 6 in Waterloo — not in a "summer" venue but in the ongoing series of the Kitchener-Waterloo Chamber Music Society. And on July 5 yet another performance, this time at Campbellford's Westben — Concerts at the Barn, with Brian Manker, principal cellist of the Montreal Symphony Orchestr, playing suites nos. 2, 4, and 6.
At the Elora Festival, on July 16, there's a most interesting concert of Telemann sacred cantatas — he completed several cycles of these for the church year —performed by tenor Kevin Skelton (more about him in a moment), along with recorder, harpsichord and gamba.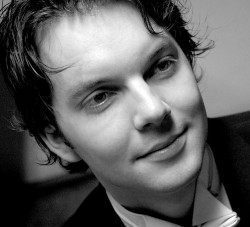 At Stratford Summer Music, there's a lovely touch of the early, "a delicious combination of musicianship and cuisine," as lutenist/guitarist Terry McKenna performs short concerts (each showcasing a particular aspect of renaissance/early baroque music) at Rundles Restaurant, every Saturday and Sunday throughout the festival.
Whereas urban-based artists and audiences tend to migrate to out-of-town summer venues, some will also arrive in town from elsewhere. Kevin Skelton, who lives abroad, is a Canadian tenor of great accomplishment as performer, director, founder of several ensembles, contemporary dancer and published scholar who holds degrees in voice, conducting and musicology. In addition to the above-mentioned performance at the Elora Festival on July 16, he'll be appearing at the Toronto Music Garden on July 17 with other wonderful musicians in a presentation entitled "With Joy and Light Encircled." And, (too late to make The WholeNote's print deadline; you'll find it on the website at "Listings: Just In"), on July 30, Toronto's Church of St. Mary Magdalene will resound with Gregorian chant as Schola Gregoriana Aurea Luce, a choir of men's and women's voices from Venice, Italy, perform.
I'll leave it to you, the early music seeker, to find out more: The WholeNote's summer listings, and individual websites, have all the details. The opportunity to design your own summer early music festival awaits!
Simone Desilets is a long-time contributor to The WholeNote in several capacities who plays the viola da gamba. She can be contacted at earlymusic@thewholenote.com.