And so a new season begins. From late summer's vantage point, I can already see a huge range of early music activities shaping up in the coming year, from Scaramella's "Hit and Run" in November, featuring triple harp and clown among other things, to the Royal Conservatory's presentation of French sopranist-countertenor Philippe Jaroussky with Cleveland's baroque orchestra Apollo's Fire, also in November; to Tafelmusik's period performance of Beethoven's Eroica Symphony in May; to Nadina Mackie Jackson's developing project "Vivaldi's Lost Girls" (a celebration of Vivaldi bassoon concertos); and much in between. But first to the events of the present month.
Schola Magdalena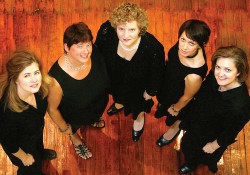 A small ensemble of six women's voices, expressive and pure in intonation, produces an ethereal sound not too often heard in concert. Schola Magdalena is just such an ensemble, founded in 2007 and based in Toronto. You can hear them twice in the coming month, as they'll be launching a new CD at their home venue of the Church of St. Mary Magdalene and then performing at Barrie's Colours of Music.
The group's director, Stephanie Martin, is organist and director of three choirs at St. Mary Magdalene, director of Pax Christi Chorale and a professor at York University. Interested in knowing what prompted her to add yet another ensemble to her very busy life, I asked her to talk a bit about Schola Magdalena's formation and its projects.
Schola Magdalena gives her great satisfaction, she told me, "because it is a democratic group. My other ensembles require a leader/follower model, and, although a totalitarian system is efficient, it can be an undue burden on the leader. I enjoy solving musical problems with Schola Magdalena since we work as peers. Everyone is a leader; everyone is a follower … Six voices allow us to sing early polyphony which is often three parts; that gives us a nice balance of two voices on each part … Coming up with our interpretation takes a while, but we arrive at an interpretation we all like. It's a great model for problem solving."
Regarding plans for the future: "We'd like to tour back to Quebec where many of our French-speaking supporters are. We've included notes and translations in French in the CD booklet because we often sing to French-Canadian audiences — often Roman Catholic church choirs, who have a deep connection to Gregorian chant. We have an invitation to visit Spain but we need to find baby sitters for six children!"
And as for that above-mentioned CD, titled Virgo Splendens, it includes "quite a bit of Hildegard, some wonderful early English polyphony — a setting of the Magnificat — some traditional Gregorian chants which we still use in our liturgy at St. Mary Magdalene. There are also fragments from a mass by Dufay. One important element is the recording of the four "Marian anthems" that are sung throughout the liturgical year."
Both the CD launch on September 24 and the Barrie concert on October 1 feature a selection of the above repertoire. And besides the beauty of the music on this disc, you'll treasure it also for its cover: a reproduction of a beautiful icon — Madonna and Child — lurking obscurely in the Church of St. Mary Magdalene.
A random mention of others:
Two concerts highlighting English music for voices occur this month: On September 16, Aradia Ensemble's "Music of the English Chapels Royal" presents anthems from the time of Charles II — music by Purcell, Turner, Blow, Locke and Humfrey. On September 24 and 25, the 16-voice Cantemus Singers offer a programme called "Rule Britannia" — madrigals, motets and bar songs from the times of Henry VIII all the way to George I's reign.
From September 21 to 25, you can hear music for courtly celebrations at the baroque courts of Poland, Sweden, England, France, Germany, Spain, Russia and Austria, presented by Tafelmusik Baroque Orchestra.
On September 10 in Waterloo: Nota Bene Baroque holds a "Fundraising Extravaganza" to celebrate its 10th Anniversary Season and the launching of its new name, with mini-concerts, Baroque-inspired refreshments, an instrument petting zoo, and guest, baroque dancer Daniel Gariepy.
At the Toronto Music Garden: On September 8, you can let dusk fall over you joyfully, as baroque cellist Kate Bennett Haynes inaugurates a cycle of Bach's Six Suites for Unaccompanied Cello with Suite No.1 in G Major. On September 18, the Vesuvius Ensemble closes the season with "I canti a Maria — Music for the Madonna," passionate traditional songs to the Madonna from some of the many sanctuaries in the region of Naples.
There's more! Do peruse The WholeNote's listings to discover all that's out there.
She can be contacted at earlymusic@thewholenote.com.