"Classical music is dying!" Charlie Albright reported for CNN back in May 2016, and its death is not a quick and abrupt one but rather slow and painful, like a cancer that kills from the inside out. "With [its] stifling atmosphere of rules and 'appropriateness,' it is no wonder that people (especially youth) are apprehensive and often uninterested in the whole idea of classical music. Somehow, classical music has become inaccessible and unwelcoming."
October is here and based on the above we can anticipate a wave of the same old junk, identical to what came before, and identical to what will come next, a musical merry-go-round of the first degree: obsessive etiquettal xenophobia, predictable programming falling into pretty, compartmentalized categories (like a mother cutting up a pork chop for her child – easy to eat and it just tastes better this way) with attention-grabbing headlines that ensure that the conductor's circle donors (who give more in a year than you'll make in five) will remain happy, contentedly perennial boons to the budget.
Wanna hear something German? Here's some Bach…
Wanna hear something French? Here's some Lully and Rameau…
Wanna hear something English? Here's a Handel oratorio…
Wanna be up to your eyeballs in gentrified groupies spewing vapid pleasantries? Here's a post-concert reception…
Want something different?
Regeneration
In recent years there have been some interesting and original performances built around rather conventional repertoire, combining standard tunes with new visual and environmental stimulation. Alison Mackay's multi-disciplinary Tafelmusik presentations of The Galileo Project and House of Dreams, among others, have broadened the horizons of many stiff-necked concertgoers in a way that is both familiar yet new, good for business but also for the regeneration of old music through new art forms. ("Thank Wotan for multimedia!" Wagner and his Gesamtkunstwerk ideals are whispering somewhere in the celestial ether.)
Multimedia collaboration is just one way that we can use old music in new incarnations. Last month I wrote about the fresh, modern movement that gets the cobwebs out of the canon by bringing classical music to bars, clubs and taverns. (You can read my review of the ClassyAF performance at Dakota Tavern on The WholeNote website.) These stripped-down yet high-quality performances declassify art music, removing the frills and snobbish attitude, making it less like a liturgical rite and more like the pop music it was when it was written. If you're the guy who cringes when someone claps between movements at a concert or a member of the conductor's circle, stay far, far away (and get your snotty nose out of my column!). If, however, you long for a way to take in the music you love without all the extra chi-chi superfluities, get out there and explore. Toronto is a wonderfully diverse city with dozens of concerts and events taking place every night, hundreds each month, thousands every year. I encourage you to go to as many as you can and step outside your comfort zone. Explore the different sections of this magazine, not just the ones you always do, and support the artists that bring this city to life!
(As a side note, if you own a bar and want to host a mean set of Bach and Brubeck, give me a shout…)
Aeneas and Dido?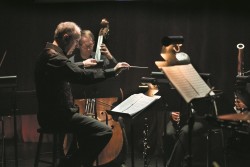 Henry Purcell, particularly his opera Dido and Aeneas, has become something of a fixture the last few years – Google "Dido and Aeneas Toronto" and watch the 275,000 hits pop up. Musically, the relative simplicity of Dido's score has long permitted conductors, producers, choreographers and directors free reign over the dramatic and visual components of the theatrical production, resulting in a wide spectrum of aesthetics. The beauty of Purcell's opera, from a programming perspective, is its brevity; the 40-minute-or-so runtime allows another work, similar or contrasting, to be placed cheek to jowl with it, thereby creating a more dynamic performance than the Purcell does as a freestanding piece of music.
Larry Beckwith's Toronto Masque Theatre is doing just that – pairing Purcell's Dido and Aeneas with James Rolfe's Aeneas and Dido to form a uniquely expressive concert. Far from being just a convenient inversion of the title, Rolfe's Aeneas (commissioned by the Toronto Masque Theatre in 2007, with a libretto by 2015 Giller Prize-winning novelist André Alexis), "tries to imagine Aeneas's interior life. What drives Aeneas to choose an uncertain quest for a new homeland over Dido's offer of love and country?" (from jamesrolfe.ca) This performance takes place on October 20 and 21 and features soloists Krisztina Szabó, Alexander Dobson, Andrea Ludwig and Jacqueline Woodley, as well as orchestra and chorus.
It will be fascinating to see and hear how the Purcell and Rolfe complement, juxtapose and intertwine with each other, being separated in time by so many centuries. Choreographer Marie-Nathalie Lacoursière will add another dimension to the performance, perhaps paving the way for even more adventurous interdisciplinary collaborations in the future as the Toronto Masque Theatre disbands after this season, and its creative minds seek stimulation elsewhere.
The Holy Gospel According to Gould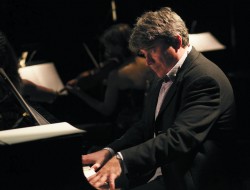 Taking a leap well beyond the usual scope of this column, from November 2 to 4 the Art of Time Ensemble will present "…Hosted by Glenn Gould: Gould's Perspectives on Beethoven and Shostakovich," via screenings from CBC's Glenn Gould on Television as introductions to live performances of music by Beethoven and Shostakovich.
In addition to being an interesting and exciting concert idea, a voice-from-the-grave presentation similar to holographic posthumous appearances by Frank Sinatra and Elvis, it will be fascinating to hear Gould's perspectives on Beethoven, whose music has been comfortably and successfully interpreted by a great number of historically informed performing groups. Gould was equal parts genius and eccentric, certainly not at all a traditional performer in the historical sense, and those of us indoctrinated with the idea of fidelity to the score above all else should look forward to this concert as an opportunity to broaden our horizons, especially those of us (myself included) who were not fortunate enough to experience Gould in person during his lifetime.
Speaking of Beethoven…
This month is a good one for fans of Beethoven and his symphonic music. In addition to the release of Tafelmusik's complete Beethoven symphony cycle featuring Bruno Weil directing the Tafelmusik orchestra and chorus (look for the CD review in this issue of The WholeNote), on November 4 and 5 former Tafel violinist Aisslinn Nosky leads the Niagara Symphony Orchestra in performances of Beethoven's Seventh Symphony.
Hearing a modern orchestra tackle historic repertoire while led by an expert in historically-informed performance practice is a stimulating and thought-provoking experience. For those who have been trained to play a certain type of music a certain way, it is often difficult to reorient yourself around a different style and method of interpretation. I often spoke with Ivars Taurins on this topic while at the University of Toronto, and it was enlightening to hear his ideas on approaching Baroque and Classical symphonic repertoire with a modern orchestra such as the Calgary Philharmonic, where Taurins is a frequent guest conductor, versus a more specialized group such as Tafelmusik.
So take a trip down to wine country, partake in a tasting or two, and enjoy an evening of one of Beethoven's greatest symphonies. (And if someone wants to clap between movements, for chrissakes, let them!)
I said at the beginning of this article that classical music as we know it is dying – that's a good thing, for it is also being reborn under our noses.
Back to CNN's Charlie Albright for the final word:
"Breaking down 'classical' rules will kill 'classical' music – and thus save it. It will make the artform more accessible, more entertaining, and more disinhibiting, allowing for all of us to share more emotion and passion through the music. It will welcome those of us who are interested yet apprehensive about making the leap to buy a ticket to a concert. It will encourage more young people to have fun with the performing arts instead of viewing them as a necessary evil that requires a boring practice each day after school. And it is this death of "classical" music that will bring true classical music more life than ever."
If you want to drop me a line, email me at earlymusic@thewholenote.com or talk to me in person at one of this month's concerts – I'll be at the bar.