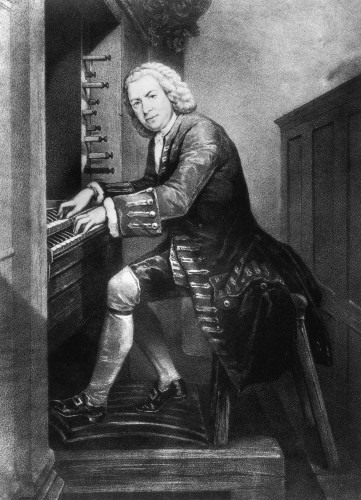 The Baroque era was a time of international cultural exchange and groundbreaking creativity. Composers from across Europe brought music from the last vestiges of Renaissance modality to the systematic hierarchy of tones and semitones as defined by functional harmony. If there is one composer whose name is synonymous with the Baroque era and its developments, it is most likely Johann Sebastian Bach. Bach was an inherently paradoxical figure, practical yet prickly, pious yet prideful, conservative yet radically progressive, a musical visionary with one foot in the past. We need look no further than the B-Minor Mass to see Bach's equal comfort in the old modal style and a new, highly chromatic tonal system, evident in the contrast between the Credo fugue, based on cantus-firmus models of earlier times, and the comparatively shocking Crucifixus. The latter is an extended exploration of semitone relationships and enharmonic modulation masquerading as a ground-bass chaconne, using harmonic techniques that would not become frequently and fluently exercised until almost a century later.
The reasons for Bach's powerful presence in the Western music canon are too many to number; the sheer intensity of his skill has captivated generations of composers, students and performers, from Mozart and Beethoven to Mendelssohn, Schumann, Brahms and Mahler. This impact on those who followed him, coupled with Bach's ability to blend the cerebral with the spiritual in a way unsurpassed by his peers or successors, has led to Bach's place in the musical cosmos being like a musical black hole, on a scale perhaps only equalled by Beethoven, dividing all of musical history into before and after. All that came before led to this apotheosis of ingenuity; all that comes after is a successor, related in some way to this progenitor of revolutionized compositional ability. (A recent online post describing Handel as "a more religious Bach," a premier example of musicological perfidy if there ever was one!)
Defence of Bach's placement among the greats in the pantheon of musical history, is superfluous and unnecessary. The preceding paragraphs simply attempt to illustrate just how significant the contributions of this one composer are. To look at Bach's music from another perspective, we can ask ourselves why Glenn Gould's 1955 recording of the Goldberg Variations is one of the bestselling Classical albums of all time. (Before this recording, after all, the Goldbergs were considered museum pieces, old stuck-up essays in variation form that were unworthy of public performance.) The answer, most likely, is that, in the hands of someone who truly understands its intricacies and is able to express them, Bach's music is the ideal repertoire to perform, challenging the interpreter and the listener and creating an atmosphere that borders on the sublime. No two live performances of the same work are ever identical, but this is all the more so with Bach, whose music is conducive to elastic and creative interpretations; a performer can adopt and adapt, making them endlessly subjective – and thereby communicative – experiences for an audience.
In case this extended preamble wasn't a sufficiently obvious lead-in, March is full of Bach's music, performed across Southern Ontario by a variety of ensembles. On March 21 to 24 in Trinity-St. Paul's Centre, Tafelmusik presents a much-anticipated performance of the Matthäus-Passion (St Matthew Passion), led by Japanese conductor Masaaki Suzuki. Suzuki is a Japanese organist, harpsichordist and conductor, and the founder and musical director of the Bach Collegium Japan, with which he is recording the complete choral works of Johann Sebastian Bach. To give a brief overview of Suzuki's output to date, Bach Collegium Japan completed their 55-volume series of Bach's church cantatas in 2013, the secular cantatas in 2018, as well as all of Bach's Lutheran Masses, motets, and large choral works. Suzuki is also recording Bach's concertos, orchestral suites and solo works for harpsichord and organ, as well as guest conducting with ensembles around the globe.
The St. Matthew Passion is a monumental work for vocal soloists, two choirs, and two orchestras, and Bach's largest single piece of music, running almost three hours in an average performance. Containing some of Bach's most beautiful and exquisitely crafted material, the St Matthew Passion was first performed on Good Friday 1727 at the St. Thomas Church (Thomaskirche) in Leipzig. One of the challenges of performing this work involves the distribution of forces within the performing space; how does one ensure that the division of the large choir and orchestra into two distinct parts is clear and apparent, particularly in such essentially antiphonal movements as the opening "Kommt, ihr Töchter, helft mir klagen"?
In Bach's time St. Thomas Church had two organ lofts: the large organ loft that was used throughout the year for musicians performing in Sunday services, and the small organ loft, situated at the opposite side of the sanctuary, that was used additionally in the grand services for Christmas and Easter. The St. Matthew Passion was composed so that a single work could be performed from both organ lofts at the same time: Chorus and orchestra I would occupy the large organ loft, and Chorus and orchestra II performed from the small organ loft. In a space lacking these vehicles for spatial separation, it will be fascinating to see how the dynamism of Bach's score is realized onstage in this don't-miss performance of Tafelmusik's 40th-anniversary season.
OCO's Brandenburgs
A short drive away in Oakville, the Oakville Chamber Orchestra celebrates their 35th anniversary with a complete performance of Bach's Brandenburg Concertos. Regarded as some of the best orchestral compositions of the Baroque era, this collection of six instrumental works was presented by Bach to Christian Ludwig, Margrave of Brandenburg-Schwedt, in 1721. While Bach took the opportunity to revise the concerti before presenting the scores to the margrave, each copied in his own hand rather than by a copyist, the material itself was likely not freshly composed, but rather selected from concertos he had composed over a number of years while at Köthen, and possibly extending back to his employment at Weimar.
After their gifting to the margrave, the Brandenburgs had a rather unfortunate history: because King Frederick William I of Prussia was not a significant patron of the arts, Christian Ludwig lacked the musicians in his Berlin ensemble to perform the concertos. The full score was left unused in the Margrave's library until his death in 1734, when it was sold. The autograph manuscript of the concertos was only rediscovered in the archives of Brandenburg in 1849 and published in the following year. While Bach undoubtedly led performances of the original movements as Kapellmeister at Köthen, he never heard a performance of the Brandenburg Concertos as we now know them.
Fortunately, such opportunities are not lost on the modern concertgoer, though it is a rare treat to be able to hear all six works in one performance. Each concerto has a unique character and body of soloists, the fifth concerto perhaps the most renowned for its extraordinary harpsichord part. (It seems very likely that Bach, considered a great organ and harpsichord virtuoso, was the harpsichord soloist at the premiere of an earlier version in Köthen). Modern interpretations of these pieces range from one-to-a-part chamber ensembles of period instruments to pared-down symphony orchestras on modern instruments; regardless of the forces involved, these masterpieces are essential listening for fans of early music and worth exploring by anyone who appreciates Bach's instrumental works.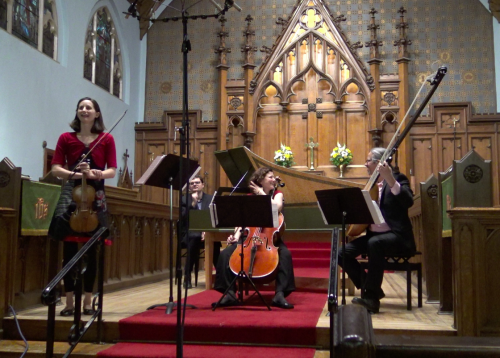 Rezonance's Bach Tradition
Known now as a brilliant composer of vocal and instrumental works, Bach was more renowned in his time as an improviser, keyboard virtuoso and organ consultant. (Whenever he tried a new organ, Bach's practice was to start off by playing with all the stops pulled out, with every rank of pipes sounding at once. In this way, he said, he could see what kind of "lungs" an instrument had.) Bach famously displayed his skill at extemporization in front of King Frederick II of Prussia at Potsdam in May 1747, when the king played a theme for Bach and challenged him to improvise a fugue based on his theme. Bach obliged, playing a three-part fugue on one of Frederick's fortepianos, before reworking the King's theme into the Musical Offering.
On April 6, Rezonance Baroque Ensemble and Musicians on the Edge explore Bach's improvisatory skill through their concert "The Bach Family and the Improvising Tradition" at Metropolitan United Church. The Bach family was an imposingly gifted family, producing generations of musicians of the highest calibre, and it will undoubtedly be a compelling experience as the audience is introduced to the largely lost art of extemporization. There may even be a fugue or two, made up on the spot!
While this month's column is devoted to one of the greatest composers in the history of Western music, there are many other great composers represented within the pages of this magazine who you are encouraged to explore. As we slowly thaw after another Canadian winter and the days grow longer, it is the perfect time to get outside, go to concerts, and see what the world looks like underneath all that snow and ice! In the meantime, contact me with any questions or comments at earlymusic@thewholenote.com.
EARLY MUSIC QUICK PICKS
MAR 9, 7:30 PM: Theatre of Early Music. Israel in Egypt. St. Patrick's Church, 131 McCaul Street. Not only was Handel born in 1685, the same year as Bach – he wrote some pretty good tunes too! Don't miss this extraordinary oratorio full of dramatic story and magnificent music.
MAR 17, 4PM: Hart House Singers. "Handel and Mozart." Great Hall, Hart House, 7 Hart House Circle. Two of music's great dramatic composers come together for a concert featuring Handel's extraordinary Zadok The Priest and Mozart's Vespers. (Yes, Mozart has connections to Bach as well.)
MAR 27, 7:30 PM: Julliard415. "Baroque and Beyond: Bach and Vivaldi." Isabel Bader Centre for the Performing Arts, 390 King Street West, Kingston. Violinist Rachel Podger and the Juilliard415 Baroque ensemble visit Canada to perform works by two masters of chamber music. (Bach was quite familiar with Vivaldi's output and even transcribed a number of concerti for the organ.) Ideal music for an absolutely stellar concert hall.
Matthew Whitfield is a Toronto-based harpsichordist and organist.