The return of November signals a change in the world around us, as the ghosts, ghouls and gremlins of October are supplanted by Christmas cards, commercials and carols. A similar shift also takes place in the musical scene each year, with presenters and performers moving their focus from the varied programs of September and October to increasingly festive and seasonal offerings. For the early music people around us, this often means an exploration of the concerti, oratorios and choruses composed by some of the greatest musicians of the Renaissance and Baroque, as they were inspired by the Christmas story. This November is no exception, the seismic shifts of the season allowing us to hear everything from less-familiar Italian operatic excerpts to our first Messiahs of the year.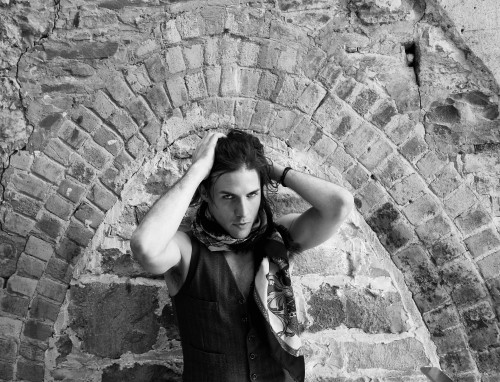 On Turtle's Back: On November 4, in St. Catharines, Gallery Players of Niagara present "Songs of Life – Bach on Turtle's Back," featuring a sonata, a partita and a selection of arias, all composed by J.S. Bach. This multimedia presentation is conceived by Ojibwe/Irish artist Brian Solomon and combines music, storytelling and dance in an exploration of birth, death and rebirth as connective themes of human expression. Bach himself was greatly concerned with the subjects of life, death and life after death, and these themes recur frequently throughout Bach's works. Lutheran theology led Bach to a view of death as a relief from the struggles of life, firm in Luther's teaching that all who trust in Christ alone and his promises can be certain of their salvation. Whether in his chorale settings, masses, passions or cantatas, Bach's approach to death is frequently positive, peaceful, and even joyful, the reuniting of a soul with its ultimate destination.
What is most interesting about Bach on Turtle's Back is that Bach's most potently exegetical musical settings are conspicuously avoided – there are no chorales, for example, or any other direct connections to Lutheran theology. By exploring the themes of life and death within a uniquely mixed North American context, coupled with one of history's greatest musical minds, Bach on Turtle's Back combines the universality of Bach's music with the equally universal concepts of death and the afterlife in what looks to be a fascinating synthesis of music, movement, and mysticism.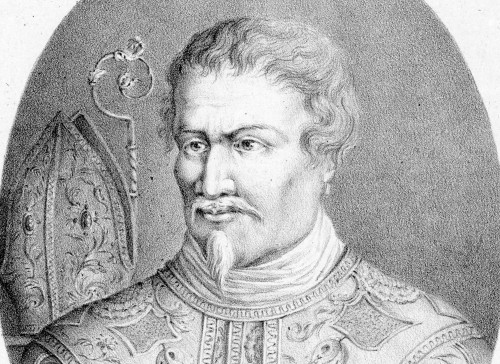 Sacred and Secular at Tafelmusik: Back in Toronto, Tafelmusik plays two separate concerts in November, moving from vocal drama to instrumental concerti with a Christmas theme. Their first presentation (November 8 to 11) features mezzo-soprano Krisztina Szabó and conductor Ivars Taurins in a survey of Agostino Steffani's secular and sacred vocal music. Beginning with two sacred choral works, the early Beatus vir a 8 and the late Stabat Mater, and proceeding through a pastiche of arias, duets, choruses and instrumental movements from Steffani's operas, this concert will display Steffani's dual role as sacred and secular dramatist.
Steffani lived an extraordinary life. In addition to being a renowned composer and a mentor to Handel, he was also a diplomat, politician, spy and priest. Steffani's ecclesiastical status did not prevent him from turning his attention to the stage, for which, at different periods of his life, he composed a large number of works which undoubtedly exercised a potent influence upon the dramatic music of the period. Premiering his early operas in Munich, Steffani developed his skill and social connections before achieving great renown in Hanover through eight operas composed and performed at the new opera house, opened in 1689. As a rapidly rising cleric given increasingly great honours in the Catholic Church, Steffani was ultimately consecrated as a bishop; because of his high standing, Steffani published three late operas under the name Gregorio Piva, who was his secretary and assistant, to avoid breaching the etiquette required by his high rank.
Approached from a chronological perspective, the Tafelmusik Chamber Choir bookends Steffani's career in the works chosen for this concert. He wrote the Beatus vir in 1676 at the age of 22, one year after he was appointed court organist in Munich; 51 years later, after being appointed honorary president for life by London's Academy of Ancient Music, he composed the Stabat Mater, a magnificent work for six voices and orchestra. Between these two sacred compositions will be a plethora of operatic material from no fewer than nine separate dramatic works, each of them a Tafelmusik premiere. With such skilled performers and Ivars Taurins at the helm, this concert will provide a wealth of delightful and well-done material, much of it new to many in the audience.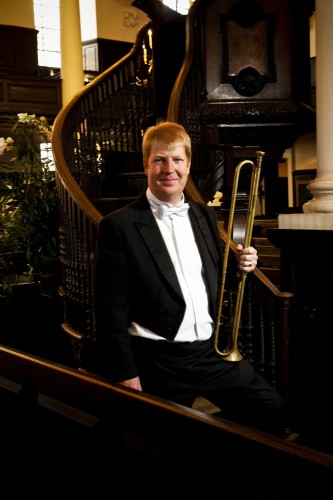 Sound the trumpet! When asked how he composed his songs, Gustav Mahler replied: "How do you make a trumpet? Hammer brass around a hole." There may be more to making a trumpet than Mahler suggests, and there is certainly great skill required in mastering the instrument, especially when that instrument has no valves! November 21 to 24, Tafelmusik celebrates the holiday season with instrumental treasures from France, Italy, Spain, Germany and England, festive music by Telemann, Corrette, Fasch, and Bach's Brandenburg Concerto No.2. This concert also features the Tafelmusik debut of guest trumpeter David Blackadder, principal trumpet for the Academy of Ancient Music in the United Kingdom. (He also performed at the royal wedding of Prince Harry and Meghan Markle.)
Blackadder plays a Baroque trumpet, a valveless trumpet based on early instruments (his is modelled on a Nuremberg trumpet from 1700), capable of great ranges of expression. According to Blackadder: "The trumpet is often thought of as being perhaps the most majestic, powerful instrument of all. However, there is a much more subtle, lesser-known side to the trumpet which uses the more florid, angelic quality of its upper register to symbolize the glory of God and the heavens. This technique of playing developed throughout the 17th and 18th centuries and became highly prized by composers and their patrons alike. Court trumpeters were handsomely rewarded for their prodigious skill and were required to play at the most important ceremonies and state occasions." Blackadder will also hold a guest artist masterclass on November 24 at Jeanne Lamon Hall, providing another opportunity to experience this renowned musician as he guides the next generation of skilled performers.
From Villancicos to de Victoria: Christmas has arrived by the end of November, as the first Messiahs appear on the horizon and dog-eared festive favourites are revived once again. Popular Christmas songs come in many familiar national varieties: English carols, French Noëls, and German Weihnachtslieder. Perhaps the least known are the Spanish Christmas villancicos, popular songs from the countryside that were developed by court composers of 16th- and 17th-century Spain into wonderfully rhythmic, danceable carols. Michael Erdman's Cantemus Singers explores this lesser-known variety of carol, November 24 and 25, in their concert "Es Nascido – He is Born," with works such as Mateo Flecha's La Bomba and Joan Brudieu's Goigs de Nostra Dona paired with Tomás Luis de Victoria's strikingly beautiful motet O Magnum Mysterium and its accompanying parody mass, Missa "O Magnum Mysterium."
Rather than being necessarily humorous, parody in music, in its Renaissance sense, meant any readaptation of existing material in new and creative ways. Composers could use their own material, as Victoria does, but they could also take popular chansons (and hide a naughty folk tune within the polyphonic texture), cantus firmus style, or use another composer's sacred work as a starting point for their own ingenuity and craftsmanship. Palestrina wrote over 50 parody masses, and Josquin des Prez composed a number of fine essays in the form.
A popular model throughout the 16th century, the Council of Trent ultimately banned the use of secular material as part of their decree to "banish from church all music which contains, whether in the singing or the organ playing, things that are lascivious or impure." Far from lascivious, Victoria's motet and mass are profound meditations on one of the most crucial events in the Christian year and Cantemus' engaging and original programming makes this a concert worth hearing. Come for the villancicos, stay for the Victoria!
Regardless of whether the music is secular, sacred, or a combination of the two, there are great concerts happening throughout November. From the dramatic excellence of Steffani's operas to the sacred sounds of the Spanish Renaissance, there is something for everyone within the pages of this magazine. As stores begin to assemble this year's window displays and the first strains of tin-can carols assault our ears, another round of seasonal favourites will be upon us before we know it. To keep up to date on all the Messiahs, oratorios, concertos, and other Baroque things happening in the city, check out next month's column. Until then, drop me a line at earlymusic@thewholenote.com.
EARLY MUSIC QUICK PICKS
NOV 4, 2PM: Rezonance Baroque Ensemble. "Folk of the Baroque." St. Barnabas Anglican Church, 361 Danforth Ave. The title says it all: let your wig down and hear some music for dancing, dining and play.
NOV 19, 8PM: Against the Grain Theatre. BOUND v.2. The Great Hall, Longboat Hall, 1087 Queen Street West. Something old, Something new. Hear music by G.F. Handel and Kevin Lau as AGT addresses the big issues that face our society today, inspired by stories of refugees.
NOV 25, 3PM: Toronto Chamber Choir. "Kaffeemusik: The Bremen Town Musicians." Church of the Redeemer, 162 Bloor St. W. A concert of story and song, with humorous fairy tales about solidarity among musicians paired with madrigals by Lassus, Dowland and more.
NOV 30, 7:30PM: ChoralWorks Chamber Choir. Messiah. New Life Church, 28 Tracey Lane, Collingwood. Take a trip to cottage country and get in the festive spirit with one of the first Messiahs of the season.
Matthew Whitfield is a Toronto-based harpsichordist and organist.