Over the last seven centuries, German-speaking artists have provided a powerful and innovative influence in almost every artistic discipline, from the region's beginnings as a constellation of independently governed states to the present day, setting a standard for excellence in music, art, and architecture, and producing a roster of artists and artworks that are exemplars within their chosen fields.
Consider, for example, these composers from what now constitutes a unified Germany: Bach, Handel, Beethoven, Brahms, Strauss and Schoenberg; each is a pivotal figure in the Western art music tradition, their music appearing countless times each year on concert programs throughout the world. Also consider these interpreters, conductors who have revolutionized the way we think of the baton-wielding orchestral leader: Mendelssohn, von Bülow, Furtwängler and Klemperer. Their recordings are some of the best-selling of all time. Expand our lists of German-speakers to neighbouring Austria, and the list becomes even more astoundingly impressive: Mozart, Mahler, Karajan, Böhm, Kleiber ….
Impressive as this "grocery list" rundown may be, the most significant point to be made is the extent to which these figures produced entire systems of creativity that permeated all of Europe. The concept of tonality, that hierarchy of tones and semitones that gives function to chords and directionality to progressions, is widely considered to have been codified in the works of J.S. Bach. Beethoven, Schumann and Brahms expanded the tonal vocabulary to create what we today call musical Romanticism, Mahler took this vocabulary to its breaking point and Schoenberg dissolved it altogether, establishing an organizing principle of these same tones and semitones that deliberately removed any and all reference to "tonality."
We see, then, just how important the German contribution was to the history of music. It can be stated, with a good deal of certainty and confidence, that art music as we know it today would be a different species altogether without German musical engagement. Amidst this pantheon of superlative performers and interpreters however, there are lesser figures, often no less interesting than their more renowned counterparts, and it is these secondary stories that we direct our attention to this month.
400 Years of Rosenmüller
Johann Rosenmüller, depending on who you ask, was either a composer or an anatomist famous for his discovery of the pharyngeal recess, known as the fossa of Rosenmüller. The two Rosenmüllers lived almost sequentially, the composer from 1619-1684 and the anatomist from 1771-1820, and they are certainly two distinct and unique people. Rosenmüller (from here onward we will assume the composer) was born in Oelsnitz, near Plauen, studied at the University of Leipzig, and served as organist of the Nikolaikirche Leipzig from 1651 to 1655. In 1655, Rosenmüller was involved in a scandal involving alleged homosexual activities and fled to Italy to avoid prosecution and prison, eventually gaining employment at St. Mark's in Venice and teaching at an orphanage for girls. In his last years, Rosenmüller returned to Germany with Duke Anton-Ulrich of Brunswick-Wolfenbüttel, at whose court he served as choir master.
This return to Germany is significant, for with him Rosenmüller brought the influence of Legrenzi and Corelli, two Italian masters with whose style Rosenmüller became familiar and eventually adapted in his own compositions. Heinrich Schütz is often credited with single-handedly bringing the Italian style to Germany and continuing its evolution from the Renaissance into the early Baroque, but we see through this brief biography of Rosenmüller that he too brought southern stylistic influences north at approximately the same time as Schütz.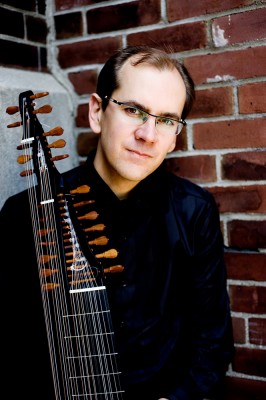 Many of Rosenmüller's published instrumental works are dance suites, including Paduanen (1645), Studenten-Music (1654) and the Sonate da camera (1667). His vocal music, nearly all of it sacred, includes two published collections of small sacred concertos, and it is this sacred vocal music that the Toronto Chamber Choir presents in their "Rosenmüller@400" concert on March 14. Featuring the Missa Brevis, Siehe an die Wercke Gottes, Ad dominum cum tribularer and the Magnificat in B-flat à 10, this concert will provide a comprehensive overview of Rosemüller's style and is ideal for anyone who enjoys the music of Schütz, Buxtehude and their pre-Bach contemporaries.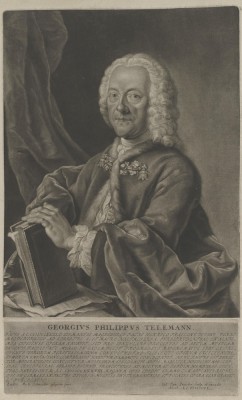 Telemann's Fantasies
Georg Philipp Telemann was enormously prolific, writing over 3,000 works, and was one of the most celebrated composers of his time before falling into relative obscurity. A contemporary of Bach, Telemann's professional life coincided with Bach's, and they were well acquainted on a personal level. Telemann, for example, was first offered the position of cantor at the Thomaskirche, and Bach only received his fateful offer after Telemann (and one other applicant) turned down the post. Carl Philipp Emannuel Bach was Telemann's godson and Bach bought and studied a number of Telemann's compositions.
All this changed in the early 19th century, when Telemann's popularity abruptly ceased. Considered a Vielschreiber, a writer for whom quantity came before quality, Telemann's works were judged as inferior to Bach's and lacking in deep religious feeling. For example, by 1911, the Encyclopedia Britannica lacked an article about Telemann, and in one of its few mentions of him referred to "the vastly inferior work of lesser composers such as Telemann" in comparison to Handel and Bach. The revival of interest in Telemann began in the first decades of the 20th century and culminated in the Bärenreiter critical edition of the 1950s; his music has since been performed regularly.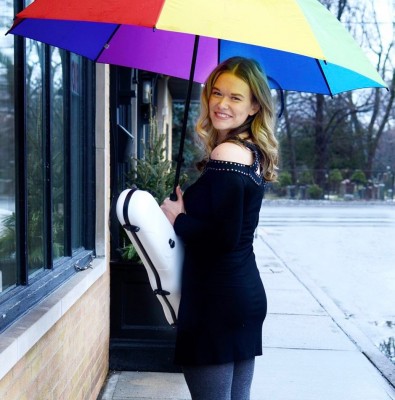 On March 21, at St. Barnabas Anglican Church, on the Danforth, Valerie Gordon and a cohort of violinists (including, among others, Patricia Ahern, Kailey Richards, Michelle Odorico and Rezan Onen-Lapointe) perform Telemann's 12 fantasias for solo violin, an opportunity to hear rarely performed music by this relatively recently discovered mastermind. Published in Hamburg in 1735, these fantasias comprise one set of Telemann's collections of music for unaccompanied instruments, with other volumes for flute, harpsichord and viola da gamba. For modern audiences familiar with the contrapuntal density of Bach and the rhythmic vitality of Handel, Telemann's music might seem rather simple and transparent – but do not be fooled. Hiding within Telemann's massive oeuvre are works of remarkable beauty and this comprehensive performance is ideal for anyone looking to become more familiar with his delightful music.
Bach's St. John Passion
Last year, Tafemusik collaborated with conductor Masaaki Suzuki, founding director of the Bach Collegium Japan, to present an extraordinary performance of Bach's St. Matthew Passion. This year, from March 26 to 29, Ivars Taurins leads the Tafelmusik choir and orchestra through the St. John Passion, a work that, although smaller in scale than its massive counterpart, is no less satisfying in its profundity and reflection of Bach's genius.
Written during Bach's first year as director of church music in Leipzig, the St. John Passion was first performed on April 7, 1724, at Good Friday Vespers at the St. Nicholas Church. The structure of the work falls in two halves, intended to flank a sermon, and compiled from recitatives and choruses narrating the Passion of Christ as told in the Gospel of John, ariosos and arias reflecting on the action, and chorales using hymn tunes and texts familiar to a congregation of Bach's contemporaries.
This music is sublime from beginning to end and is an ideal introduction to Bach's vocal writing, for in the St. John Passion is found a comprehensive overview of every characteristic feature which we associate with the master, from earth-shaking choruses to tender and intimate reflections on the pain and suffering commemorated on Good Friday. This concert is highly recommended and will undoubtedly sell out, so plan ahead and book your tickets well in advance.
Is there a characteristic German sound, a way to determine the linguistic underpinnings of a piece of music through its compositional components? Such a question may be ultimately unanswerable, grasping at the intangible, but the existence of an unbroken tradition, passed on and evolving through subsequent generations, is undeniable. For where would the musical world as we know it be without Bach? And where would Bach and Telemann be without Schütz and Rosenmüller? This month Toronto's audiences have a fine opportunity to explore these early days of German musical culture which, as the world celebrates Beethoven's 250th anniversary, has even greater potency as the idea of Germanic genius fills concert halls throughout the world. But don't take my word for it… listen for yourselves!
UPDATE Friday, March 13: Tafelmusik has announced that, effective immediately and until March 30, 2020, they have suspended performances in an effort to reduce the spread of coronavirus (COVID-19). Check our listings page for ongoing updates to event cancellations.
EARLY MUSIC QUICK PICKS
MAR 7, 7:30PM: Music at Metropolitan. "Sprezzatura! Music of the Forgotten Galant." Metropolitan United Church (Toronto), 56 Queen Street East. The galant was an 18th-century phenomenon, characterized by a return to simplicity and immediateness of appeal after the complexity of the late Baroque era. This concert explores Italianate works by Galuppi, Scarlatti, Leo, and Handel, and provides a worthwhile look into the post-Bach musical landscape.
MAR 21, 1PM: Royal Canadian College of Organists Toronto. "6th Annual Bach Walk". Celebrate Bach's 335th birthday with this year's Bach Walk. Featuring three organists at three different venues, this annual event is ideal for fans of Bach's astonishing organ music. With both solo and ensemble repertoire, there will be something for everyone. Best of all, all three events are free, with birthday cake after the last recital!
APR 6, 8PM: Confluence Concerts/St. Thomas's Anglican Church. "Baroque Music by Candelight." St. Thomas's Anglican Church (Toronto), 383 Huron Street. Featuring the music of Handel, Telemann and Bach, this concert was made for this month's column. Explore works from the German Baroque and see for yourself if cultural identity can be expressed through sound.
Matthew Whitfield is a Toronto-based harpsichordist and organist.