Exploring the history of classical music and its vast network of composers, interpreters and commentators is a fascinating task, nebulous yet surprisingly linear all at once. In many ways, the work of the musicologist resembles that of an archaeologist, who unearths and examines historical evolutions through the fossil record and physical structures, using the earth's geological formations to tell us what came before and how that led to the modern world.
Where archaeologists use rock and sediment, the musical scholar uses manuscripts, treatises and libraries to explore the past, in both specific and wide-ranging ways. For example, the field of Bach studies has grown and improved immensely in the last five decades. This focused scholarly work on a single composer's output has led to numerous reissues of Bach's works, each an improvement and clarification of the previous volume. New works have been discovered as well, such as the Neumeister Collection, a series of chorale preludes found in the 1980s at Yale by Christoph Wolff and Wilhelm Krumbach, filling in our understanding of a great composer and his personal compositional evolution.
Occasionally these explorations of music's hidden records reveal previously unknown composers and interpreters, buried under the weight of the past and, for whatever reason, functionally banished from history. We are living at a fine time for this type of discovery, as a renewed interest in the works of female composers is gradually leading towards a small-scale renaissance, with previously unheard-of names and pieces of music presented on concert programs around the world.
A third outcome of musical archaeology is the detection of surprising and unexpected connections between the music of different peoples, places and times. The deeper that scholars delve into the past, the more they discover that everything is connected, especially in Europe where rich cultural traditions and relatively small geographical distances have combined to create artistic and intellectual exchanges for centuries.
Two by Tafelmusik
Here in Toronto, there have been numerous explorations of these connections and exchanges, particularly by Tafelmusik through their extraordinary multimedia productions. These concerts serve as expositions for their creators' archaeological "digging," in which new and surprising bridges are discovered and demonstrated between the most unlikely people, places and ideas. This month Tafelmusik presents The Indigo Project, a musical journey exploring the social, cultural and political implications of a powerful blue dye. The question, simple and obvious, immediately presents itself: What does the discovery of a fabric dye have to do with Baroque music? The answer is much more complex. For more information on what will undoubtedly be a magnificent and original concert experience, look for an interview with Alison Mackay and Suba Sankaran in this issue of The WholeNote.
While this concept of musical archaeology is perhaps most readily applicable to the art form's "software" (i.e. the people, places, and ideas that combine to produce musical material), it can also be applied to the "hardware," the sound-producing instruments themselves. Shawms, sackbuts, and hurdy-gurdys are all examples of instruments that were long extinct until the period performance revival of the 20th century, as were fortepianos, clavichords and, to a lesser extent, harpsichords. One such revived instrument is the viola da gamba, part of the gamba family of string instruments. Although it may occasionally resemble the cello, its modern orchestral counterpart, the viola da gamba is unique: all members of the viol family are held between the legs (viola da gamba literally translates to "viol for the leg"), and feature adjustable tied gut frets on the fingerboard to improve intonation and pitch accuracy. Although frequently called for in Renaissance and Baroque works, the viola da gamba is rarely found at the forefront of an ensemble, until now.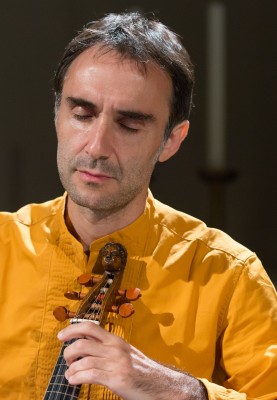 To rectify this injustice, Tafelmusik collaborates with guest director and viola da gambist Vittorio Ghielmi to present "Dreaming Jupiter," February 6 to 9. Conceived as a dramatic dialogue shifting from solo gamba to full orchestra, the concert features orchestral dance suites in musical conversation with solo gamba music, as well as a brand-new piece written by Ghielmi himself. This program is an ideal one for aficionados of the French Baroque, with works by Forqueray, Rameau, Lully and more.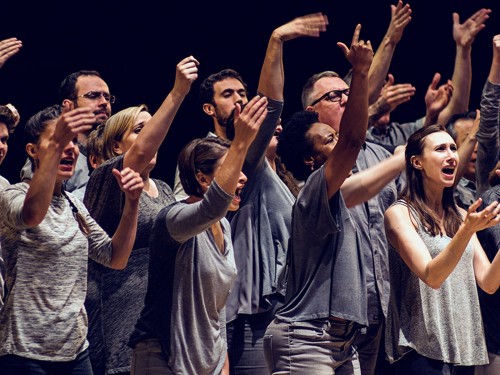 L.A. Master Chorale visits Toronto
Peter Sellars is not a name typically associated with early music; the American theatre director is primarily noted for his unique contemporary stagings of classical and contemporary operas and plays. This month, however, we have a unique opportunity to witness Sellars' approach to Renaissance polyphony, as he and the Los Angeles Master Chorale tackle Orlando di Lasso's Lagrime di San Pietro.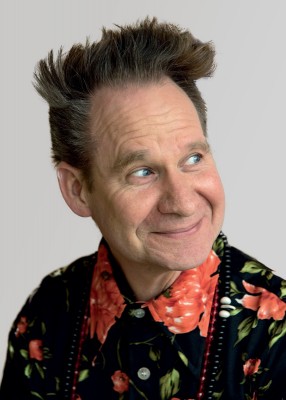 Lagrime di San Pietro (The Tears of St. Peter) was di Lasso's final work, a collection of 27 madrigals in seven parts. Di Lasso knew that Lagrime was to be the last piece he would ever compose, so he filled every measure with an emotionally charged texture that channelled his pain and remorse into a towering work of beauty. According to the press release:
For this performance, 21 singers transform this 75-minute sweeping Renaissance masterpiece – committed to memory and dramatically staged and lit – into a performance piece. Set to the poetry of Luigi Tansillo (1510-1568), "I accept responsibility" is the fundamental theme of this work, depicting the seven stages of grief that St. Peter experienced after disavowing his knowledge of Jesus Christ on the day of his arrest and prior to Jesus's crucifixion. Sellars translates Lagrime through a contemporary lens, suggesting a powerful allegory that by taking responsibility and facing our past head-on, we can forge a more resolved and fulfilling future.
Founded by renowned conductor Roger Wagner in 1964, The Los Angeles Master Chorale is widely recognized as the country's leading professional choir and has an extensive and varied approach to repertoire; the LAMC appears frequently on film scores and soundtracks, most recently Star Wars: The Last Jedi. It will be fascinating to hear how such a prestigious ensemble with such a varied skill set manages the complexities and subtleties of di Lasso's score, especially while executing the vision of Sellars. This don't-miss concert takes place at Koerner Hall on February 1 and 2 and will undoubtedly be a highlight of the season.
This month's concert presentations underscore the increasing scope and scale of what a modern "classical music" concert is. More and more we see a move towards multidisciplinary collaborations, a striving towards what Wagner called Gesamtkunstwerk, a "total art work," in which the individual arts are subordinated to a common purpose, thereby presenting the clearest and most profound expression of the essence of a work of art. These performances will be superb opportunities for such existential experiences, whether learning about the societal implications of blue dye in Europe or discovering di Lasso's Lagrime di San Pietro through Peter Sellars' dramatic interpretation.
EARLY MUSIC QUICK PICKS
FEB 9, 2PM: Rezonance Baroque Ensemble. "Flights of Fancy." St. Barnabas Anglican Church, 361 Danforth Avenue. In a column dedicated to modern concert presentations, it is important to mention the preservation of old skills, such as the art of improvisation. These performers are some of the city's best, and there is nothing like live improv; it's like a good tightrope walk without a safety net!
FEB 29, 7:30PM: Oakville Chamber Orchestra. "Four Elements & Four Seasons." Oakville Centre for the Performing Arts, 130 Navy Street, Oakville. Although Vivaldi's Four Seasons is the main attraction, Rebel's Les Élémens is a superb piece from one of the French Baroque's lesser-known composers. Rebel is also on the program at Tafelmusik's "Dreaming Jupiter" this month, providing two opportunities to unearth a new discovery.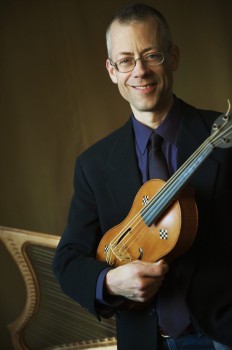 MAR 6 & 7, 8PM: Toronto Consort. "Crossing the Channel." Trinity-St. Paul's Centre, 427 Bloor Street West. The contenance angloise, also known as the "mellifluous style," was pioneered by John Dunstaple and other English composers and it changed the musical landscape in both France and England. Don't miss this opportunity to hear these fascinating, forward-looking selections from the late-medieval period.
Matthew Whitfield is a Toronto-based harpsichordist and organist.