If I were looking for a theme for this month's column, I might find it in the idea of music as the bringer of gifts.
Giving was certainly the intent when, in 1992, bassist Tim Dawson and his two friends, baritone Gord MacLeod and soprano Monica Whicher, performed a fundraising concert for adults with disabilities. Dawson told me a remarkable story of how this first event of The Bach Consort blossomed into a twice-yearly series which has raised significant funds for local charities over the last 19 years:
"Monica and Gord had been presenting annual fundraising recitals on behalf of adults with disabilities. I had always been interested in the music of Bach; so we simply put the two ideas together. We connected with some wonderful local charities that inspired us by their dedication and love. One of the main ones for us was Camphill Village Ontario – the local chapter of a worldwide group of rural communities for adults with disabilities. Literally dozens of other groups connected with the Bach Consort from this point and the group has raised over $400,000 for charity since its inception."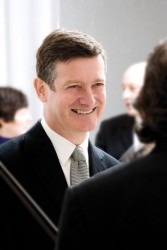 Remarkable too is the stature of the artists who, it seems, have clamoured to be included: among others, singers Russell Braun, Michael Schade and Kevin McMillan; conductors Nicholas McGegan, Ivars Taurins, Dame Jane Glover and – a special point of pride – Yannick Nézet-Séguin, now one of the most sought-after conductors in the world today, and who has worked with the Bach Consort five times to perform five of Bach's major choral works. Says Dawson: "In those days it seemed that every concert with the Bach Consort celebrated another step in his rocketing career. All along the way he was generous, modest and open-hearted. Bach is a passion for Yannick and we were blessed to share those times with him."
And throughout, all musicians and conductors have performed gratis, donating their fee to charity.
Dawson ("Head Dreamer") concludes: "Bach's music is so full of humanity – it seems fitting that we can enjoy and share these incredible riches while at the same time lending a helping hand to deserving groups in our community."
On May 13, renowned Handel scholar Harry Bicket (in town to conduct Gluck's Orfeo ed Euridice with the COC), will moonlight with the Bach Consort, leading from the harpsichord a performance of Handel's cantata Silete Venti, with soprano Monica Whicher as soloist. The rest of the programme is Bach, and other featured soloists are flutist Julie Ranti and baritone Phillip Addis. This concert's recipients are Eva's Initiatives and the TSO Adopt a Player Programme – two charities which benefit the lives of young people in Toronto.
Jordi Savall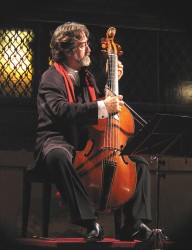 As a viol player, I can't help being excited about the upcoming concert of a master of the viol and its music, Jordi Savall. As well as a wonderful gambist, he's a conductor, teacher, scholar and musical philosopher; his work has had wide-ranging impact in practically all aspects of early music performance over the past several decades. He speaks of "restoring musical memory," in the sense of awakening our awareness of cultural roots – not only Western cultures, but all co-existing ones – in order that music can proceed into the future. ("A people with no memory has no future," he says.) To this end, his research, recording and performing are geared to recreating authentic early musical environments, always with great artistry.
On May 8, with this philosophy in mind, he'll bring to Toronto's Koerner Hall his own two groups – Hespèrion XXI and La Capella Reial de Catalunya – along with his wife, soprano Montserrat Figueras and the Mexican chamber group Tembembe Ensamble Continuo, to present The Route of the New World: Spain – Mexico. The concert is described as a musical dialogue, featuring works by the foremost composers from Old Spain, the Mexican Baroque, and the living Huasteca and Jarocho traditions. It has been praised for its "exuberant and spontaneous creative energy," with a presentation that is "lavish and scholarly."
Savall says, "When you sing or play something, you touch somebody; the performer is in the process of mastering the art, and the listener becomes a kind of pupil who learns according to his or her sensitivity and abilities. The most important thing is that music is a dialogue. A musician doesn't exist unless there is someone there with whom he or she is communicating. And the more sensitive this someone is, the more the musician can communicate. A truly living relationship is established between the two."
A live appearance by Savall and his ensembles doesn't happen in these parts very often, so don't miss receiving its riches!
Others, Briefly
• May 3 to 8: An explosion of Handel, as Classical Music Consort presents Handelfest 2011, their second annual springtime Handel festival – six concerts over six days featuring some of the composer's lesser-known music, plus a Handel Singing Competition.
• May 8: In Kitchener, Nota Bene Period Orchestra presents "Harmony in Chaos," a programme of musical representations of disasters, both natural and man-made (nonetheless including beautiful music by composers such as Telemann, Vivaldi, Falconieri and Tomkins).
• May 11 to 14, 17: Virtuoso violinist and conductor Stefano Montanari returns to Tafelmusik, for a programme of exuberant Italian symphonies and concertos. (Note: Due to injury, Stefano Montanari will only be conducting.)
• May 13: In Kingston, the Melos Ensemble and Chamber Orchestra present "Recorders, Viols and Voices" – music from the Renaissance including a mass by Victoria, Elizabethan and Italian madrigals and instrumental music on period instruments.
• May 14: Aradia Ensemble. Bach + 1. Bach plus a singer, Bach plus a dancer and Bach plus an artist.
• May 15: Toronto Chamber Choir explores Bach's fascination with numbers, in "Kaffeemusik: Bach and Numerology," uncovering numerological secrets to be found hidden in the St. Matthew Passion, the B Minor Mass, and the cantata Christ lag in Todesbanden.
• May 23 and 24: Toronto Continuo Collective, the Cardinal Consort of Viols and guests present "Joyne Hands!: Chamber Music from Seventeenth-Century London," which includes Lanier's dramatic lament for Hero and Leander (considered the first piece of English recitative), and the sublime Royal Consorts by Lawes for four viols and two theorbos.
• June 5: Toronto Early Music Centre's" Musically Speaking" series presents baroque music by women composers, in the Church of the Holy Trinity's lovely acoustic.
If all this isn't enough, don't forget other compelling concerts mentioned in last month's column: Toronto Masque Theatre's "Masques of Orpheus" (May 5 and 6); Toronto Consort's "Songs of the Celestial Sirens" (May 6 to 8); I Furiosi's "Baroqueback Mountain" (May 7); Tallis Choir's "Handel: Coronation Anthems" (May 7); Cantemus Singers' Saints and Sinners (May 7 and 8).
Simone Desilets is a long-time contributor to The WholeNote in several capacities who plays the viola da gamba. She can be contacted at earlymusic@thewholenote.com.