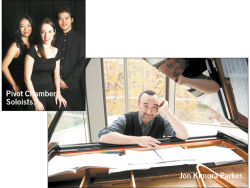 What a difference a month makes! It seems that after weeks of intimate, romantic, light-hearted, sweet and sexy Valentine offerings, mighty, majestic and weighty Russian fare is to be the antidote to all that sweetness, judging by the proliferation of programs focusing on Russian music this month. (Not that Russian music can't be romantic — think Rachmaninoff's Second piano concerto.) With titles like "Russian Masters" and "Kiev to St. Petersburg," works by Tchaikovsky, Stravinsky and Rachmaninoff abound, with Prokofiev, Mussorgsky, Shostakovich, Rimsky-Korsakov and Rubinstein also represented. It all promises to be rather thrilling!
(And for those of you still hankering for the sexy stuff, at the end of the column there's a Quick Picks of Piazzolla, whose tempting tangos turn up the heat all over the place this month.)
Community bookends: Interestingly, two community orchestras are offering programs comprised of symphonies and concerti by Rachmaninoff and Tchaikovsky, at each end of this issue's date range. Perhaps one reason for the focus on these two Russian giants is the significant birth and death anniversaries occurring this month and further down in 2013. This year marks the 120th anniversary of Tchaikovsky's death. Rachmaninoff was born 140 years ago on April 1 and died 70 years ago on March 28.
Whatever the reason, we've got two evenings of great orchestral fare to consider. Rachmaninoff's Symphony No. 2, Tchaikovsky's Symphony No. 5 and his Violin Concerto in D Major are featured in Counterpoint Community Orchestra's "Kiev to St. Petersburg," March 2, 8pm, at Saint Luke's United Church. Erica Williamson is the violin soloist and the CCO's Terry Kowalczuk conducts.
About a month later, on April 5 at 8pm, it's the Etobicoke Philharmonic Orchestra's turn at Tchaikovsky's Fifth Symphony, when they present "Russian Masters" at Martingrove Collegiate. The program also includes Rachmaninoff's Piano Concerto No. 3. Reputed to be one of the most technically challenging in the repertoire, it will be in the most capable hands of Canada's Arthur Ozolins, who recorded the Rachmaninoff Third, as well as the First, Second and Fourth, for CBC Records, with the Toronto Symphony Orchestra, under Mario Bernardi, between 1985 and 1993.
Speaking of pianists and Russian repertoire, in between the CCO and the EPO, the TSO presents "From Mozart to Sibelius" on March 23 at 7:30. In between Wagner's "Prelude to Act III" of Lohengrin and Mozart's "Overture"to Don Giovanni, pianist Charles Richard-Hamelin will perform a personal favourite of mine, Rachmaninoff's beautiful (and remember, romantic) Piano Concerto No.2, the piece he played when he won the 2011 TSO National Piano Competition. The guest conductor is Mélanie Léonard who is in her first season as associate conductor of the Calgary Philharmonic Orchestra. And the Sibelius? The program, which repeats on the 24th, ends with his Finlandia.
Stravinsky on Sorauren: Sorauren Avenue, that is, number 345 — home of Gallery 345. Created in 2005 by Edward Epstein, the gallery has evolved into a wonderfully welcoming — and very busy — acoustically superb space for the performance of jazz and contemporary classical music, as well as standard, classical repertoire. Typically, you'll find 12 to 15 Gallery 345 listings in any given issue and this one is no different. This round, there's a kind of "mini Stravinsky festival" and, interestingly, a "mini Piazzolla festival" happening between March 1 and 26 — three concerts in each mini-fest.
There's even one concert offering a work by both Stravinsky and Piazzolla: March 1, in a concert of music exploring dance, rhythm and movement, aptly titled "Pas de Deux," cellist Kathleen Long and pianist H.W. Cecilia Lee perform Stravinsky's Suite italienne, a very popular work based on several movements from his 1920 neoclassical ballet Pulcinella. For this arrangement, Stravinsky collaborated in 1932/33 with legendary cellist Gregor Piatigorsky, who later teamed up with fellow living legend Jascha Heifetz on an arrangement for violin and cello. (The most-often-performed arrangement, though, is the one for violin and piano, a 1933 collaboration between Stravinsky and violinist Samuel Dushkin.)
The other works on the program include Bartok's Romanian Folk Dances, two pieces by Kapustin, Poulenc's Sonate pour violoncelle et piano, Op. 143 and, as promised, Le Grand Tango by Piazzolla, all ensuring an exciting musical study of dance, rhythm and movement.
The other two concerts in Gallery 345's unofficial Stravinsky fest occur at 8pm on March 11 and 20. The first, with the Pivot Chamber Soloists (Minghuan Xu, violin; Soo Bae, cello; Romi deGuist-Langlois, clarinet; Winston Choi, piano), features two Brahms trios (A Minor, Op. 114 and B Major, Op.8)in addition to Stravinsky's L'Histoire du Soldat for clarinet, violin and piano. Originally scored for septet, Stravinsky later arranged his work for the condensed trio version being performed here. Incidentally, the PCS plays the same program the next day in Waterloo, for the indefatigable Kitchener-Waterloo Chamber Music Society, which presents two other March concerts (3 and 10) featuring works by Russian composers; cellist Bae and pianist Choi perform as a duo in the latter. These KWCMS concerts are noted below in a selection of Russian picks.
The March 20 concert features Ensemble Paramirabo, a versatile and innovative quintet from Montreal. Dedicated to "reserving the lion's share of their programming to new works," the ensemble will perform The Rite of Spring, arranged by emerging, Canadian composer Kevin Lau. Lau's Gates of Light , M.Y. Ha's Fairy Tale and the eponymous Paramirabo, composed by Claude Vivier in 1978, complete the program.
More Stravinsky: While it might normally fall under the "In With the New" banner, in this case it only makes sense for me to include Arraymusic's "Stravinsky's Sphere: The Influence of Igor Stravinsky." On the March 10 program: a new work by Oesterle, the Canadian premiere of Andriessen's Life, L'Histoire du Soldat and a player piano version of The Rite of Spring by plunderphonics (google it) guru John Oswald. The Arraymusic Ensemble, with guest violinist Marie Bérard, perform at the Enwave Theatre, Harbourfront Centre, at 3pm.
A final hot tip: "Doing Rite by Stravinsky" is the title of piano great, Jon Kimura Parker's April 2 solo piano recital at Flato Markham Theatre. Starting at 8pm, Parker will no doubt dazzle as he performs his arrangement of Stravinsky's The Rite of Spring, along with Prokofiev's Sonata No.3, Op.28, Rachmaninoff's Prelude in G Minor, Op.23 No.5 and the stirring Pictures at an Exhibition, by Mussorgsky. Miss it and weep!
RESIDUAL RUSSIANS PICKS
March 3 8:00: Kitchener-Waterloo Chamber Music Society. Toronto Serenade String Sextet. Rimsky-Korsakov: String Sextet in A; Rubinstein: String Sextet in D Op.97. Waterloo.
March 7 7:30: Iron Strings Quartet. Iron Strings Plays Tchaikovsky. Smetana: String Quartet No. 1 "From My Life"; Tchaikovsky: String Quartet No.3 Op.30.
March 10 8:00: Kitchener-Waterloo Chamber Music Society. Soo Bae, cello, and Winston Choi, piano. Rachmaninoff: Sonata for Cello and Piano; and works by Chan Ka Nin, Piatti and Messiaen.
March 14 7:30: Trinity College, University of Toronto. Music That Speaks To You: Shostakovich – Rumours, Lies, Enigmas and Music. . Shostakovich: Second Trio. Gryphon Trio; Gary Kulesha, commentator.
April 5 8:00: Gallery 345. Art of the Piano: Alejandro Vela. Works by Prokofiev and Granados.
April 6 7:30: University of Toronto Faculty of Music. University of Toronto Symphony Orchestra. Weinzweig: Symphonic Ode; Tchaikovsky: Serenade for Strings Op.48; Dvořák: Symphony No.8 in G Op.88. Victor Feldbrill, conductor.
QUICK PIAZZOLLA PICKS
March 3 2:00: Gallery Players of Niagara. Let's Tango. Works by Villa-Lobos, Piazzolla and Jobim. St. Catharines.
March 3 3:00: Georgian Bay Symphony. Dance Forms. Byrd: Fantasias; Moulinié: Fantasias; and works by Haydn and Piazzolla.
March 8 8:00: Aurora Cultural Centre. Great Artist Piano Series: Seiler Piano Trio. Works by Mozart, Schubert and Piazzolla.
March 8 8:00: Flato Markham Theatre. Tangos: From Gardel to Piazzolla. Romulo Larrea Tango Ensemble; Romulo Larrea, bandoneon/compositions/conductor. Markham.
March 22 8:00: Gallery 345. Tango Café: An Evening of Music and Dance. Contemporary and traditional tangos by Piazzolla, Canaro, DiSarli and others.
March 26 8:00: Gallery 345. Duo Les Amis – Love: Innocence, Passion, Obsession. Piazzolla: Milonga en re; and works by Yanyuk, Franck, Rota, Frolov and Pepa.
Prepare to be amazed! Enjoy! 
Sharna Searle trained as a musician and lawyer, practised a lot more piano than law and is listings editor at The WholeNote. She can be contacted at classicalbeyond@thewholenote.com.