Ahhh, summer's here, finally. Time to hit the road, get outta town, escape the city, right? Maybe not. There is so much going on in Toronto that you might want to consider a musical "staycation" this summer, for part of it, at least.
From Music Mondays to Sunday Serenades, you can catch a local, free (or at most $5–$10), indoor or outdoor summer concert series performance pretty well every day of the week, from June right up to the end of August and into September. Befitting summer's easy pace, enjoy a leisurely perusal of the daily offerings below.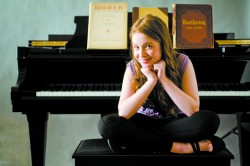 Monday: For the past 21 years, every Monday throughout the summer, locals and visitors alike have "taken a load off" at around noon, entered the inviting, downtown sanctuary of the Church of the Holy Trinity and experienced a wonderful, restorative, musical performance, presented by Music Mondays. What is different this year is that it is artistic director Eitan Cornfield's first full season at the helm of this much-loved series.
Last year, Cornfield shared some of his thoughts with us at the end of the 2012 season. This year, the veteran former CBC radio producer offers a few more thoughts on his approach to the series, at the front end of the summer and from the vantage point of a year's worth of hindsight.
Interestingly, in his search for "organizing principles" for Music Mondays," Cornfield's language is more reflective of environmentalism than show business or the arts: he speaks of "an ecological image of Toronto's musical life," and what it takes to "survive and thrive in such an environment ... the effects of climate, nurture, location."
"I began to answer these questions by considering the ecological niches that are underserved" he says. "What comfort, solace and sanctuary is there for weary shoppers, tourists, finance and IT workers in the high rise beehives of downtown Toronto, what opportunities for reflection, to recharge our artistic and spiritual batteries? ... We're surrounded by pop and light entertainment, the short burst of song, the guitar riff, the advertising jungle, all fuel for ADD. And so we've redefined the mission of Music Mondays as providing food for thought ... not just the traditional Western music of dead white guys, but the classical and art musics of all cultures ... [and] a new branch of the Music Mondays organism devoted to showcasing young composers."
"In a nutshell: we know where we fit into the environment: we provide a distinct ecological niche for both music lovers and performers, we promote diversity and accessibility, we nurture the young and the talented and we marry their music with ideas."
Food for thought, indeed! The delectable series runs June 3 to September 30.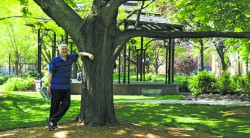 Tuesday: "Be inspired by the power and overwhelming beauty of a great cathedral organ" says the Cathedral Church of St. James website, under "Recitals and Concerts," inviting you to find inspiration at two weekly, downtown, organ recital series. Music at Midday is the one on Tuesdays at 1pm. (I'll get to Sunday's Twilight Recitals later.)
Composer and St. James Cathedral's interim associate organist, Andrew Ager, holds court for the majority of these concerts, with current artist-in-residence David Briggs performing at four of the recitals over the summer. Music coaxed from the 5,000+ pipes of the cathedral's Casavant organ can be heard on Tuesdays from June 4 to July 30, and again on August 13 and 27, when Briggs performs music with a "French Flair" (works by Langlais, Bach, Franck, Saint-Saëns and Briggs) followed by "Music to Rouse the Spirit" (works by Bach, Briggs, Tchaikovsky, Elgar and Widor).
Wednesday: With three very distinct concert series falling on Wednesdays, say "so long" to the mid-week slump. St. Stephen in-the-Fields Anglican Church, in Kensington Market, starts things off in June with its weekly Concerts at Midday (12:35pm), featuring a variety of instrumentalists including pianist Richard Herriott (June 5), organists Eric Osborne (June 12) and Andrew Adair (June 19), and clarinetist Nicolai Tarasov (June 26). The series winds up August 28 with Bruce Nasmith performing double duty on guitar and organ.
Come July, two other outdoor Wednesday series swing into action. From July 10 to August 28 the City of Toronto hosts the free 12:30pm "Fresh Wednesdays" as part of its annual Summer Squares Concert Series. Munch on produce purchased from the Nathan Phillips Square Farmers' Market while listening to a featured Canadian singer-songwriter of the week — a perfect pairing. And if you feel like an evening away from the bustle of downtown, the Artists' Garden Cooperative obliges with its truly eclectic Plein Air Salon Garden Concerts. Taking place throughout July and August, at 7:30, these lovely garden concerts offer everything from folk/roots music and jazz to country blues and Bossa Nova. Attend the AGC's free launch party on June 25 at 4:30 for a sampling.
Thursday: Thursdays will pose an even greater challenge to your concert-going plans, with four series to contemplate, in June at least. Nine Sparrows Arts Foundation wraps up its regular Lunchtime Chamber Music recital series at Christ Church Deer Park, with four June concerts. NSAF has been running the weekly noon hour recital series since the fall of 2009, presenting local musicians — often graduate performance majors from U of T's Faculty of Music — in "a unique chamber music program designed to provide showcase opportunities for rising talent." You can catch some of this young talent at 12:10 on June 6, 13, 20 and 27; mind you, that last recital happens to include some "seasoned" talent: The WholeNote's own Allan Pulker on flute.
The pairing of music and food has always been a winning combination, especially when the former is free and the latter cheap. Once again, the City of Toronto has married the two for "Tasty Thursdays" at Nathan Phillips Square, inviting you to relish "international dishes (for $7 or less) served up by a variety of Toronto restaurants, while enjoying free live music from the stage, including roots, blues, reggae and Latin sounds." The series runs Thursdays, from 11am to 2pm, with concerts at 12:30, July 11 to August 29. Yum!
As it's done for the past 13 summers, Harbourfront Centre continues to gift us with Summer Music in the Garden, a glorious outdoor series in the entrancing Toronto Music Garden. Every Thursday from July 4 to September 12 (except September 5), people wend their way to the Garden, to set out blankets and chairs, or claim space on the terraced seating area, in anticipation of the evening's live performance at 7pm. In her curatorial statement, Tamara Bernstein refers to the season's "joyous eclecticism," an apt and inspired description of what Bernstein has programmed: "music from 17th-century Europe; string quartets by Haydn, Mozart, Beethoven and more; South Asian ragas; thundering taiko drums; music for African kora, viola da gamba and Persian instruments; fiddling from Cajun, Celtic, French-Canadian and Norwegian traditions; several world premieres — and of course the garden's 'patron saint,' J. S. Bach!" Irresistible, yes? The magic of the Garden awaits you ... as it does on several Sundays at 4pm, throughout the summer, as well.
The final Thursday series I want to mention here is the newest kid on the block, or rather, in the park, St. James Park, former home of the Occupy Toronto camp. Hosted by the St. Lawrence Market Neighbourhood BIA, Music in St. James Park was conceived and coordinated by local writer and music lover, Bob Neighbour, a spry (by all accounts) 87-year-old who, while in agreement with the Occupy message, wanted to revive his neighbourhood park, have it known and frequented for its loveliness rather than its political past. As Nancy Miller, Neighbour's wife, wrote in an article for the online publication Good News Toronto, August 2012, Neighbour "just wanted to sit, on a warm evening, and listen to beautiful music."
Armed with the old adage "they can only say no" — something my wise, Jewish mother taught me — Neighbour approached his neighbourhood BIA about supporting a free music series in the park, and they liked the idea. Musicians were lined-up, local businesses came on board and "occupy the gazebo" translated into beautiful music emanating from the park's gazebo, which hadn't been used in decades. In its inaugural year there were six concerts; this year there are eight at 7pm, ranging from those classical music boundary pushers, the Annex Quartet, on June 20, to the spirited Boxcar Boys performing their unique mix of wild gypsy, Dixieland jazz, klezmer and folk music, on August 8. Last year I attended the second concert. Two greats, Jane Bunnett and Hilario Durán, graced the gazebo with incredibly exhilarating, sexy Cuban music. It was a perfect evening. Here's to eight more.
Friday and Saturday: It seems that there's a dearth, generally, of Friday and Saturday summer concert series. Perhaps presenters figure the city empties out on weekends with its citizens making a beeline for "the cottage." For those of us who remain in the city (by choice or otherwise), local pianist Gordon Murray kindly fills the void with his two, one-man "mini-series." On Fridays (June 7, 14, 21, 28 and August 23 and 30) it's Piano Potpourri, 1:10pm at Trinity-St. Paul's United Church, featuring an assortment of selections from classics, opera, operetta, musicals, ragtime, pop, international and other genres; you're encouraged to bring your lunch. The three Piano Soirée concerts (June 29, July 27, August 24), at 8pm on Saturdays, also at Trinity-St. Paul's, offer up more formally programmed recitals with works ranging from Kalman's Dream Once Again to Liszt's Un Sospiro. Check the listings for details.
Sunday: In contrast to the scarcity of Friday and Saturday concerts,Sunday's abundance includes afternoon concerts in gardens, twilight church recitals and evening serenades in the square. You already know about two of them: Cathedral Church of St. James' Twilight Recitals at 4pm (June 2, 9, 16, 23) and Harbourfront's Summer Music in the Garden, also at 4pm (June 30; July 21, 28; August 11, 18, 25; and September 8, 15). And there's yet another of the City of Toronto's Summer Squares Concert Series. This time it's "Summer Serenades" at Mel Lastman Square, featuring swing, jazz and big band music, at 7:30pm, on seven consecutive Sunday evenings from July 7 to August 18. Last in our survey of Sunday, City of Toronto Historic Sites presents Music in the Orchard. These popular outdoor performances in June at the Spadina Museum, begin at 1:30pm and feature jazz and improvised music (June 2); works by Mozart and beyond for wind octet (June 9) and classical to modern works for flute, clarinet and bassoon (June 16). As its press release suggests, "Bring a blanket. Bring a picnic. Bring the whole family. Pay what you wish." Instructions for a perfectly pleasant Sunday afternoon.
Tuesday, Wednesday, Thursday, Friday and Saturday: And last but certainly not least is Toronto Summer Music Festival. Originally conceived as a summer series, with concerts every other day or so over a four-week period, TSMF now commands mid-July to the beginning of August with an astonishing array of local and imported talent gracing its three stages, five days a week. For those whose idea of a "staycation" includes total musical immersion, TSMF is, more than any other, the in-town festival for which to stick around or come home.
Convinced to stay put for a bit? Good. Enjoy the music and summer on! 
Sharna Searle trained as a musician and lawyer, practised a lot more piano than law and is listings editor at The WholeNote. She can be contacted at classicalbeyond@thewholenote.com.